Greer Family Pictures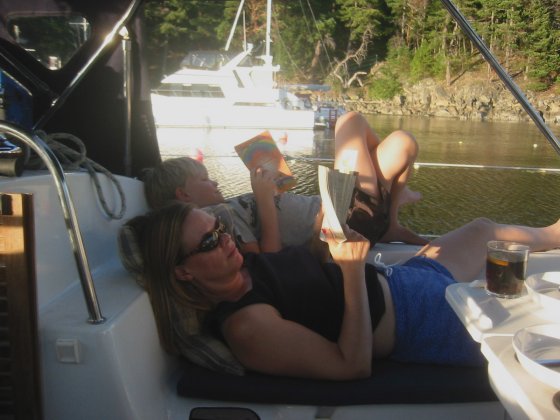 Karalee and Allen Relax on Dragonsinger
Pictures from July, 2004 of our testing and repair cruise onboard Dragonsinger in the Canadian Gulf Islands.
In April, 2005 David's friend Birket Foster visited from Ottawa.
Again in April, 2005 David had a chance to join Mike Volker, Richard Moore, and Stewart Nimmo to ski at Whistler and evaluate Stewart's technology from Virtually-Here.
In June, 2005 Jocelyn and her friends helped David reposition Dragonsinger.
On June 26, 2005, Karalee and her friends Sharene and Leila ran the Scotiabank Half Marathon.
December 13, 2005 was the date for the Christmas Concert at Britannia Secondary:
Winter and Spring 2007 was a busy time with these picture updates:
Kevin's Britannia Bruins Basketball Team Wins the 2008 BC Provincial AA Basketball Championship
David and Karalee enjoy a winter break visiting San Diego, California in March, 2008:
David and Karalee spent the first eleven days of May, 2008 on Tony and Maggie's Northwind 56 Ganymede in Palma de Mallorca, Balearics, Spain.
Our sailboat Dragonsinger was sold in July, 2008 and we had to spend some time making sure that everything was working.
Karalee, David, and Allen go with friends for a beautiful September 2008 Sunday hike.
Allen's Britannia Bruins Bantam Basketball Team Wins on January 24, 2009.
Britannia Bruins Senior Boys Basketball Play in the Vancouver City Championship February 13, 2009.
David and Jocelyn ride the Whistler Blackcomb Peak 2 Peak Gondola February 18, 2009.
BC AA Senior Boys Basketball Championship Game March 7, 2009.
Grandpa Jim Craig's Memorial Service May 11, 2009.
Britannia 2008/2009 Sports Awards
Britannia 2009 Graduation
Allen Turns 14
We were back in Europe for ...
Spring Break 2011 in Puerto Vallarta, Mexico
BC 2011 Ultimate Frisbee Championships
Britannia 2010/2011 Sports Awards
Jocelyn Graduates from the University of British Columbia
HP 3000 2011 Reunion
Three Week Trek in Nepal, Fall 2011
David Finds Many Old Photos at His Mom and Dad's Place
Britannia 2012/2013 Sports Awards
Britannia 2013 Graduation
Guerrero Cintora Family Visits Vancouver
Jim Greer Turns Ninety
A Two Week Two Family Holiday in Huatulco
A Family Halloween in Whistler
Our New Boat, Sea Bird, a 1993 Catalina 34
Visiting our Douglas Family relatives at Ghost Lake, Alberta
Kevin Greer and Carley Bodrug get married in Oliver, BC