Greer Family News December 11, 2022: Christmas Newsletter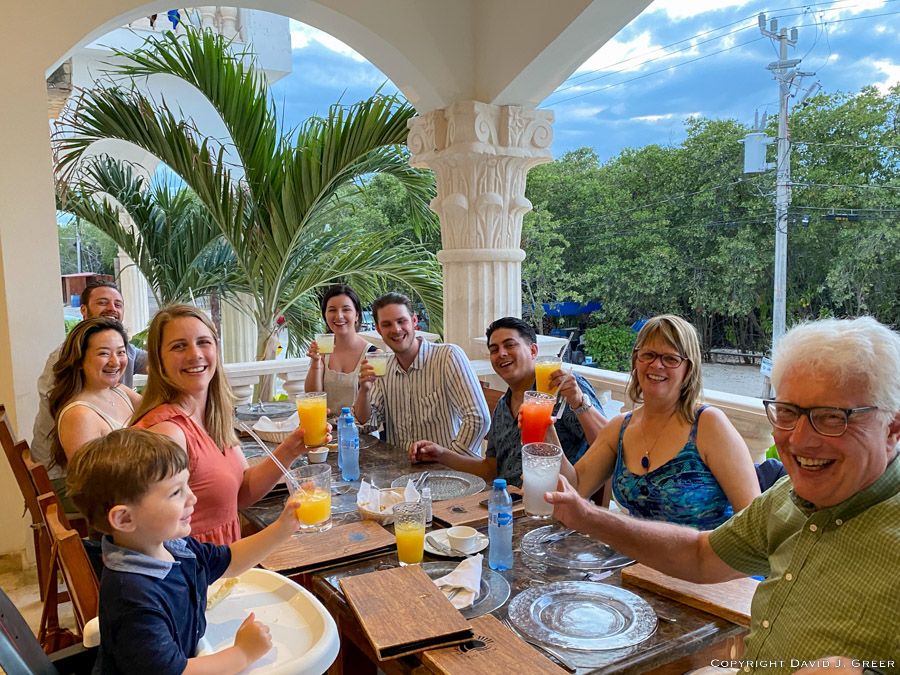 Diego, Jocelyn, Benita, Allen, Carley, Allen, Daniel, Karalee, and David
Highlights of our year include Karalee and David celebrating their 40th anniversary, lots of travel post COVID, Allen and Benita moving to Toronto, Jocelyn and Daniel finishing their home reno, and Carley nearing completion of her nursing degree.
David and Karalee's 40th Anniversary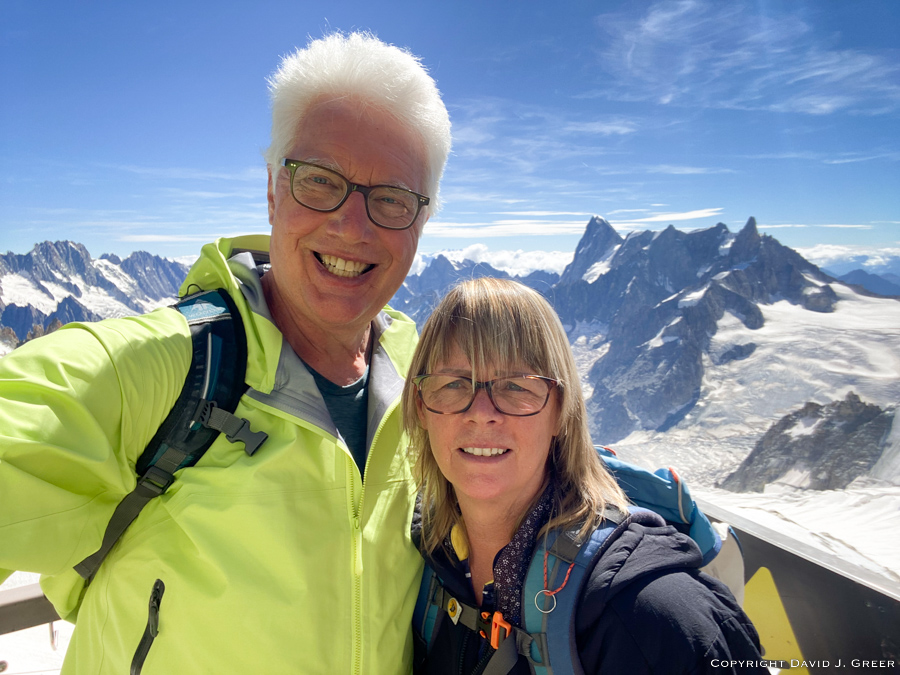 On April 24th, Karalee and David celebrated their 40th wedding anniversary at the Empress Hotel in Victoria. They hired a professional photographer to commemorate the event-the first time for pro pictures since they were married.

40th Anniversary Professional Photos
The celebrations have continued through the year, including a family trip to Tulum, Mexico, hiking in the alps around Mount Blanc, and a trip to Toronto to see Allen and Benita in their new apartment and to hang out at David's birth father's summer island in Lake Muskoka.
Travel in 2022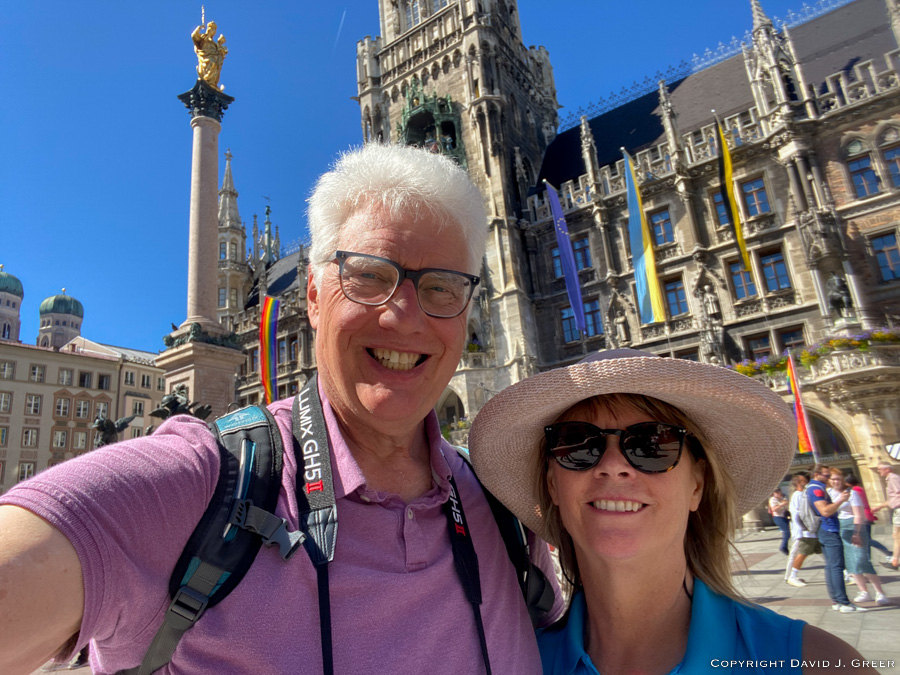 David and Karalee in Munich, Germany
In early May, all nine of us flew to Cancun and then drove to Tulum, Mexico. The villa we rented came complete with a pool and a two-minute walk to the beach. We visited a local water park, Mayan Ruins, snorkeled, and saw immense loggerhead turtles laying eggs on the beach.
Karalee and David then spent a quiet week together in Playa del Carmen. In July, they visited Munich, Zurich, and Geneva for the first time before joining a six-day group hike of the Italian and French alps around Mont Blanc. They even got to climb a glacier.
Allen and Benita Move to Toronto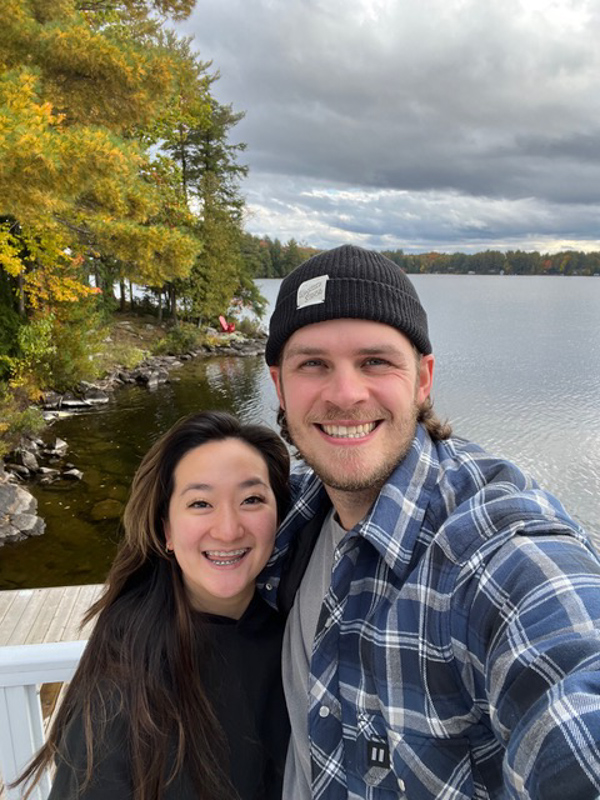 Allen and Benita at Lake Muskoka
In August, Allen moved with Benita from the Westcoast to the East to pursue her Masters of Social Work at U of T. The transition went smoothly for Allen is now working in local time. He continues to learn and enjoy music. He hopes to play in front of others one day!
Benita was honoured to be accepted at the University of Toronto, her first choice and the top program in Canada. She also got her first choice clinical practicum in Pediatric Oncology at The Hospital for Sick Children.
Despite moving away from immediate family and friends, they are connecting with family in Toronto and friends who have also relocated east. They have settled in well!
Kevin and Carley Celebrate Career Achievements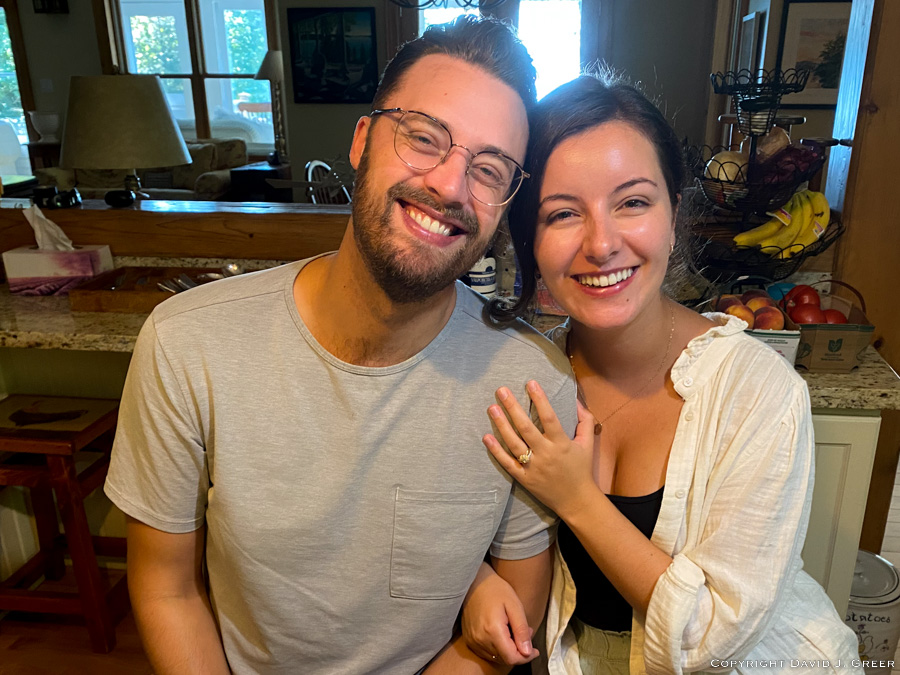 Kevin and Carley in the Kitchen of Peter Douglas' Kitchen in Lake Muskoka
After four years of dedicated work, Carley is almost done her nursing degree. Her final preceptorship is four months full-time in the ICU unit of Abbotsford Regional Hospital. At Lululemon, Kevin was promoted to Senior Manager and leads a team of three.
Jocelyn, Daniel, and Diego Connect with Family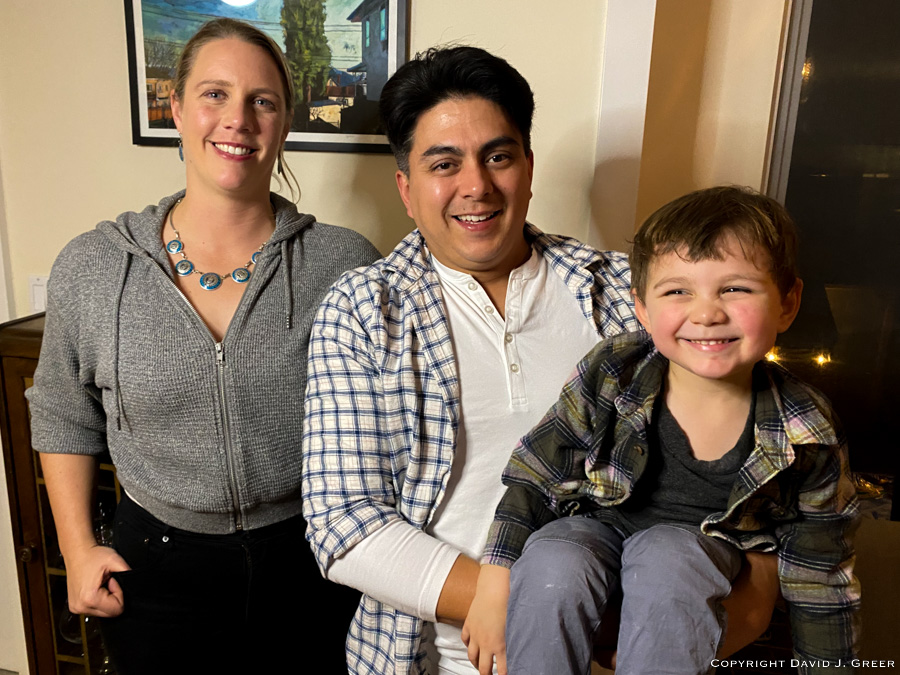 Jocelyn, Daniel, and Diego
During 2021, Jocelyn, Daniel, and Diego lived with Karalee and David while their new home was renovated. They moved back in a year ago, but it took until May to complete the renovations.
They flew from Tulum to Queretaro to be with Daniel's family. It was the first time they had seen Diego since early 2020. They also attended a close friend's wedding in Guadalajara and spent more time with their family.
Karalee Challenges Herself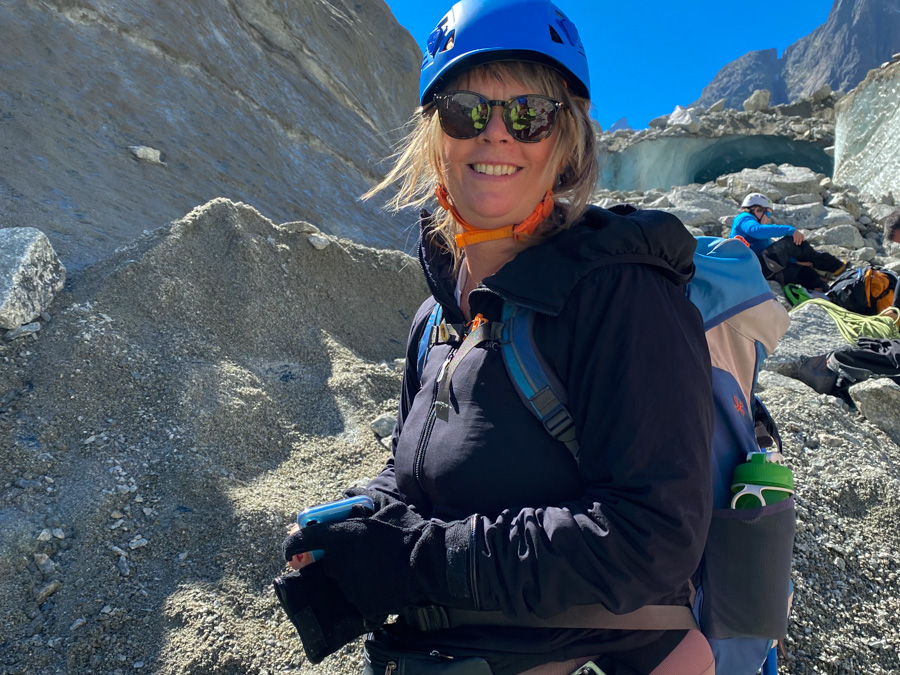 Karalee at Mer de Glace, France
Karalee continues to challenge herself. Here she is wearing climbing equipment as we ascended Mer de Glace, a glacier that has shrunk 100m since 1980. Continuing her work with George Moen, she joined the senior team at World Referral Network.
In August, we had to say goodbye to our beloved 16-year old dog Tammy. Lots of tears as Karalee held her in the vet's office. Karalee is now in Cranbrook helping her mother after a hip replacement.
David Keeps Connecting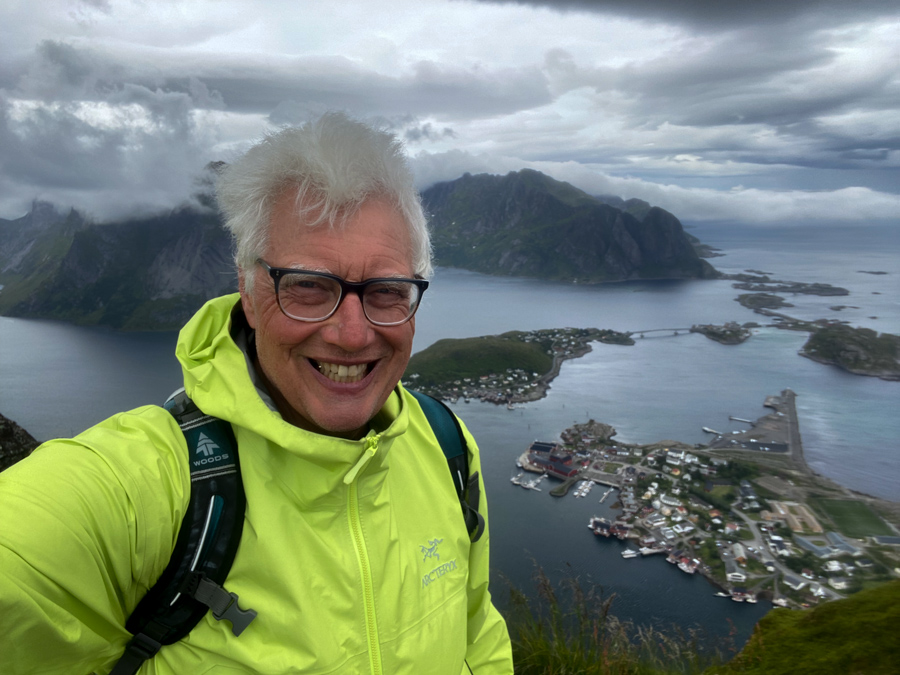 David Overlooking Rennie, Lofoten Islands, Norway
David turned 65 and committed to five more years of coaching and facilitation. He continues to focus on working with entrepreneurs who are challenged with alcoholism or addiction. David is actively looking for business or recovery podcasts to be interviewed on. If you know of any you like, please let David know about them.
After hiking in the alps, David sailed from Tromso to Bodo, Norway stopping in Reine, Lofoten Islands where this photo was taken. David also spent time in Edmonton, visiting his Mom. In April, he attended the Recovery Capital Conference.
Time on Sea Bird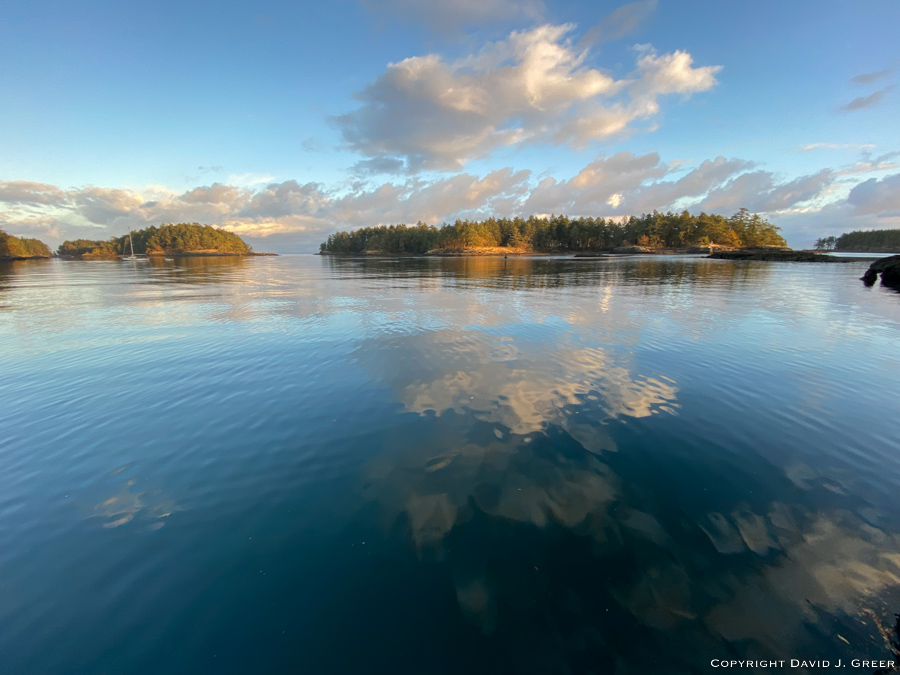 A November Dawn in Silva Bay, Gabriola Island
There were lots of trips on Sea Bird, our 1993 Catalina 34 sailboat. David did solo trips to False Creek (once at a marina and once anchored out), Bowen Island, Gulf Islands, and a late fall trip to Port Sidney Marina where he arrived in dense fog. In February, Karalee, David, and our two dogs sailed to Victoria's Inner Harbour and Salt Spring Island.
Greer Family Wedding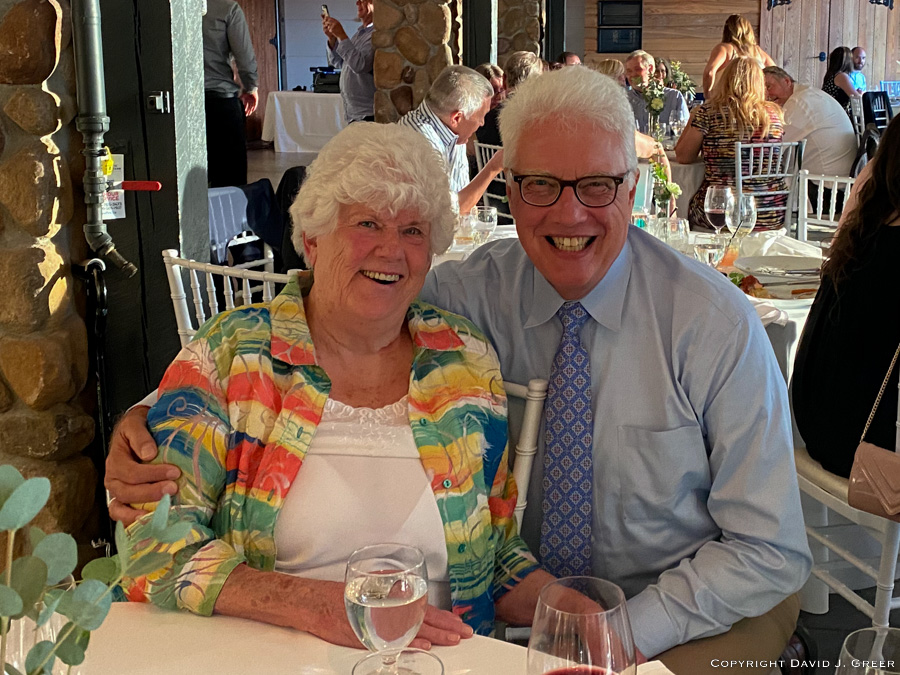 Diana and David at Paige Dinneen's Wedding
David's niece Paige Dinneen was married to Taylor Cooke in August on a beautiful afternoon at the Summerhill Pyramid Winery. Karalee, David, Kevin, Carley, Jocelyn, Daniel, and Benita rented an AirBnB in Kelowna for the weekend. David's 95-year old Mom Diana, flew to Kelowna from Edmonton with his cousin Dianne Gillespie. Paige is the youngest daughter of David's sister Jane Dinneen. Pat Dinneen gave a wonderful speech after dinner and David's brother John was there too. The weekend ended with the combined Greer clan having dinner together on the shores of Lake Okanagan.
Visit to the Douglas Island in Lake Muskoka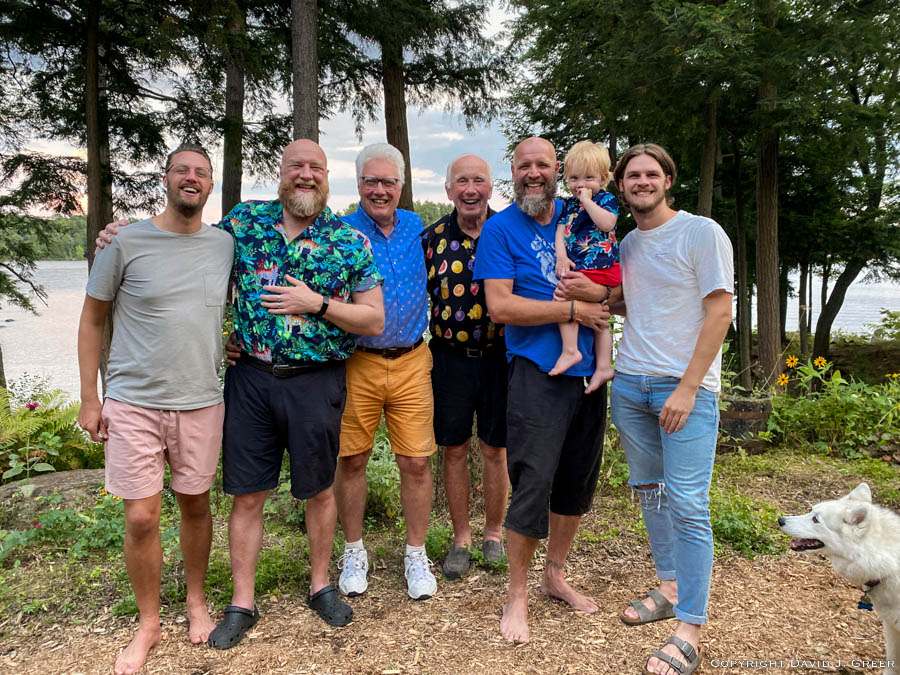 Kevin, Trevor, David, Peter, Graham, Will (Trevor's son), and Allen
It was only three years ago that David met his birth father Peter C. Douglas for the first time. Karalee and David spent the Labour Day weekend at Peter's summer island at Lake Muskoka. His brother's Trevor and Graham were there too. Kevin and Carley flew out so that they could meet Peter for the first time ever. Allen and Benita joined from Toronto too. It was a weekend of family fun, boating, water skiing, and connecting. Kevin was surprised at how many mannerisms Peter and David share. DNA in action.
A Wonderful 2022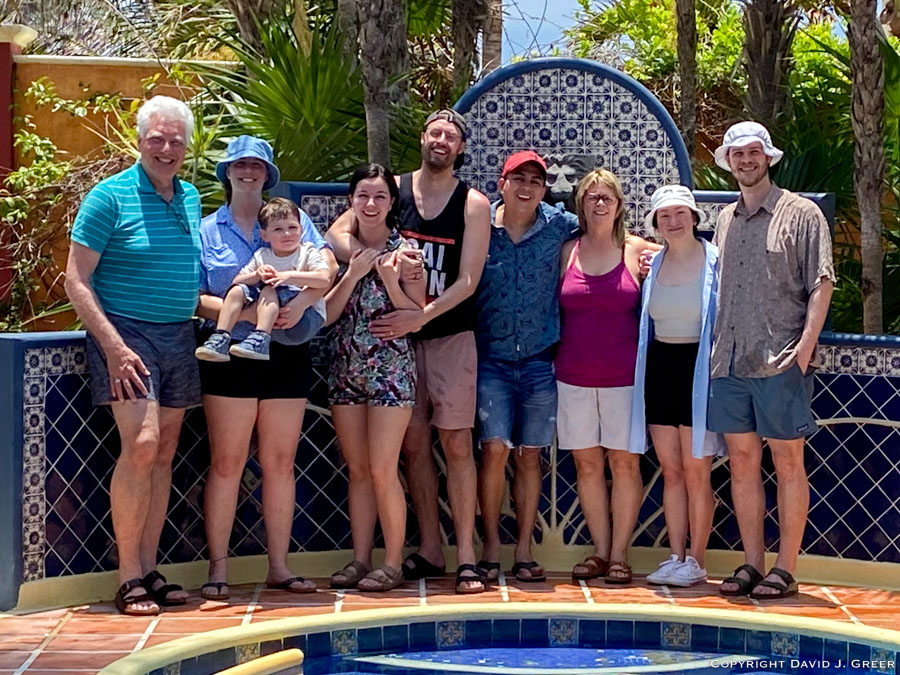 David, Jocelyn, Diego, Carley, Kevin, Daniel, Karalee, Benita, and Allen at the Pool at their Villa in Tulum, Mexico
Our family is thriving, while getting spread out. It is much harder to all be together. That made our trip to Mexico even more special. We wish good health and connection for you and your families in 2023.