Greer Family News June 25, 2022: 40 Years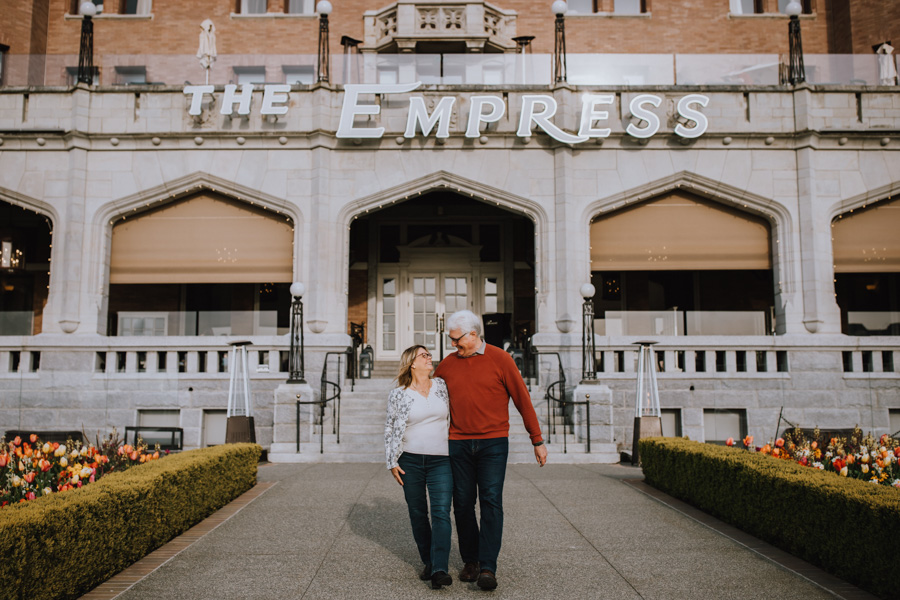 David and Karalee in Front of the Empress Hotel (shot by Jade Mutter)
On April 24th, Karalee and David celebrated 40 years of marriage. Somehow four decades seems like a precious milestone to reach. To celebrate, they took a four day break at the Fairmont Empress Hotel in Victoria, BC. They enjoyed the hotel, the amenities, and visiting Victoria.
To mark this milestone, David hired professional photographer Jade Mutter to shoot a 40th anniversary photo set. This was the first time Karalee and David have had professional photographs of themselves since they originally got married in 1982. While they have gone away on anniversaries, and usually eat out for a special meal, having a professional photography event made this one feel special and different.
While getting to know Jade, she shared that in her youth she was a driver for the horse drawn carriages you see by the BC Legislature. Learning that, David and Karalee decided on their actual anniversary day to take a horse drawn carriage ride around Victoria, another first for the two of them. You can see all the photos on our 40th (including Jade's photos) or you see our whole trip.
It's been a full 2022 so far. David and Karalee have spent time on Sea Bird. We took the whole family to Mexico in May as part of our 40th anniversary celebrations. David bought a drone and his learning how to both fly it and shoot videos and still aerial photography. We have also been doing a lot of hiking in preparation for our big plans in July. You can learn more about what we have been up to and our plans in these sections: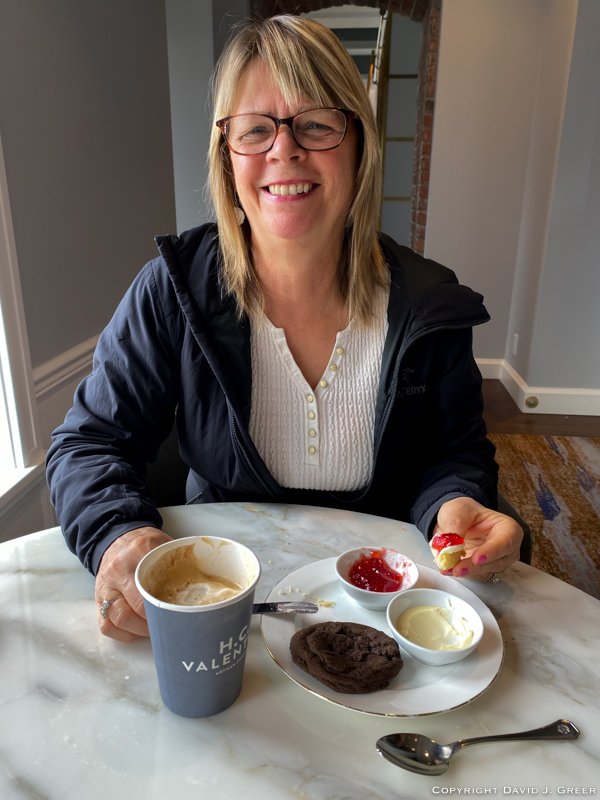 Karalee at Breakfast in the Empress Hotel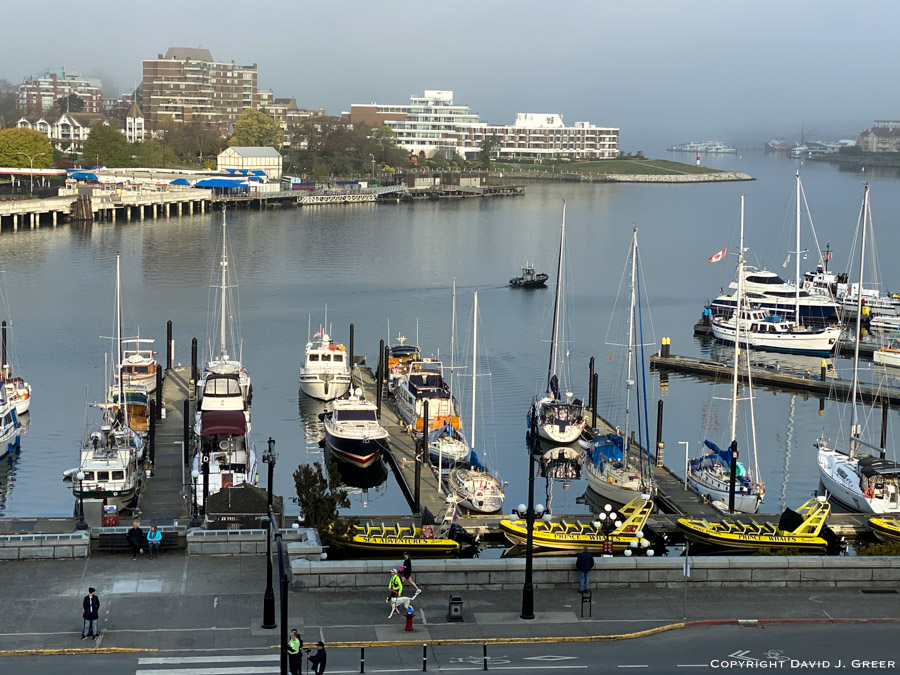 View of the Victoria Inner Harbour from the Empress Balcony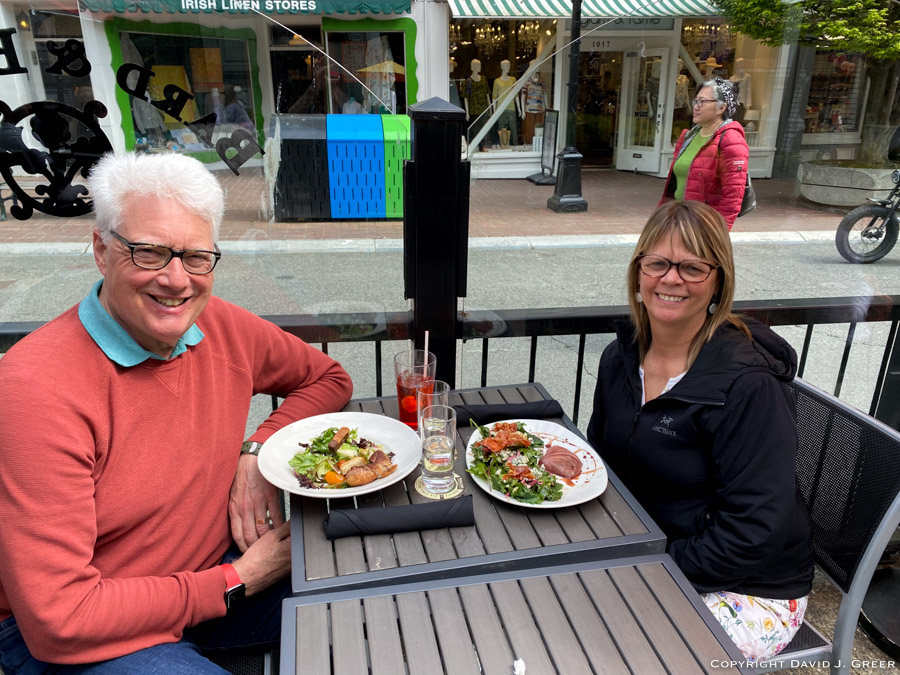 Lunch at a Pub on Government Street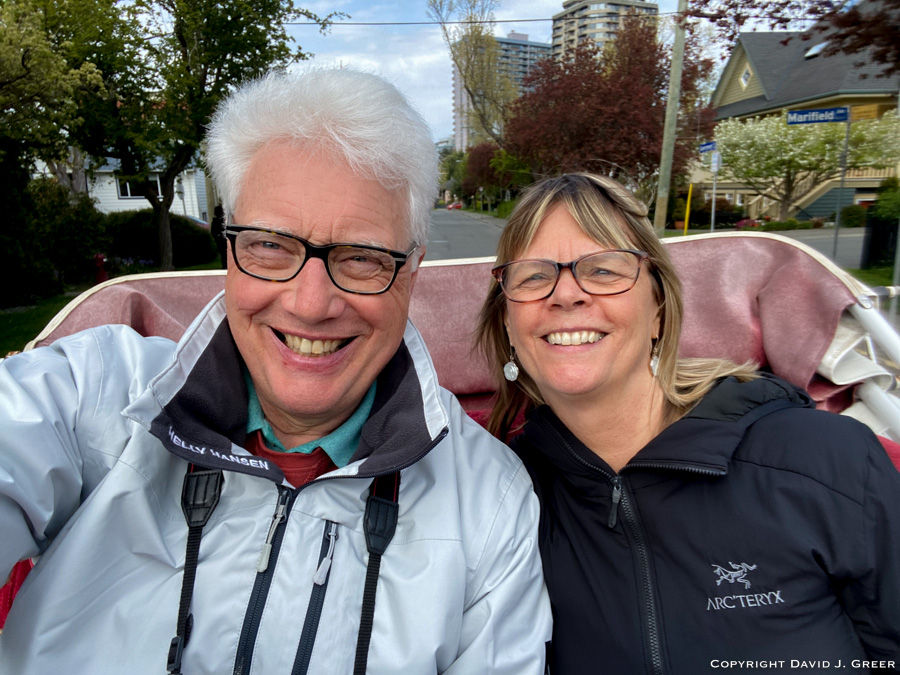 David and Karalee on Their Horse Drawn Carriage Ride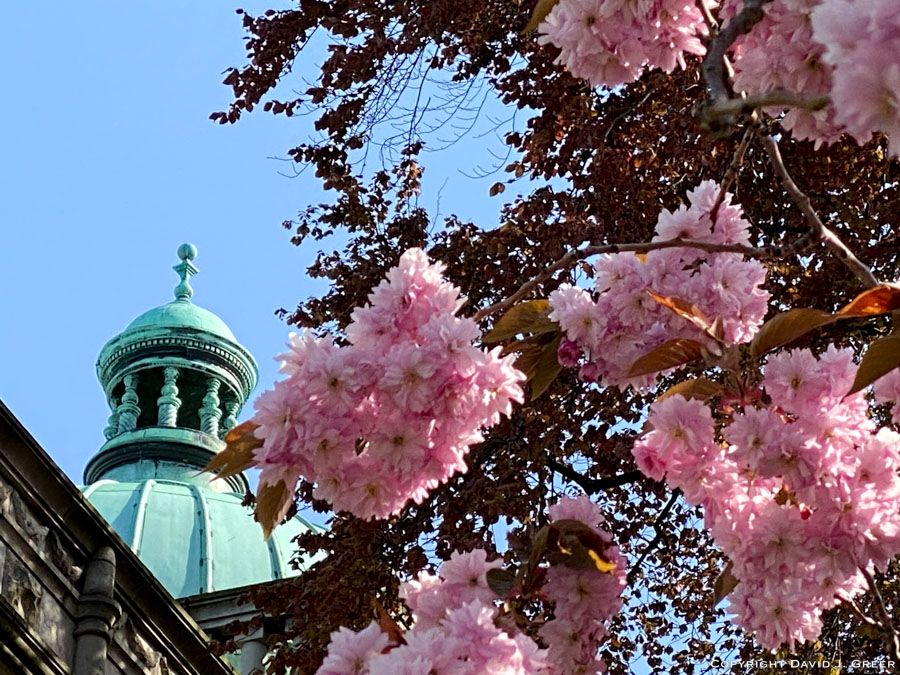 Flowers and the BC Legislature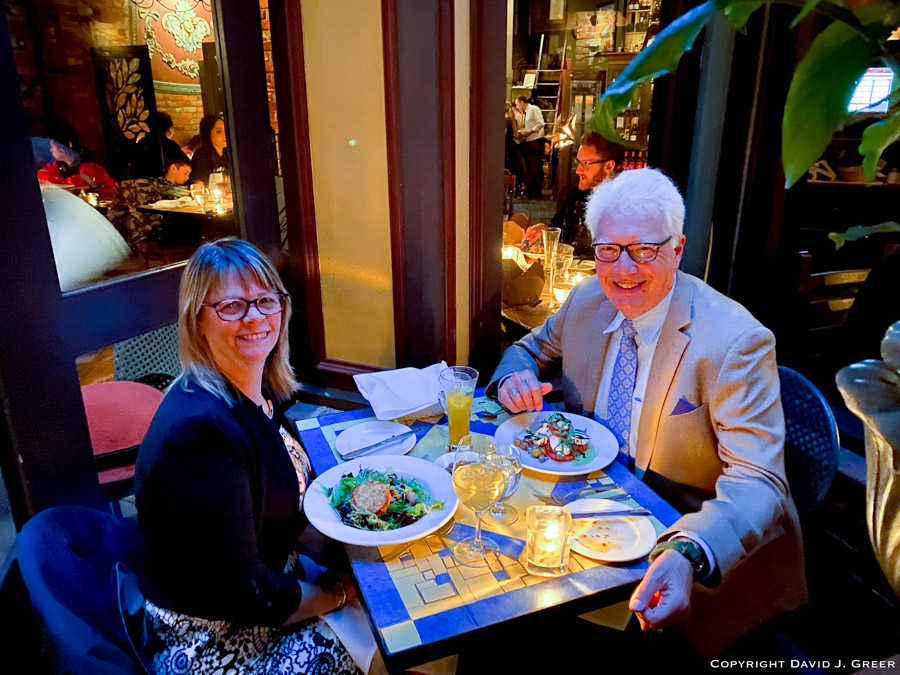 Karalee and David Celebrating 40 Years Together at Dinner
Mexico Trip in May
Early this year, David asked Karalee "What do you want to do to celebrate our 40th anniversary?" Her immediate response was "have a big trip with the whole family." We then spent time with the kids and their significant others narrowing down a date and a place. We eventually decided to rent a villa North of Tulum, Mexico south of Cancun. We travelled there in early May and spent a week together, including our wonderful 3-year old Grandson Diego. A bonus was that our villa rental included a cook to prepare one meal a day for us. Because we were often off in different directions, we mostly had the cook make fabulous breakfasts for us.
With such a large group, we varied who was together and what we did. We had a family day at the Jungla water slide park. Daniel, Jocelyn, Diego, Allen, and Benita drove south and spent a night just north of the border with Belize. We had a family day visiting the Mayan Ruins of Tulum followed by a dive in the ocean where we saw a Sting Ray and a Turtle. The kids took Karalee and David out for a beautiful meal on our final night, surprising them with a very special cake they had ordered. Later that evening we all visited the beach by our villa, where four turtles had come out of the ocean to lay their eggs.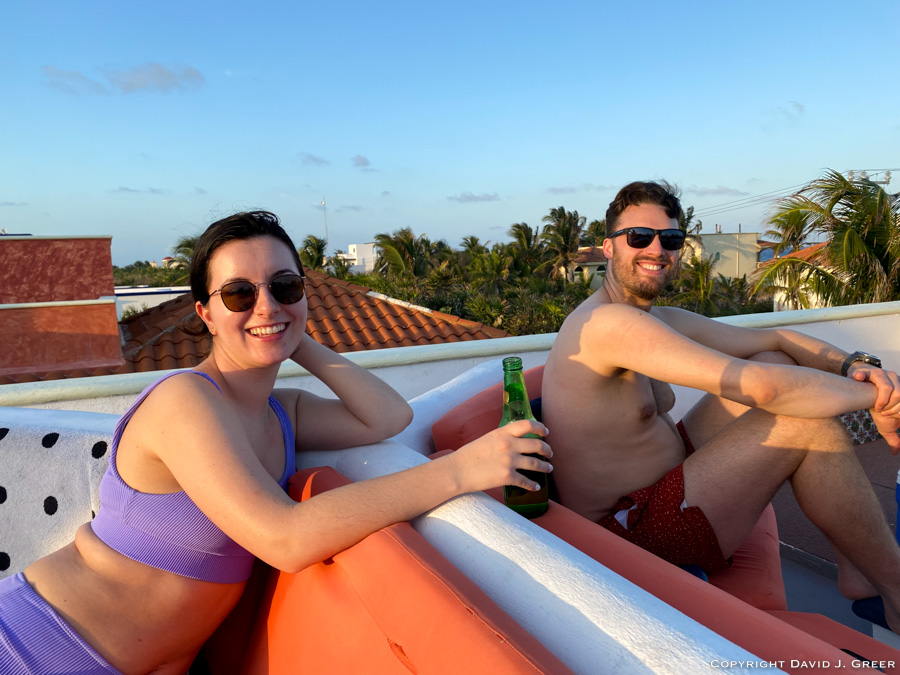 Carley and Kevin Enjoying the Sunset from the Roof Top of our Villa Near Tulum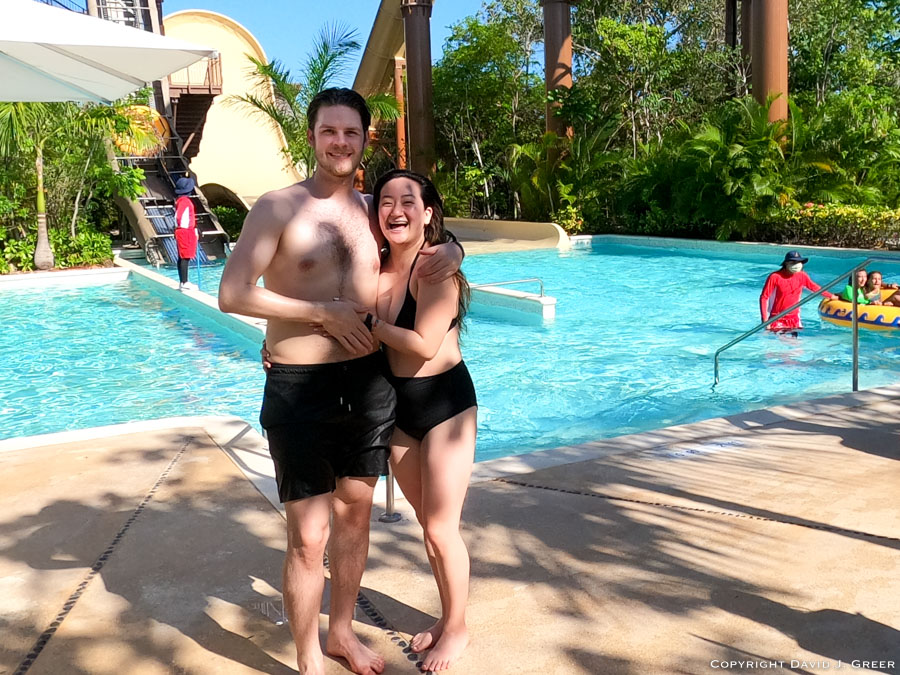 Allen and Benita After a Ride at the Jungla Waterpark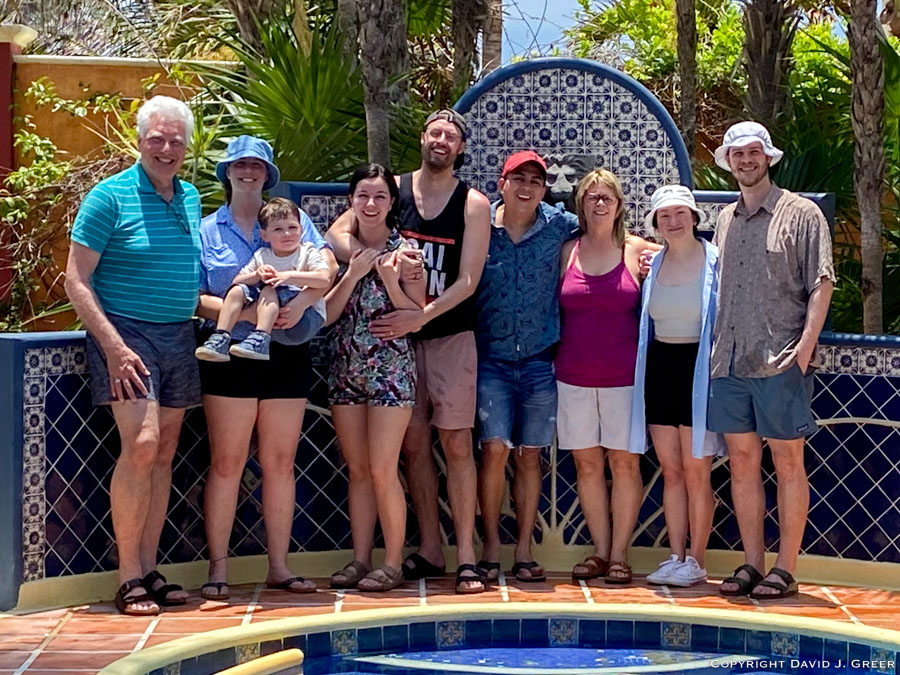 David, Jocelyn, Diego, Carley, Kevin, Daniel, Karalee, Benita, and Allen at the Pool at the Villa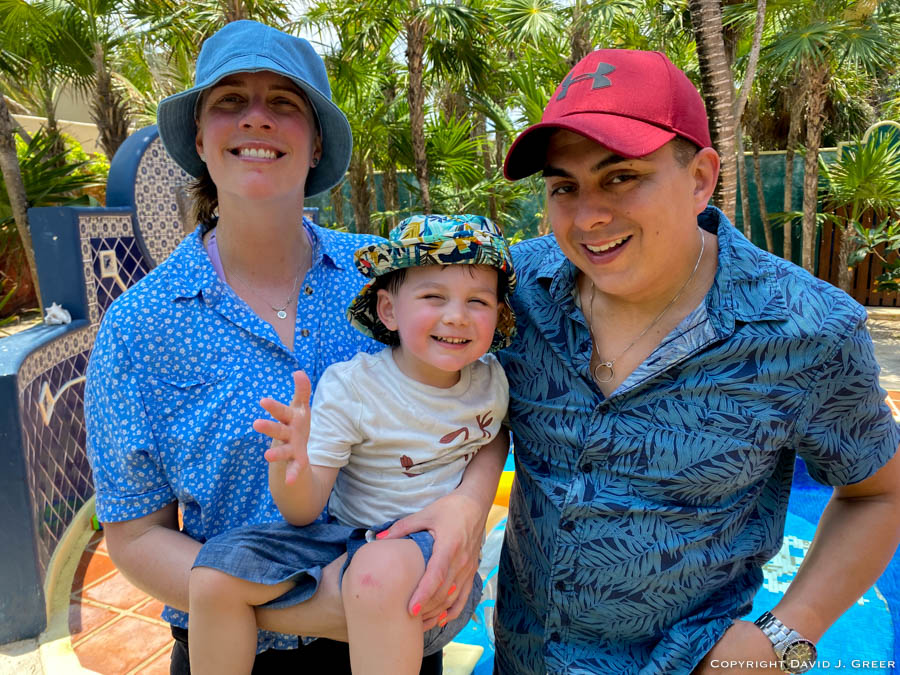 Jocelyn, Diego, and Daniel All Smiles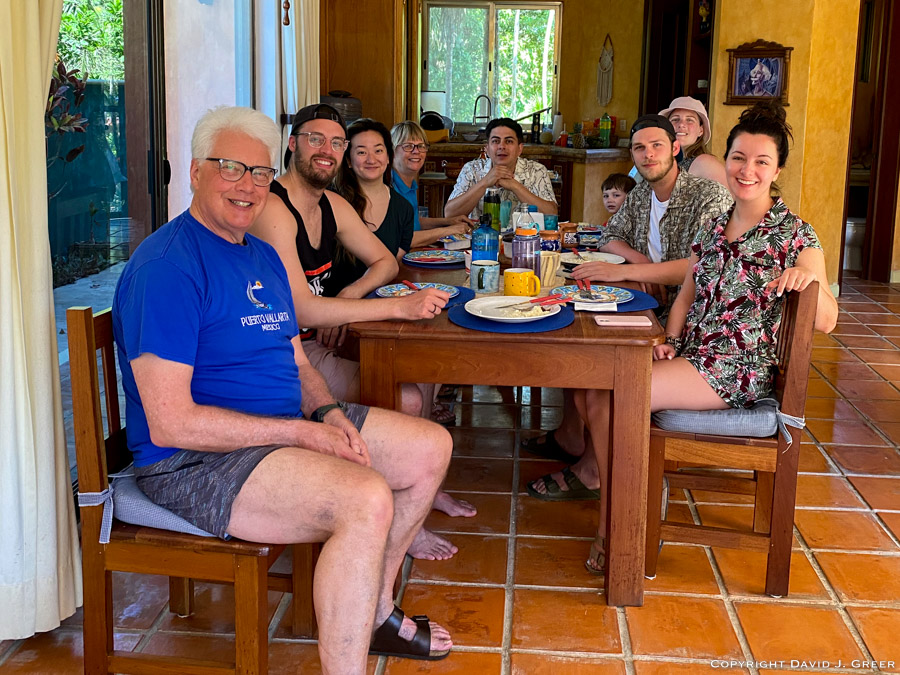 Breakfast: David, Kevin, Benita, Karalee, Daniel, Diego, Jocelyn, Allen, and Carley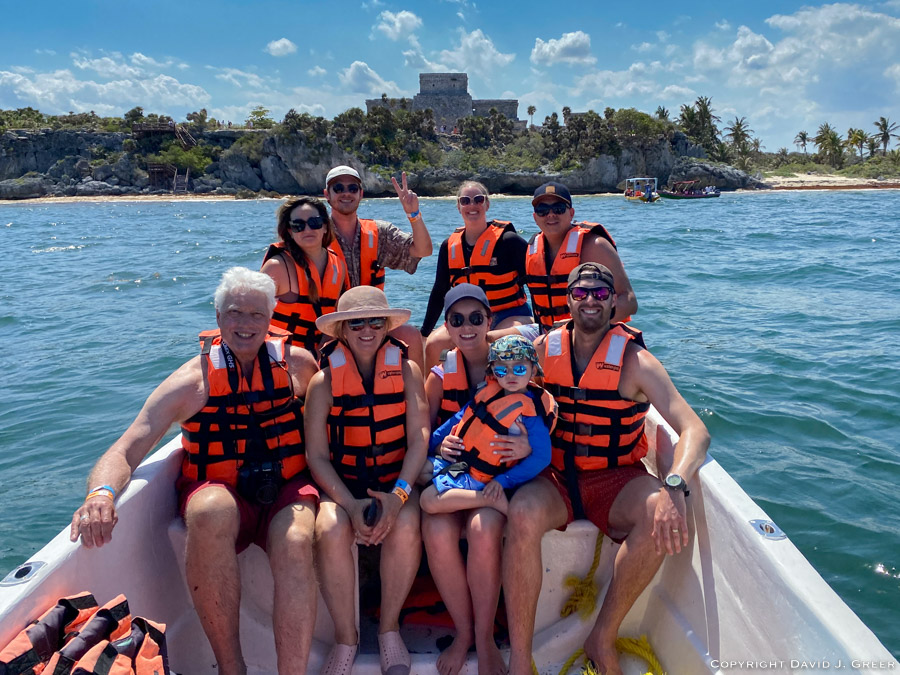 Ready to Dive
Front: David, Karalee, Carley, Diego, and Kevin
Back: Benita, Allen, Jocelyn, and Daniel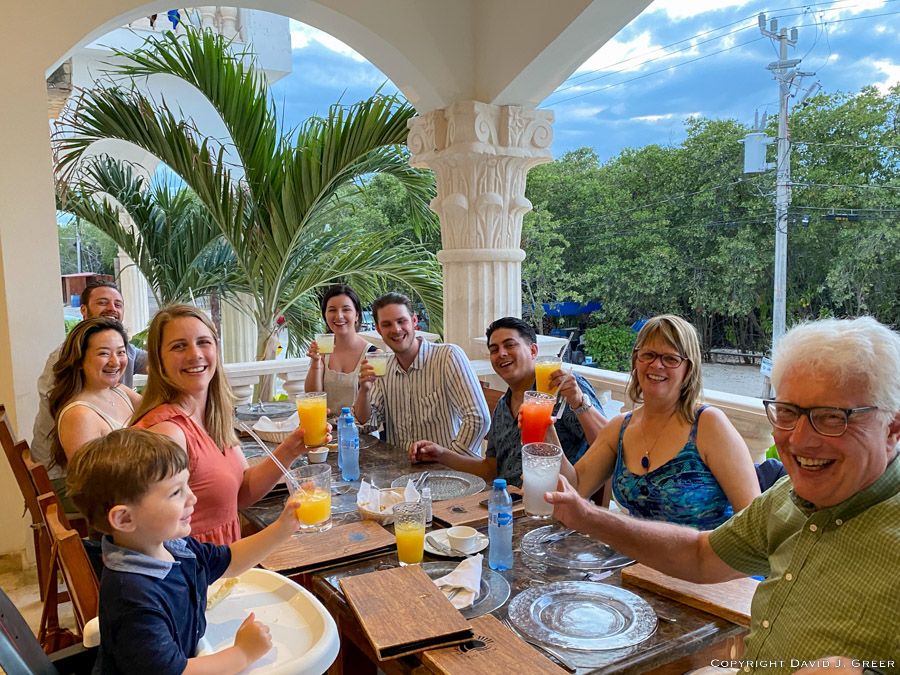 Our Final Dinner
Diego, Jocelyn, Benita, Allen, Carley, Allen, Daniel, Karalee, and David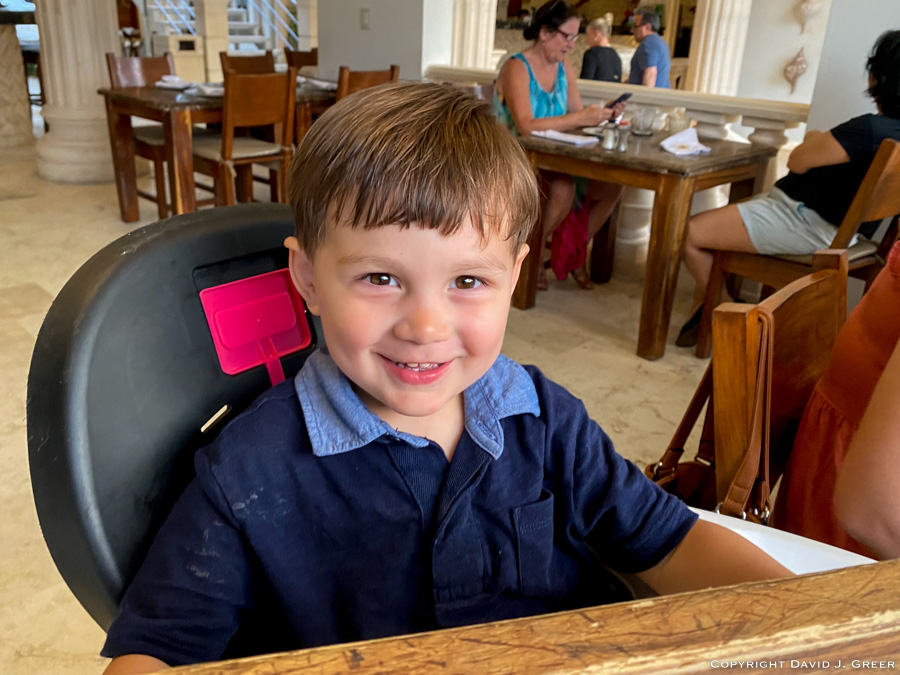 Diego Looking so Grown Up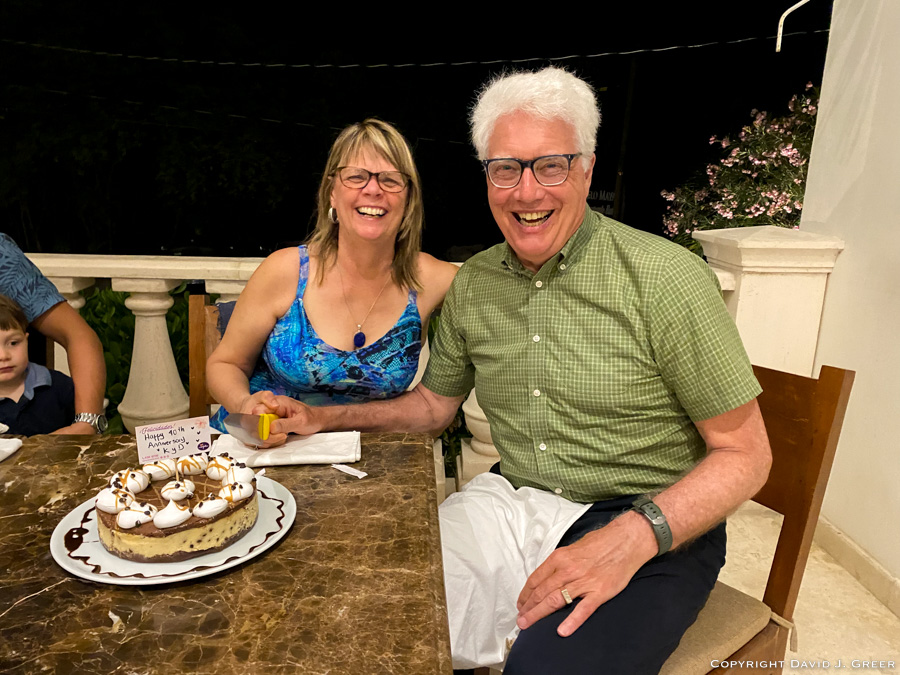 Karalee and David Having Fun with A Knife and Their Special 40th Anniversary Cake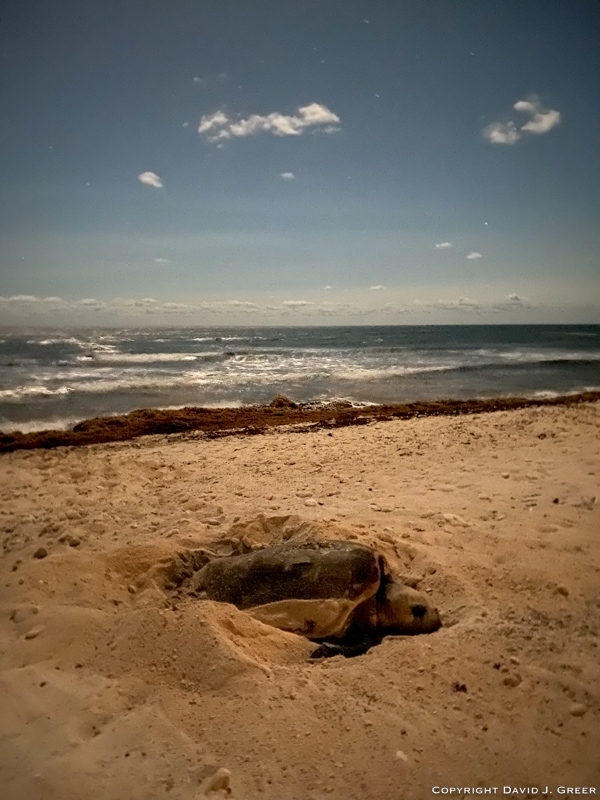 A Turtle Laying Eggs Near Our Villa
David's New Drone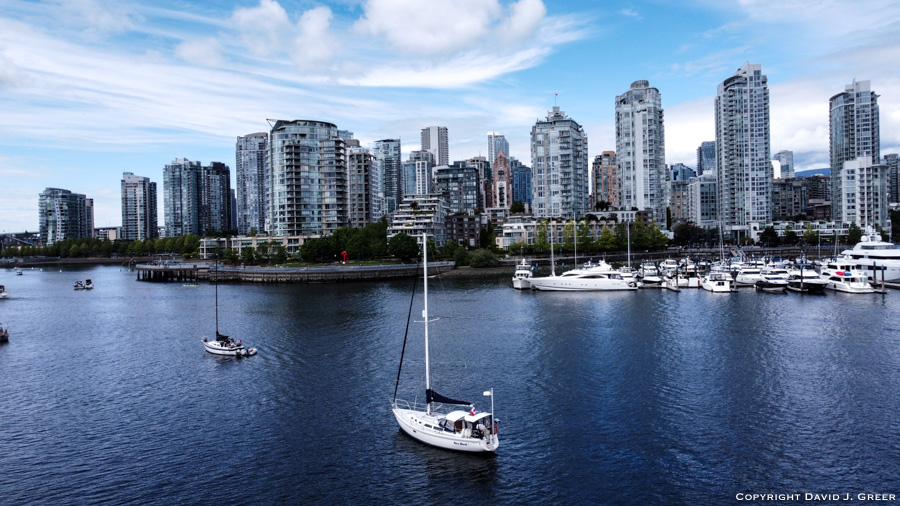 Sea Bird Anchored in False Creek (shot by David's DJI Mini 2)
After thinking about it for several years, David used a gift from his Mom to purchase a DJI Mini 2 drone. This drone weighs less than 250 grams, which puts it in a different category than other drones when it comes to Transport Canada regulations for flying the drone. For example, David doesn't need a drone license.
The drone and its associated DJI Fly app are amazing. You can get it to take off and it will just hover where it is, until you give it instructions or you run out of battery. David has found it challenging to both fly the drone and to get the video and still photography shots that he wants. Eventually he wants to capture video and images of Sea Bird sailing, but it will be some time before he is confident enough to try that.
While David had Sea Bird anchored in False Creek he flew his drone over the creek. He only lost track of the drone once and was very thankful that he had lunched the special controller sequence to get the drone to "fly home". By default, when the DJI Mini 2 is getting low on battery, it immediately lands itself. David is well aware of that fact, making sure that when flying over water he switches out full batteries at regular intervals so that there are no emergency landings in the water.
David has published two videos from his drone flights. Follow the links below to give them a look. Both are less than 3 minutes.

David's First Drone Footage
(2:08)

Sea Bird by Drone
(2:28)
Sailing in 2022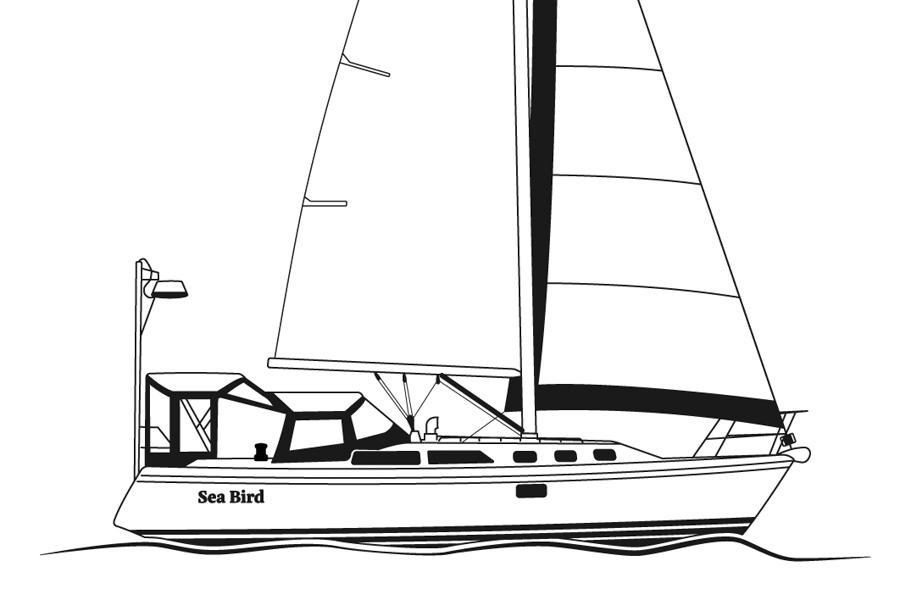 New Sea Bird Drawing
David has been on Sea Bird for over four weeks so far this year. In January he spent a week at the Quayside Marina in downtown Vancouver. It was fun to be in the center of the city, be able to go for walks, and out for coffee or a meal. It reminded him of our time in the Mediterranean, where we often moored our sailboat Dragonsinger in marinas that were in the centre of big cities like Marseille or Barcelona.
Karalee, David, and our two elderly dogs spent two weeks winter sailing in February. There was no snow this year, like there was in February 2021. They took Sea Bird to Victoria's Inner Harbour enjoying four spectacular days of sunshine.
David spent a week on Bowen Island, a bedroom community of Vancouver. He also spent four nights anchored in False Creek, something that he has wanted to do for many years, but never did as False Creek seemed too close. One evening, David rowed in from Sea Bird, took a small ferry up False Creek, and walked up to a local movie theatre where he met Karalee for a date night movie.
On Instagram, David found @nautidrawings. Kyle is a sailor and artist who creates vector drawings of anyone's sailboat. You pay him a fee, send him a photo, and in no time he produces a drawing of your sailboat. I contracted him to do Sea Bird. His service also included doing a map of our February trip.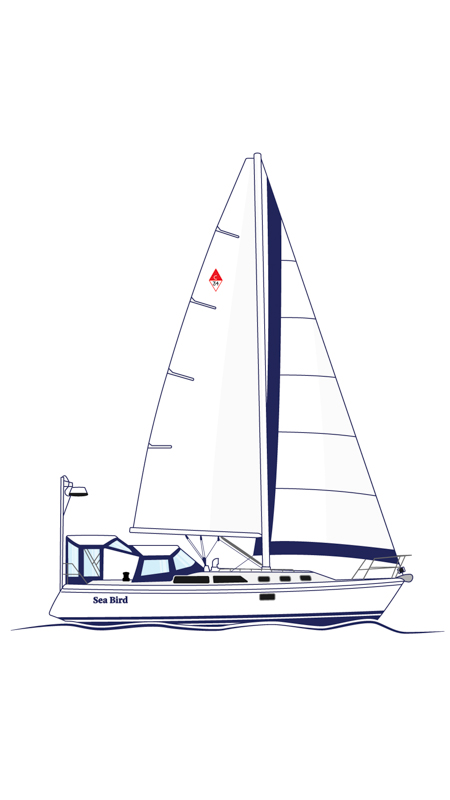 Full Sea Bird Drawing from @nautidrawings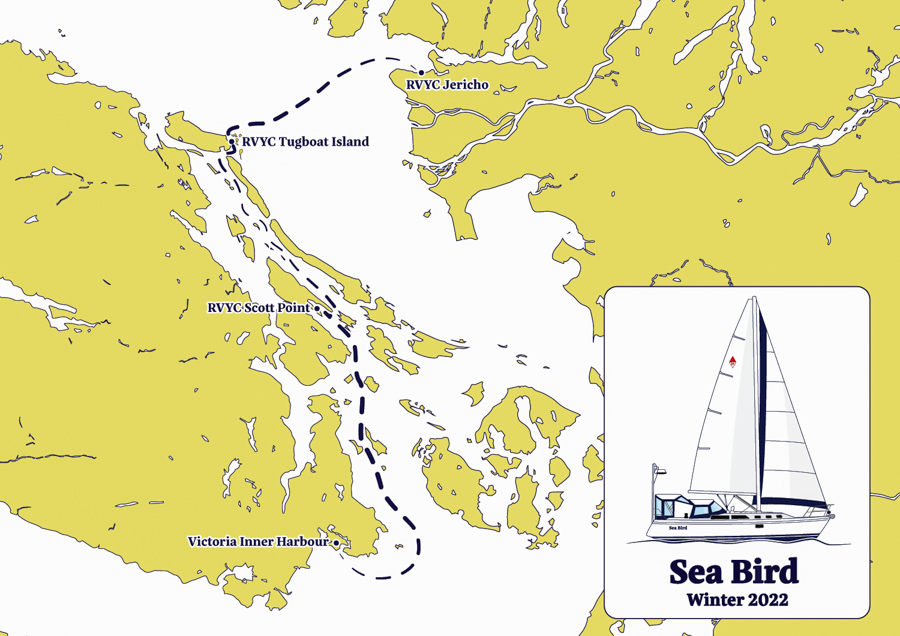 Nauti Drawing's Map of our February 2022 Trip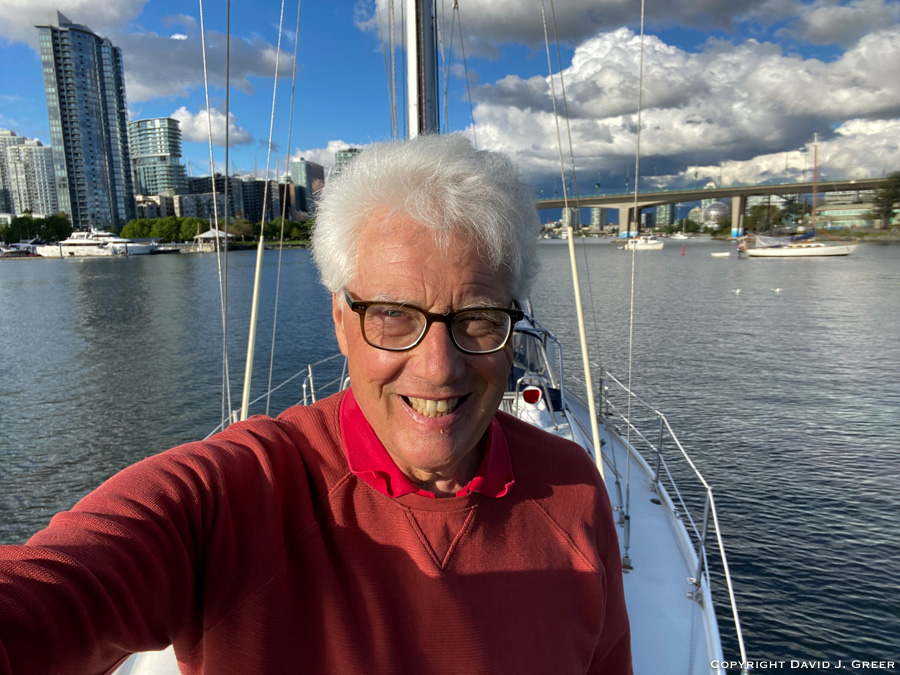 David Happy to be Anchored in False Creek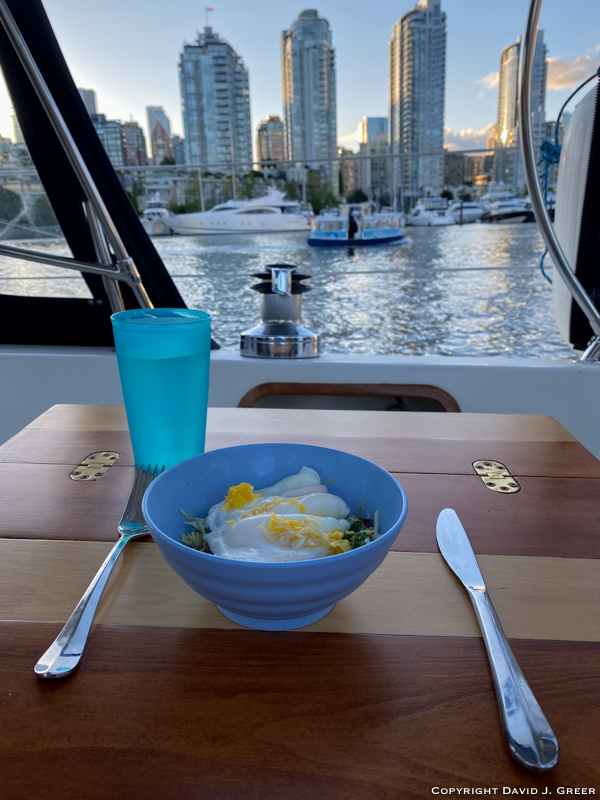 Dinner in the Cockpit while Anchored in False Creek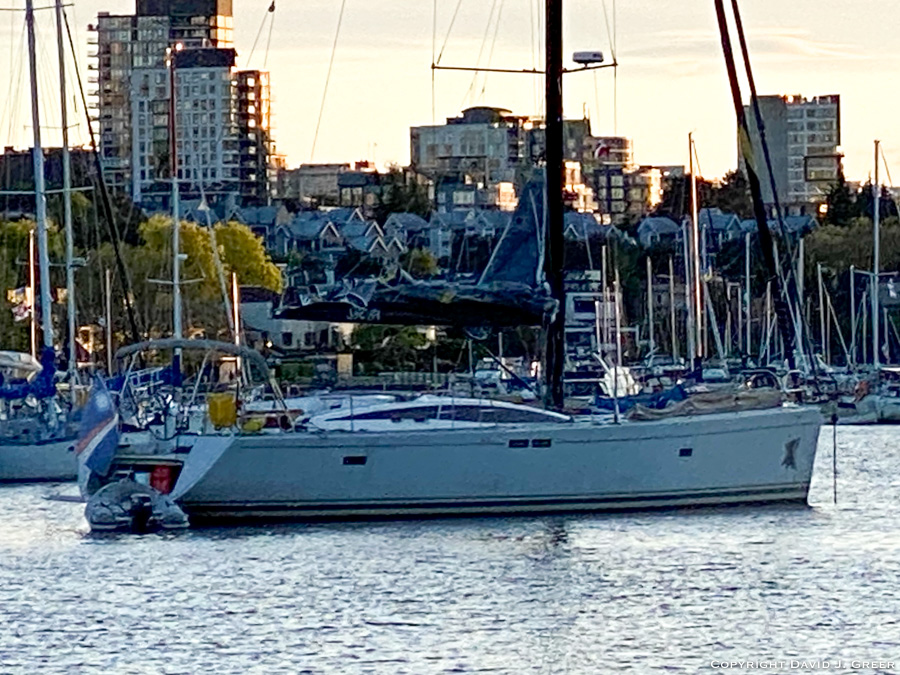 Golden Hour as David Shot Photos in False Creek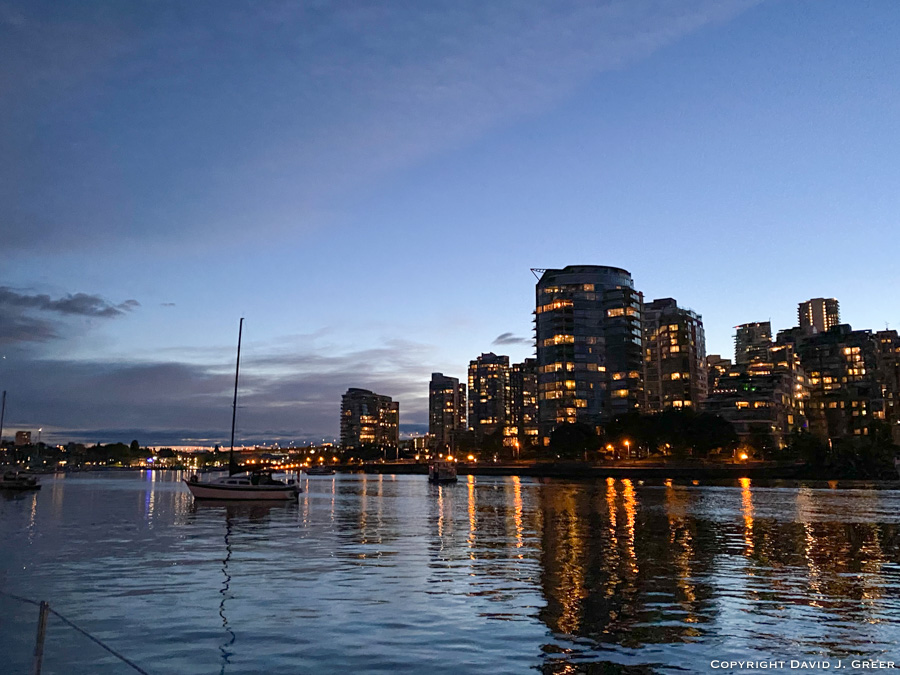 False Creek Anchored Views at Dusk
Summer Plans

Karalee and David at White Lake in Cypress Provincial Park
After a long period without travelling David and Karalee are making up for it. In July, they are visiting Munich, Zurich, and Geneva. Then they are being picked up for a six day and five night guided hiking trip in the Alps with Back Roads Adventure Travel.
The hiking takes in Mont Blanc and will see them in Italy, France, and Switzerland. The last couple of years, Karalee and David haven't done much hiking. Injuries, COVID, a number of reasons contributed to this. Since getting back from Mexico they have been doing long and short hikes with a lot of elevation gain so that they will be fit enough to enjoy the trip.
After hiking the alps, Karalee is flying home to Canada while David flies to Tromso Norway (70N). He is doing his fifth trip with Rubicon 3 Adventures. He will sail from Tromso to Bodo, Norway (67N) stopping in the spectacular Lofoton Islands. David visited these islands for 36 hours in 2017 just before sailing from Norway to Iceland. He has wanted to go back ever since.
Below are photos from a recent hike we did to First Peak on The Stawamus Chief. This was a 6.5 km day with 500m of elevation gain. We are fortunate to live in the mountains so that we can do these hikes and be ready for the alps.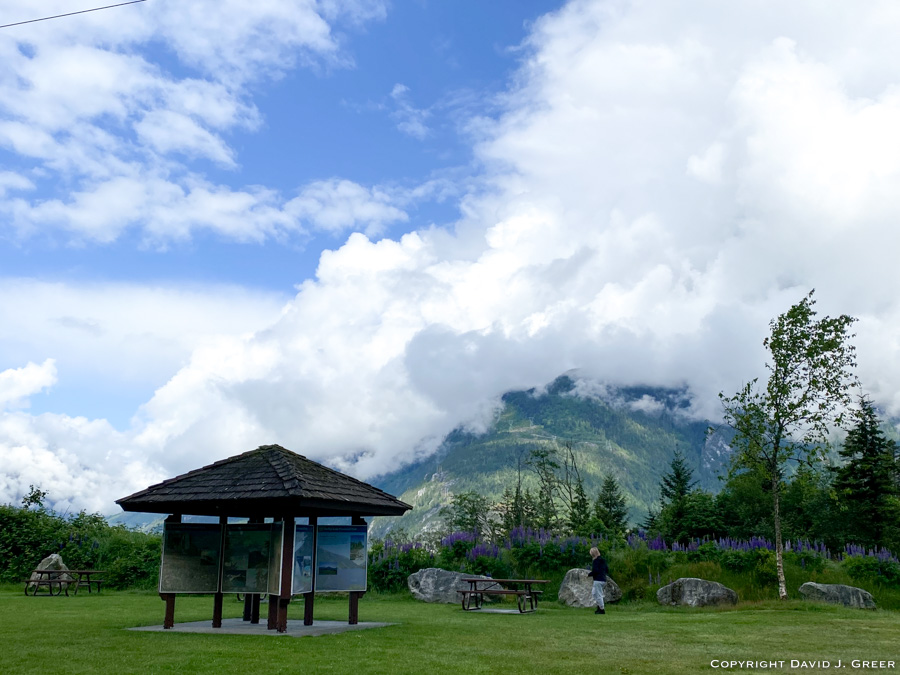 View from the Stawamus Chief Parking Lot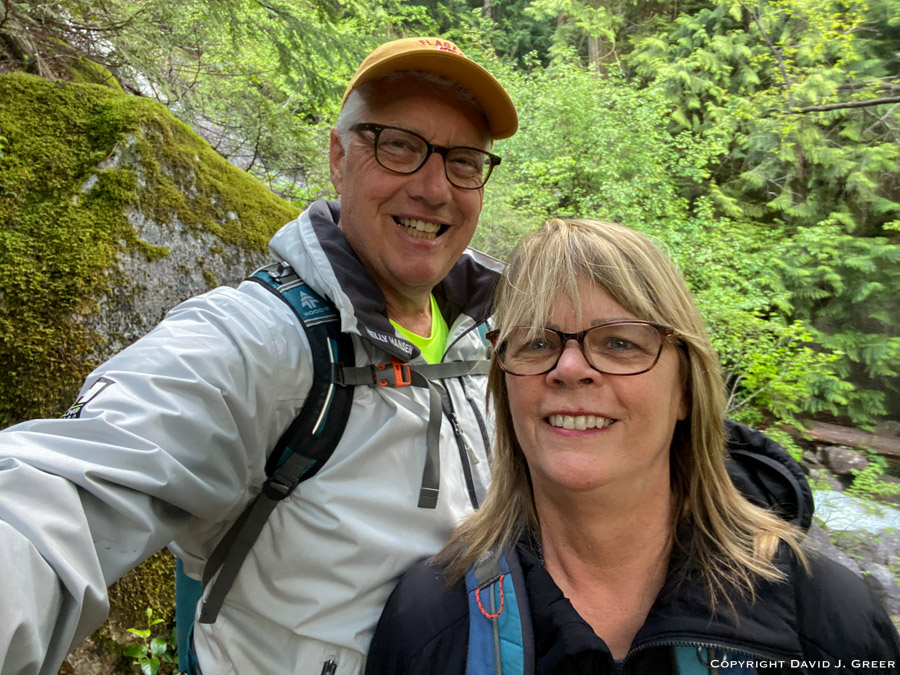 All Smiles at the Start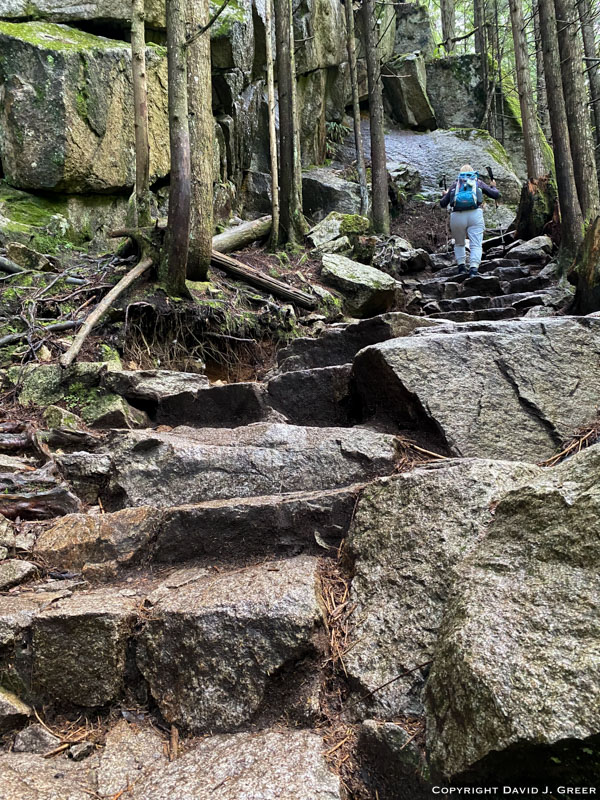 Typical Terrain at the Stawamus Chief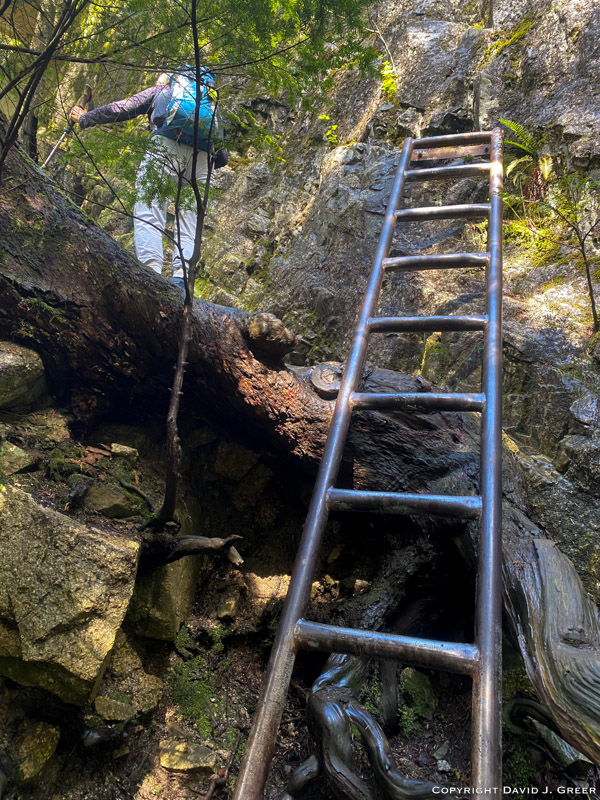 A Ladder Embedded into the Rock Face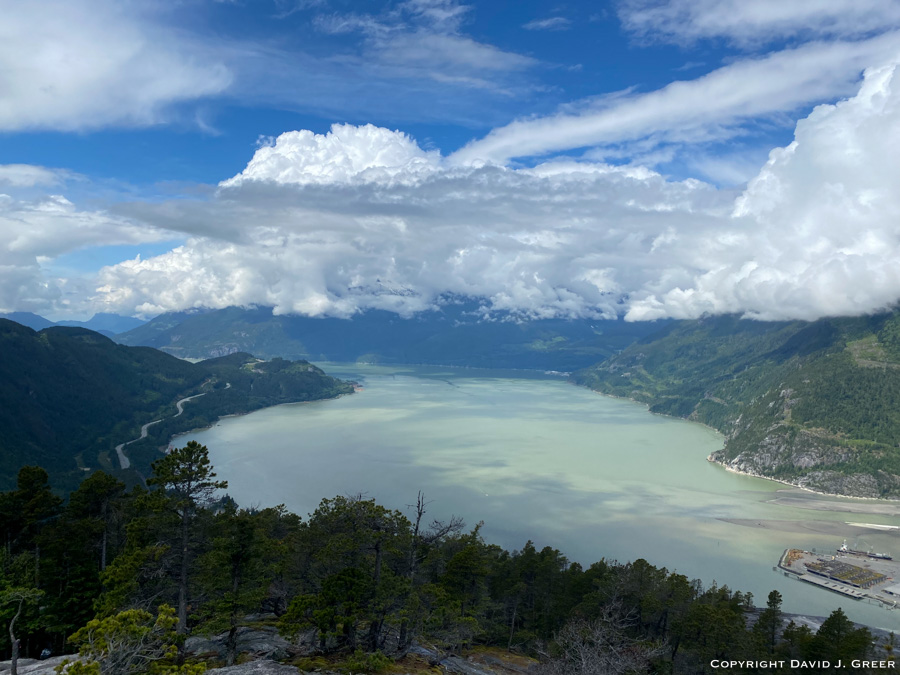 Spectacular Views of Howe Sound from the Top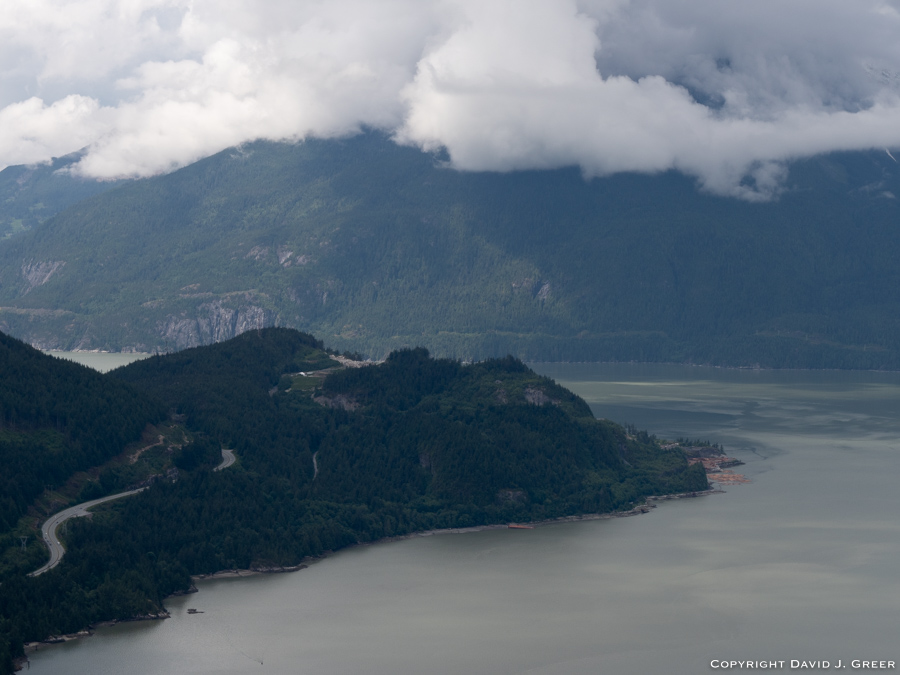 The Sea to Sky Highway on the Left Winding its Way Along Howe Sound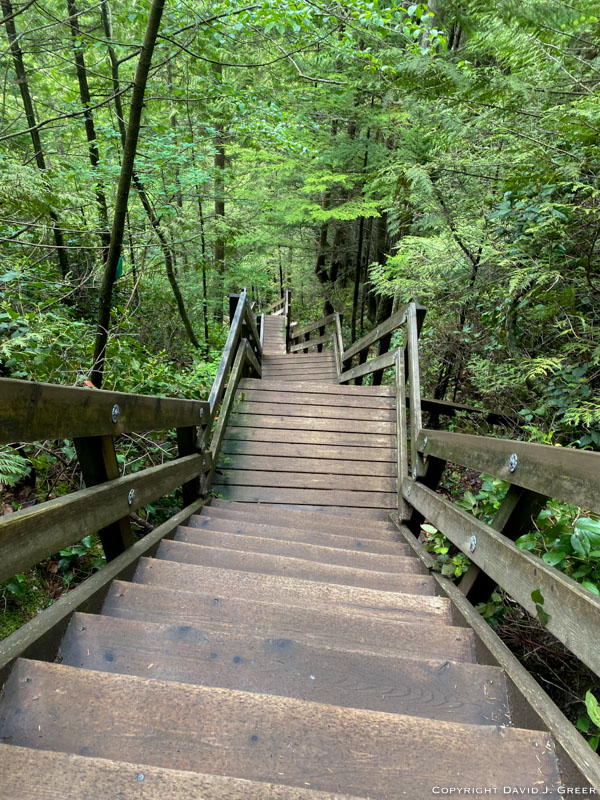 Looking Down the Final Set of Steps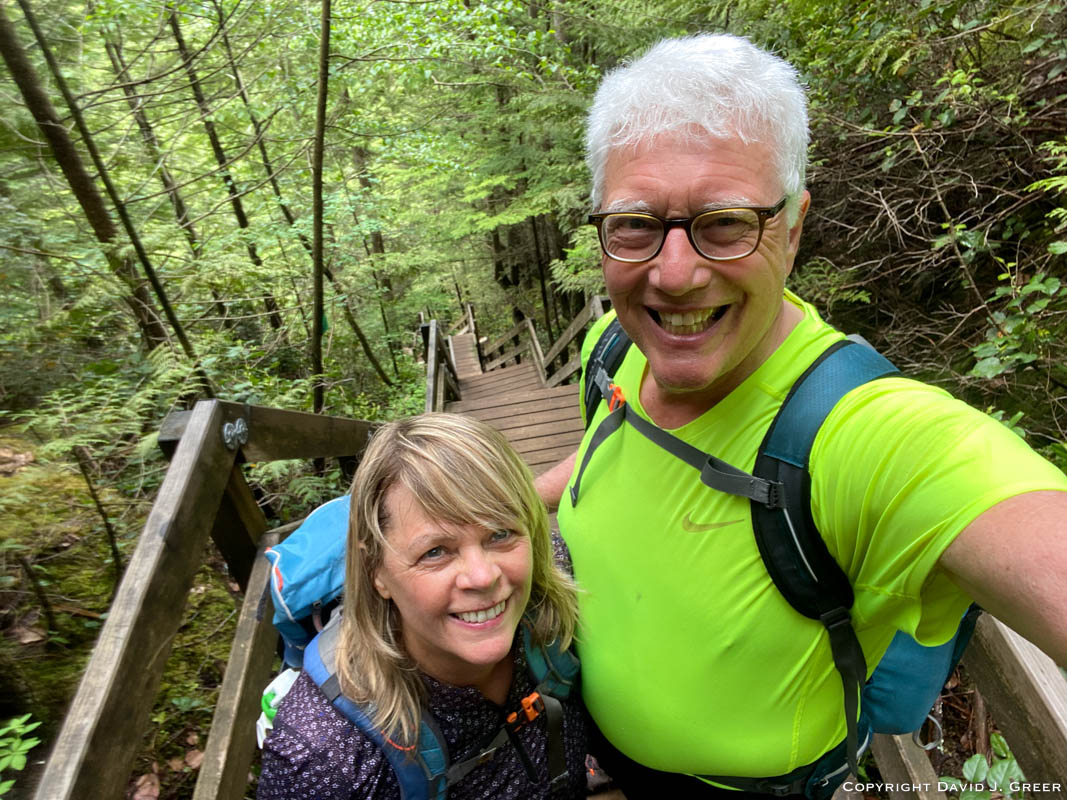 Karalee and David About to Complete Another Successful Hike