David's Diary: Wednesday, August 13, 2003
Back to Canada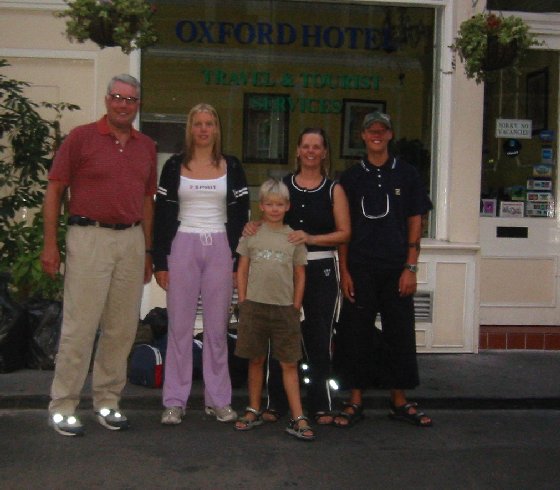 The Oxford Hotel, London, England
Our flight to Canada left at 08:00, so we were up at 05:30. We packed the few things we had with us and were out of the hotel by 06:00. A man was passing the hotel when we stepped outside and we got him to take a picture of the five of us as we make the last journey of our twenty-six month adventure.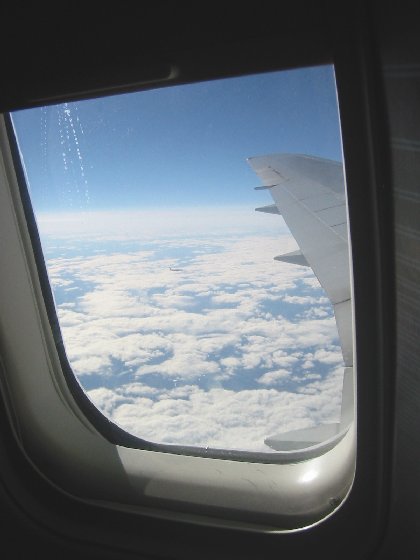 Over Canada
We left Canada on June 29, 2001. It is hard to believe that we have been gone for more than two years. It has been an intense time that has seen a lot of change and growth in all of us. As we fly over Northern Canada I look outside our window and see another commercial jet airplane on the same flight path as us.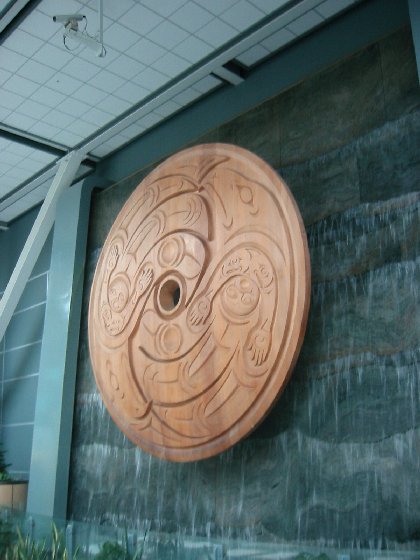 Vancouver International Airport
Everyone stayed awake for the entire nine and a half hours of our flight. Everyone got bored at times. Jocelyn, Kevin, and Allen played a few games of crib while Karalee and I read. We were all happy when at 10:30 in the morning local Vancouver time we made our final approach over Georgia Straight and touched down in Vancouver. It was a beautiful day that lit up the inside of the airport as we made our way past the large native sculpture and waterfall that mark the entrance to the customs area.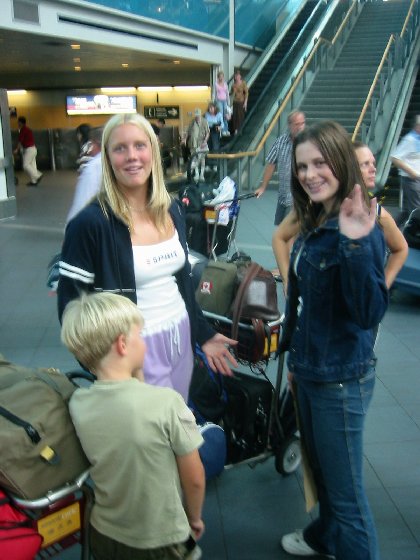 Jocelyn and Avril
It took a while to collect our ten check-in bags and organize them on several carts. We finally left the customs area. Eagerly scanning the arrivals area for any friends, Jocelyn spotted her friend Avril who had made a special trip to the airport to see her. There was lots of hugging and Avril's Father helped me to find a taxi large enough to take the five of us, our ten carry-on bags, and our ten check-in bags.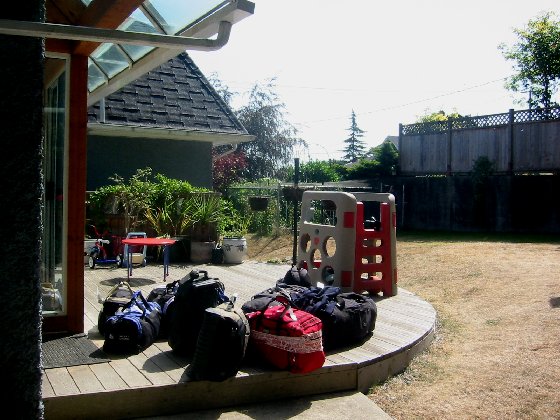 Back Deck
Soon we were on the last half-hour drive from the airport to our house. Everyone was excited and we were all chatting away and remarking on how little Vancouver had changed during our time away. As we made our way down Blanca we came over a little rise and there before us were the North Shore mountains making a backdrop for the sparkling waters of English Bay. Our taxi driver pulled into our driveway and we unloaded all of our bags into the back yard.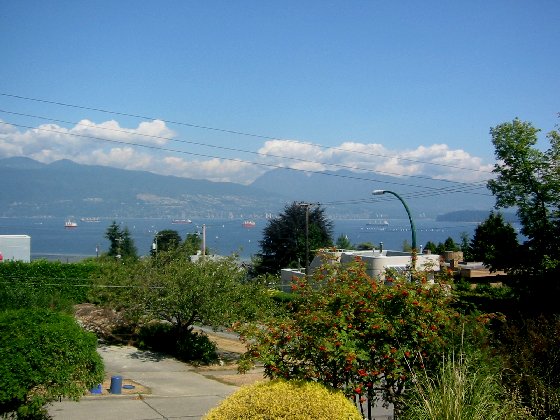 Beautiful Day in Vancouver
The weather had been so nice in Vancouver that the back lawn had dried out from lack of water. Each of us explored the house we had not seen for two years and checked out each of our bedrooms. We sat on the front porch and admired the views that this fine Vancouver day was serving up. In the afternoon we walked down to our local yacht club for lunch, then walked back along the shoreline.

Kristin and Allen
Later in the afternoon and through the evening friends arrived to say hello. Before we left on our trip, Allen told us that he would miss his friend Kristin the most. Even though Allen was only five when we left, he did miss Kristin the whole time we were away. He was thrilled when Kristin made an unexpected visit to the house and the two of them were quick to get to know one another again.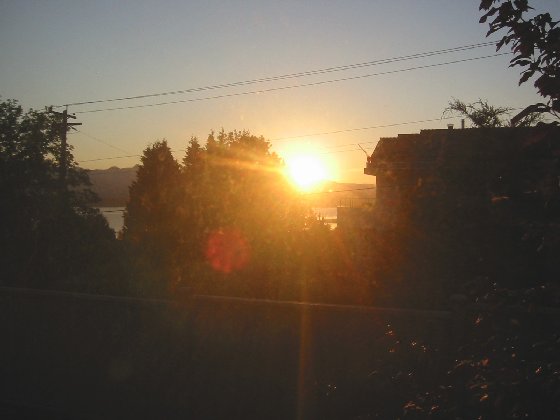 Sunset Over English Bay
As the sun set over downtown, we sat outside and enjoyed a glass of wine. Sitting on our porch, it was hard to believe that we had really gone on a two-year adventure and traveled the entire Mediterranean by sailboat. Back at home it almost seemed like we had never left. Only time will tell how we are all affected by our time together, away from Canada, experiencing first hand other people and cultures.