David's Diary: Sunday, June 1, 2003
First Visit to Athens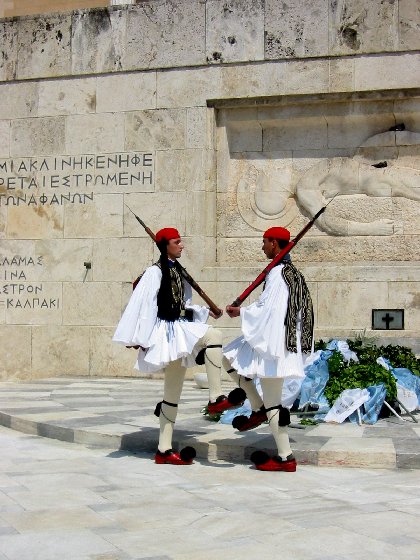 Guards
Zea Marina is located in Piraeus, the port of Athens. The city of Athens is located inland about ten kilometres from the sea. This afternoon we board a bus bound for Athens and take in the sights. We see a lot of construction projects which we assume are related to Athens hosting the 2004 Olympics next summer.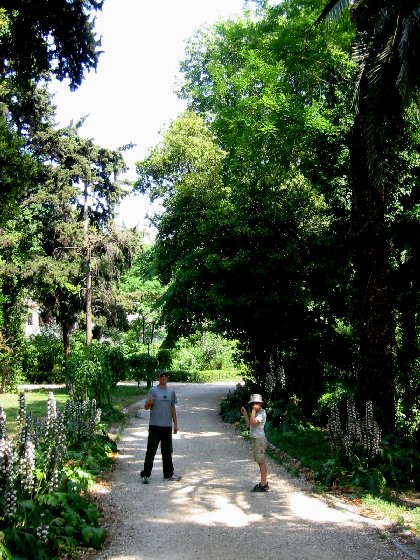 National Gardens
We got off the bus at Plateia Syntagmatos, a large central square located in front of the parliament building. The building is guarded by the evzones (guards who typically come from the village of Evzoni in Macedonia). Both their uniform and their high-stepped walk make them a must-see tourist item in Athens. We sat and watched the guards marching for a while, then we went around the corner and entered the National Gardens.
The National Gardens are a relaxing place to get away from the heat and noise of central Athens. We wandered the paths for an hour enjoying the subtropical trees and the local Athenians out for a Sunday stroll. After leaving the gardens we walked back through Plateia Syntagmatos and then to Plaka, the old Turkish quarter of Athens. We walked by numerous tourist shops and stopped at a restaurant for a cooling drink.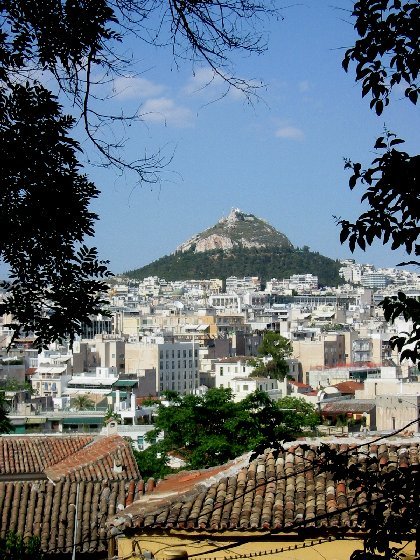 Lykavittos Hill, Athens, Greece
We continued our walking tour by climbing through Plaka towards the Acropolis. Our trail took us through tiny streets and alongside white washed houses where locals look out their front window towards Lykavittos Hill. As we kept climbing it felt like Athens was being spread out at our feet.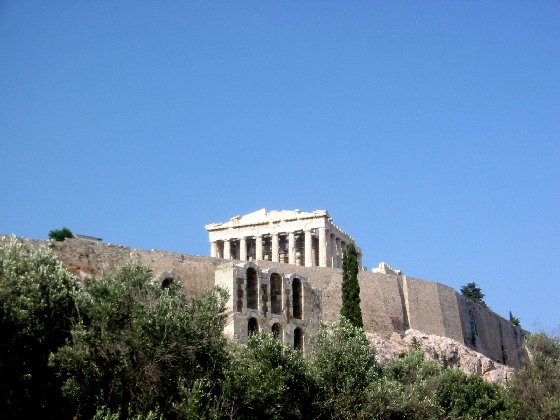 Acropolis
We circled around the Acropolis until we finally came to the entrance. This Sunday, the Acropolis was closed due to a dispute between the government and the workers. We had been eager to see the Acropolis and were disappointed at the closure, but there was nothing we could do about it except to make our way back downhill. After having completely circled the Acropolis, we made our way back to Amalias, the major road that carried much of the bus traffic through Athens. From there we caught a bus that returned us to Piraeus and Zea Marina where Dragonsinger awaited us.