David's Diary: Saturday, May 31, 2003
Aegina to Athens, Greece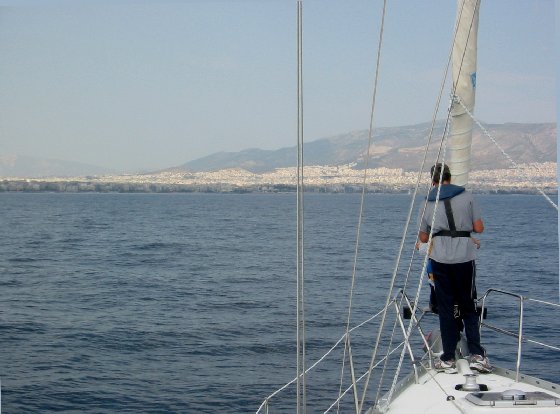 Approaching Athens
We started the day by exploring more of Aegina and doing a little shopping. The town is a popular tourist resort and fast ferries constantly arrive and depart for Piraeus, the port for Athens. Many tourists to Greece start their adventure with a ferry leaving from Piraeus. We find some beautiful fresh salmon in the market. It's expensive, but worth it as a special treat. We cast off after lunch and do a mixture of sailing and motoring for the few hours it takes us to approach Athens.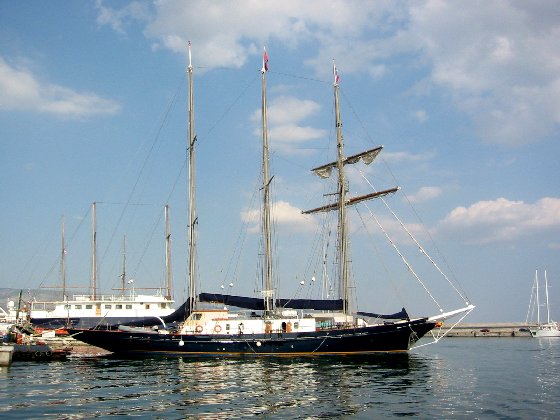 Entering Zea Marina
As we get closer we can see white apartment buildings stretching from horizon to horizon. We try one marina, but are told that there are no spots available. Through the Web we have met an Athenian businessman who keeps a boat in the marina and he had assured us that there would be plenty of space. Having been refused entry, I went below and reread the pilot guide. Fortunately, Zea Marina was only twenty minutes away.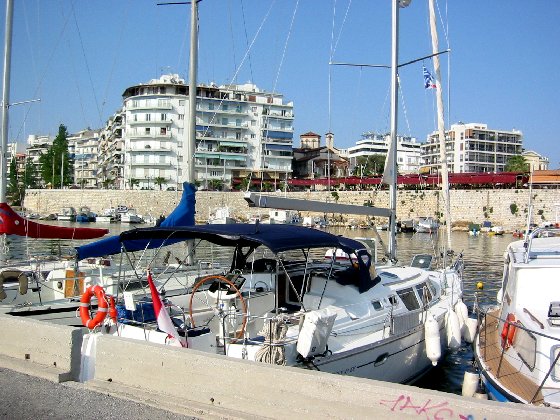 Moored in Piraeus
We entered the outer breakwater at Zea Marina and called the marina on our VHF radio. Before long a boat arrived, with crew from the marina, that we followed inside. On the way, we passed a beautiful three-masted wooden sailboat with a colourful figurehead at the bow. The wind was light making it easy for us to back into our assigned slip and tie up. We had arrived in Athens.