News About the Greer Family
November 7, 2004: Vancouver, Canada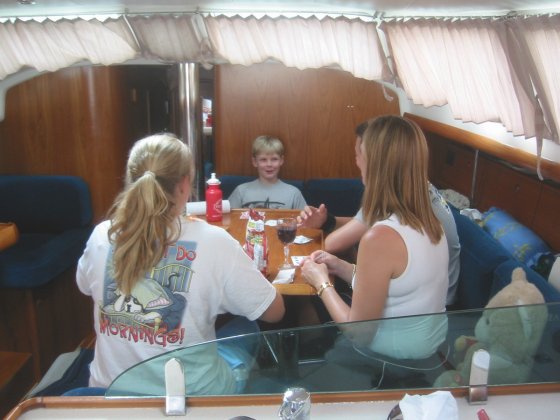 Family plays cards onboard Dragonsinger in Vancouver, BC
This news entry marks the end of one adventure and the start of another. Dragonsinger is back in Canada and we are now exploring our local waters in the boat we called home for two years. This is the last news entry about our Mediterranean adventures. But we still plan to post information and pictures of our current adventures in a new part of our Web site.
News About Dragonsinger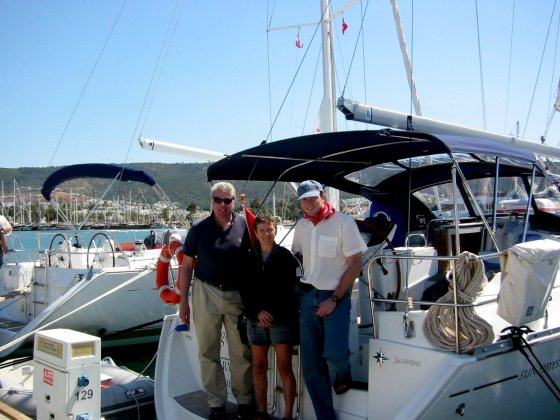 David, Marian, and Bruce onboard Dragonsinger in Bodrum, Turkey
This Mediterranean news update is about Dragonsinger, our Jeanneau 43DS sailboat that safely carried us around the Mediterranean for two years. We left Dragonsinger in Bodrum, Turkey in August, 2003 when all of us returned to Vancouver. After careful investigation we decided to bring Dragonsinger back to Canada to put her in charter with Cooper Boating.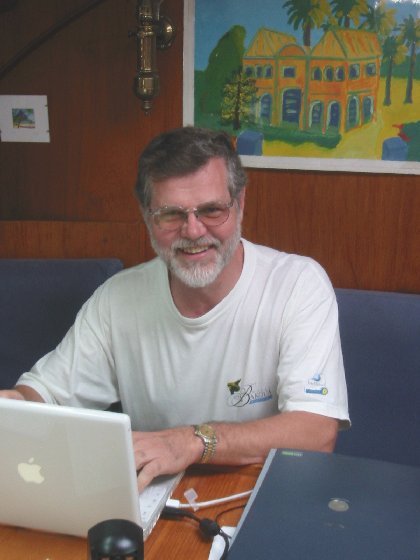 John Ridsdel Onboard Dany II
Dragonsinger was shipped back to Canada on a Dockwise Transport vessel. These special submersible ships are designed for float-on/float-off access for yachts moving around the world. Our only problem is that while Dragonsinger was in Bodrum, Turkey the Dockwise vessel was loading in Palma de Mallorca, Balearics, Spain. We had to sail Dragonsinger 1,400 nautical miles (2,500 kilometres) from Turkey to Spain. Joining David on the trip was Bruce White from Vancouver and Marian Leighton from Saudi Arabia. John Ridsdel, an experienced ocean and Mediterranean sailor, was supposed to join us, but at the last minute he was unable to do the trip due to professional commitments.
David's Diary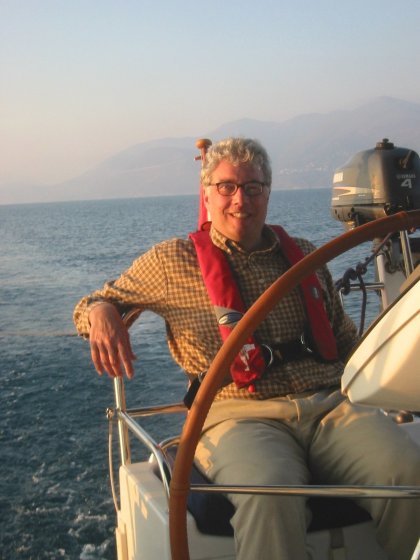 David helming in the Ionian Sea (photo Marian Leighton)
Sailing in the Mediterranean is always a challenge, but doing so in the spring months of April and May is particularly difficult. Bruce and Marian are to be congratulated on their hard work and patience in learning Dragonsinger and making long passages. We spent many days and nights together, sometimes in gale force conditions, and safely delivered Dragonsinger to Palma. We budgeted four weeks for the trip, which seemed generous. In the end it took us four weeks, less two days to make the trip and arrived in Palma with only two days to spare before Bruce and Marian had to catch flights to their homes.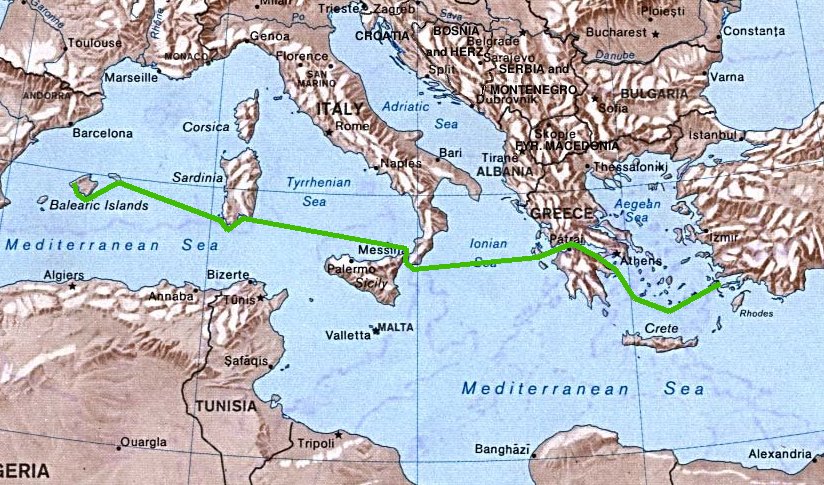 Passage plan from Turkey to Spain
David kept a diary of the trip. This diary features many pictures, including Dragonsinger being loaded on the Dockwise Transport in Palma de Mallorca. His last diary entry shows Dragonsinger in Vancouver, BC, with the Greer family once more onboard.
Travel Pictures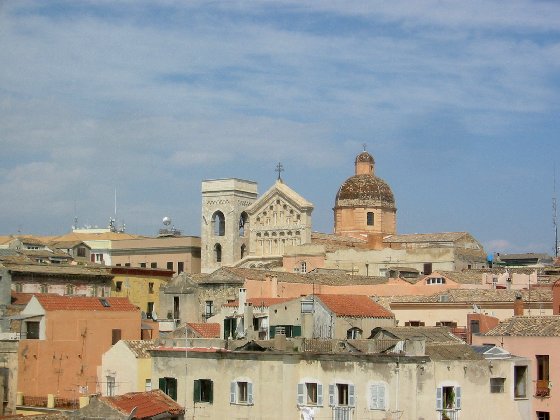 Duomo with Bell Tower, Cagliari, Sardinia, Italy
Bad weather kept us in Cagliari, Sardinia, Italy for a week which allowed us time to do some exploring. Cagliari is the provincial capital of Sardinia and we have added a picture set of the town.