David's Diary: Tuesday, June 3, 2003
Nowornot Again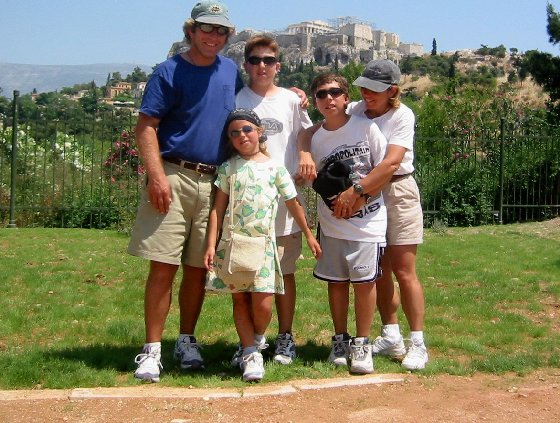 Steve, Sarah, Danny, Adam, and Deb from Nowornot
Our friends on Nowornot arrived in Zea Marina yesterday. The kids were back together moments after they arrived at the dock, playing basketball and then coming over to Dragonsinger to watch a movie. Today, the two families headed into Athens to see more of the sights.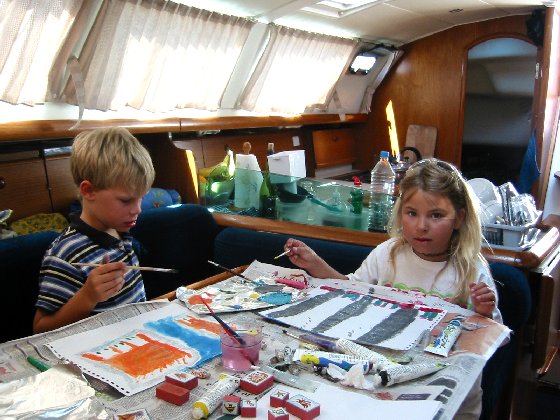 Allen and Sarah Painting
Before heading off, Sarah came onboard Dragonsinger. She and Allen had a great time painting together, before getting ready and leaving for Athens.
I have to stay onboard for the morning. We have been having problems with our stuffing box, the mechanism that keeps the sea out of the boat where the propeller shaft goes through the hull. Ever since I lubricated it in Malta, the stuffing box has been leaking. Our local boating friend Dimitris has arranged for his mechanic to take a look. They arrive mid-morning and they spend an hour looking at a lot of different possibilities. In the end, it turns out that the clamps on the stuffing box needed to be loosened in order to stop the leak. The solution is not intuitive and it's no wonder I had such a hard time figuring out what the problem was.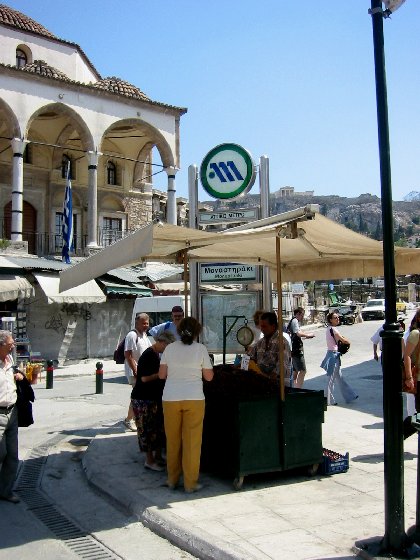 Selling Cherries
I join the families from Nowornot and Dragonsinger just after lunch. We walk to the Monastiraki neighbourhood. A street vendor is selling fresh cherries for Euro 1.50 a kilo -- a really great price. We buy a couple of kilos and in no time they have been devoured by the children and adults.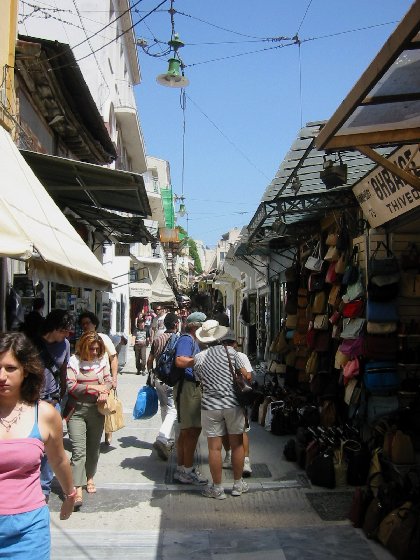 Monastiraki Shops
Monastiraki is known for its markets. The kids go one way and the adults another as we all agree to meet up forty-five minutes later. Steve, Deb, Karalee, and I wander the narrow streets, do some window shopping, and even stop by some of the shops to see what goods are for sale. It's nice to just take our time, soak up the atmosphere, and take in the people shopping around us.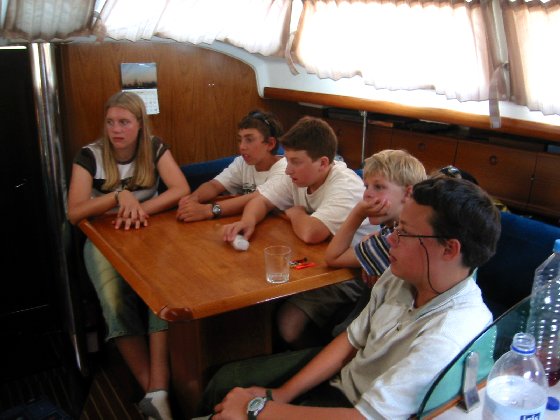 Watching a Movie
We returned to Zea Marina late in the afternoon. The kids all wanted to watch a movie. They had all been good about touring in Athens today so instead of chasing them outside to play more basketball, we closed the curtains and let everyone watch the movie. Afterwards the two families visited a local restaurant next to the marina to have dinner together. This will probably be our last night together as Nowornot plan to leave tomorrow.