David's Diary: Tuesday, July 1, 2003
Exploring Istanbul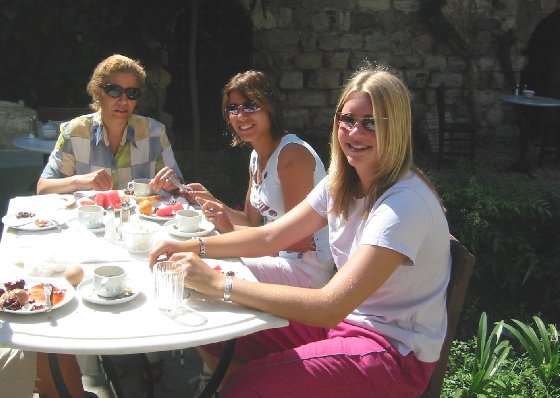 Layla, Nabiha, and Jocelyn
We were all in bed at a reasonable time last night (Jocelyn and Nabiha had a midnight curfew), but getting up this morning was a struggle. Jocelyn and Nabiha stayed up until 6:00 AM talking and didn't really want to get up at 8:30 to have breakfast. We eventually got them moving and sat outside in the lovely courtyard of the Hotel Empress Zoe. Breakfast is a buffet with fruit, cheese, tomatoes, cucumbers, jam, bread, and coffee or tea. The sun is already high up in the sky. Even with the tall walls of the hotel beside us the sunshine penetrates the courtyard and we all need to wear our sunglasses.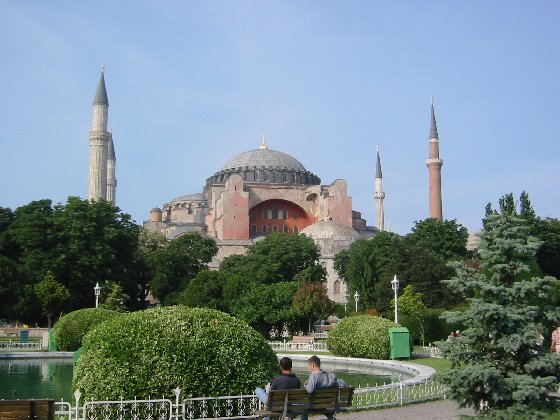 Aya Sofa
After breakfast we head out to do some exploring. Nabiha's Mom Layla has been to Istanbul before, but she tags along with us as we enter Aya Sofa. Called the Church of the Divine Wisdom, this site is a museum today. From 537 to 1453 it was considered the greatest church in Christendom. When Constantinople (what Istanbul used to be called) fell in 1453, Aya Sofa became a mosque. In 1935, it was proclaimed as a museum.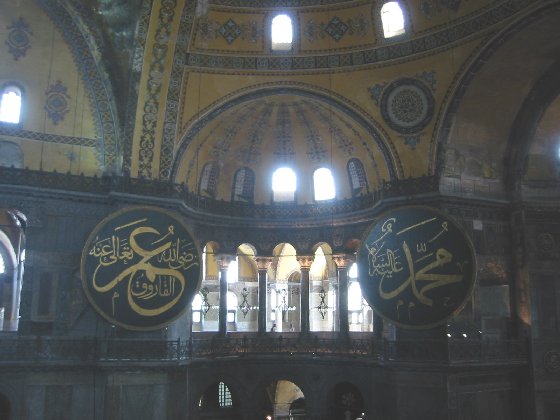 Arabic Script
Inside the arches tower overhead. Numerous windows let sunlight stream into the interior. There was Arabic script inside large circles around the church. Layla explained that each circle represents one of the prophets of Mohammed.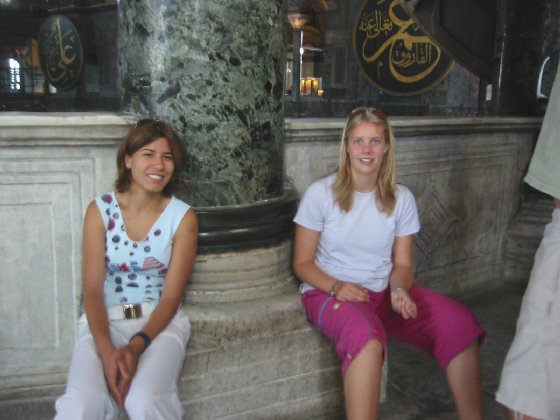 Nabiha and Jocelyn Inside Aya Sofa
We climbed the stairs and marveled at the painted ceiling. We also studied several mosaics with scenes from the bible. The dome is supported by a series of marble pillars. Jocelyn and Nabiha take a break and sit at the base of one of them. Keeping the dome up was a problem as Istanbul is in an earthquake zone. The original dome only lasted 11 years before being brought down in an earthquake in 559.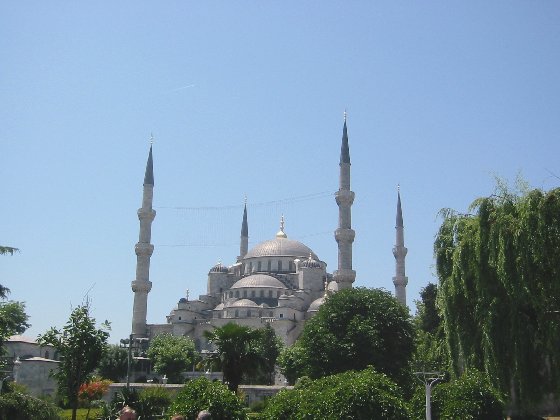 Blue Mosque
We next visited the Blue Mosque. The Mosque is still used for worship today, so you can only visit between prayer times. Constructed in 1603-1617, I imagine that it looks just as it did when it was first completed. The four minarets at the four corners look so slender that you think that they may fall down, but are amazingly robust when viewed up close.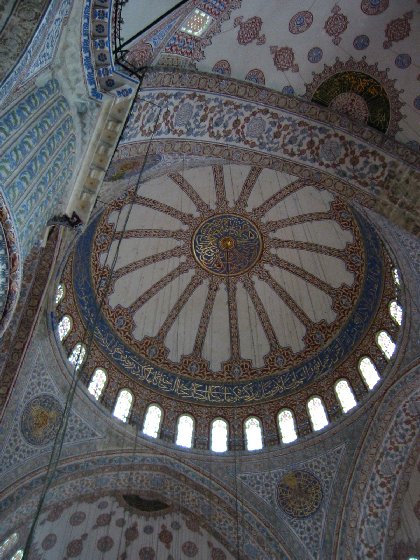 Inside Blue Mosque
I was the only one to go inside the Blue Mosque and I'm glad that I did. Four massive pillars hold up the dome which is covered with mosaics. The 'blue' designation comes from the Iznik tiles which line the walls. I spent some time just taking in the space, views, stained glass, and mosaics before returning outside and putting my shoes back on before joining the others.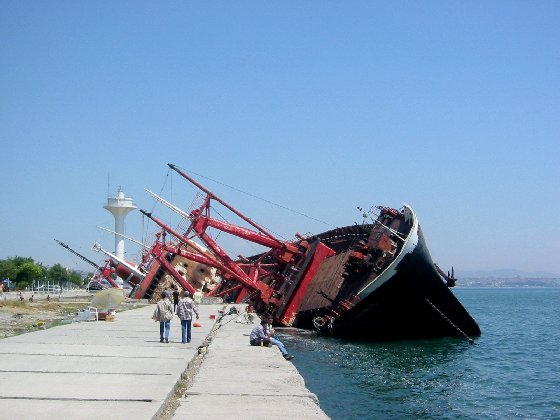 Wreck on the Shorefront
At lunch time we separate. I plan to drive back to Bodrum tomorrow. This morning Ann Nevens, owner and operator of Hotel Empress Zoe, told me to book a reservation on the fast ferry that crosses the Sea of Marmaras. The ferry will cut a couple of hours off the time it will take us to return to Bodrum. I walked to the ferry terminal, bought our tickets for tomorrow, then walk back along the waterfront. There are lots of people out strolling, fishing, and swimming. Right next to the seawall is a large freighter which has sunk and is tilted over forty five degrees. It's obvious that the freighter has been there for years and I wonder why it's just left to rust.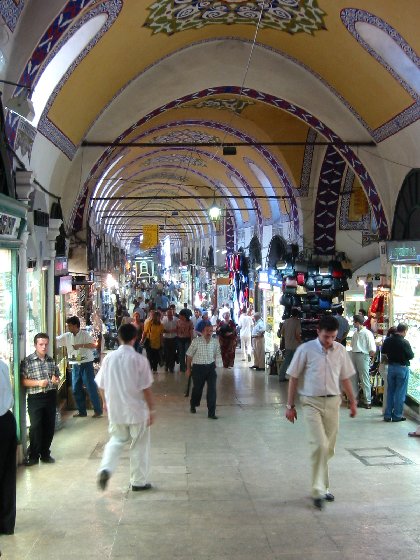 Grand Bazaar
I return to the hotel where Kevin is by himself. Kevin and I walk to the Grand Bazaar. The Bazaar is about one kilometre square. We navigate narrow streets before entering the Bazaar and strolling along the wide corridors. We shop for some pottery for a friend back in Vancouver. I look in four different shops, but some bowls in one have caught my eye. I negotiate with the shopkeeper. I didn't think I did a very good job of negotiating, but Kevin pointed out to me that the shopkeeper broke out in a sweat when I kept pushing the price, so perhaps I did alright. I know that before spending the winter in Tunisia, I would have found it almost impossible to seriously negotiate the price of goods. But with five months of practice from Tunisia, I am at least getting a little better at it.
Kevin and I get lost for a while on the way back to the hotel, but eventually we find our way. We meet up with Layla, Nabiha, and Jocelyn the five of us go out for dinner. We pick a restaurant recommended by the hotel and have a much better dinner than the one Kevin and I had last night. We head back to the hotel and have an early night. Tomorrow, we need to start early to catch our ferry and drive the 850 kilometres back to Bodrum.