David's Diary: Monday, June 30, 2003
Meeting Friends in Istanbul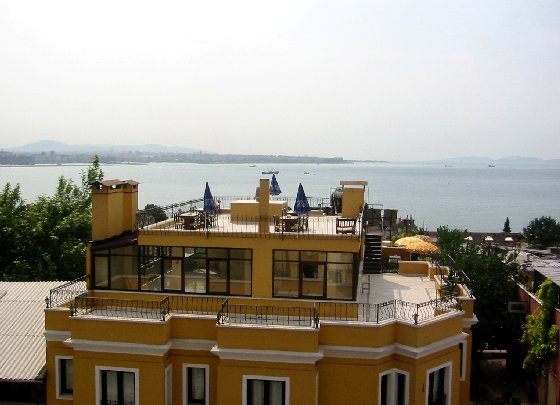 Sea of Marmara
After our long day driving to Istanbul yesterday, we slept in as long as we could and still get breakfast. Our hotel room looks over the Sea of Marmara. The Sea is home to a tremendous amount of freighter traffic. Much of that traffic is to and from the Black Sea which is reached by the Bosphorus. The Bosphorus divides Istanbul into European and Asian parts. Bodrum, where the boat is, is in Asia. Our hotel, being North of the Bosphorus, is in Europe.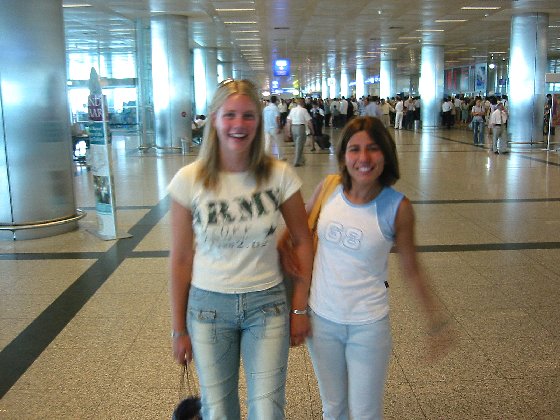 Jocelyn and Nabiha
After our experiences navigating through Istanbul yesterday we decide to make things easier for ourselves and take a taxi to the airport. We are meeting Nabiha, Jocelyn's friend from Monastir, Tunisia, and her Mom. The airport at Istanbul is modern and light and Nabiha and her Mom arrive on time. There are smiles everywhere as Jocelyn and Nabiha greet each other. It's been three months since they saw each other, but I'm sure that they think it's been much longer.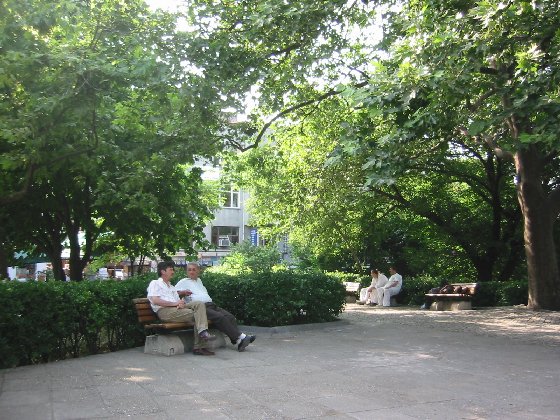 Sultanahmat Park
We have a late lunch, then I do some exploring on my own. Sultanahmat, the part of Istanbul we are in, is also known as Old Istanbul. It includes many great palaces and mosques. Near our hotel is a large park sandwiched between the Blue Mosque and Aya Sofya. I explore the park and take some pictures before returning to the hotel.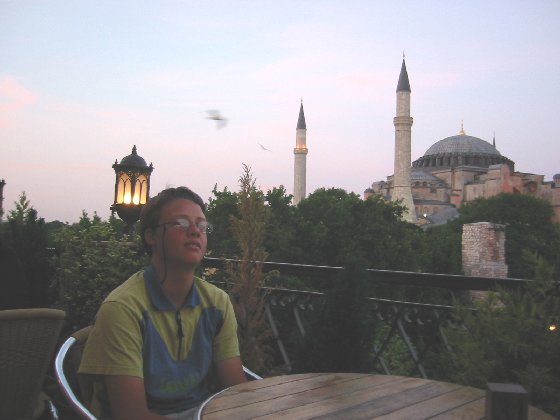 Kevin at Dinner
When I get back, Kevin is alone in our hotel room watching music videos. Nabiha's Mom is out shopping. Nabiha and Jocelyn are out exploring. Kevin and I just hang around and watch more music videos. It's great to have time for just the two of us. We head out to dinner and try a place mentioned in our Lonely Planet guide book. The food is okay, the price on the high side, but the location next to the park I explored this afternoon is spectacular. We sit three stories up on a balcony overlooking Aya Sofya. As we finish dinner the sun slowly sets. Kevin and I watch as the lights come on around us lighting up the monuments in this ancient city.