David's Diary: Wednesday, September 4, 2002
School Starts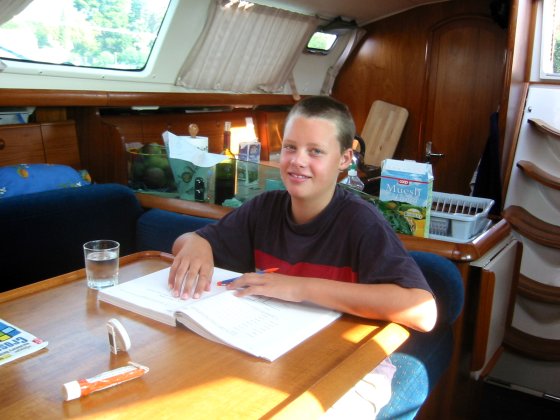 Kevin At His Desk
We have had a wonderful three-month break, but once again it is time for school. Our break has been a month longer than is normal in Canada. Because of the long lead time to mail our school material to Canada and time needed for marking, we finished school at the end of May earning us an extra month for the summer break. We have enjoyed every minute of it, but now it is time to start school again.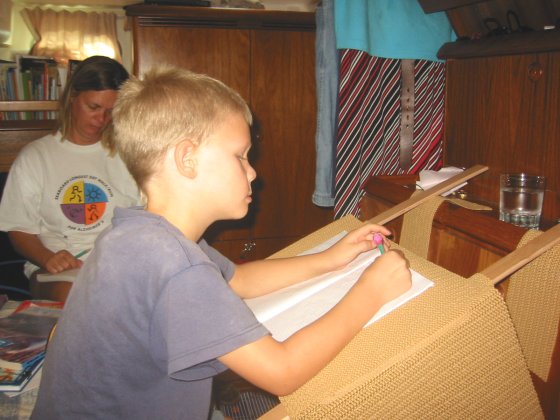 Allen's New Schoolroom
We have made a number of changes to the way we do school. Karalee has designed and created a special desk for Allen in the aft cabin. Doing school in the main cabin was too disruptive for Jocelyn and Kevin who need a quiet space in order to get their work done. We are also changing the teaching arrangements. Last year, Karalee and I each taught every day, with Karalee teaching Allen full-time and me teaching Kevin and Allen. This year, we are going to alternate teaching weeks with only one of us teaching all three children. This will allow more time for the non-teaching parent to do other things and we think it will encourage more independence in our students.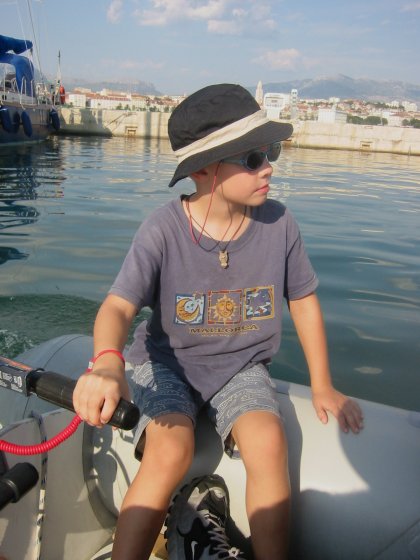 Allen Learning To Steer
In life, learning takes place inside and outside the classroom. This week Allen has learned to steer the dinghy all by himself. Driving a dinghy is tricky, especially as the lever you push on the dinghy engine operates the reverse to what you naturally think. Allen struggled at first, but he stuck with it and now he drives me from the marina into town with confidence.