David's Diary: Monday, April 1, 2002
Back To Palma, Spain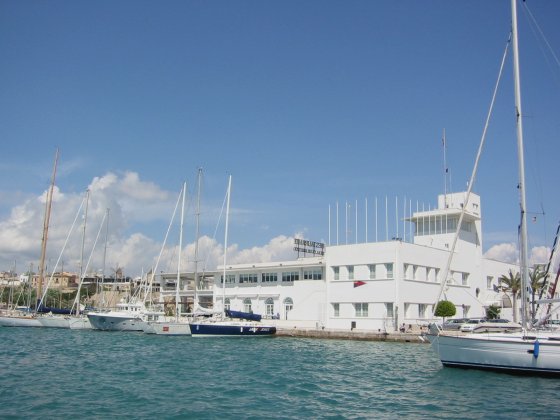 Real Club Nautico
Today the sun was shining so we headed out to see more along the East coast of Mallorca in the Balearic islands of Spain. We had not gone far, when we heard on the VHF radio of a gale-force wind warning for tomorrow from the Northeast. Having just suffered through a five-day NE gale, we decided that heading back to Palma was the best thing to do. Along the way we passed Puerto Petro, where we had considered stopping for the night before changing our plans. Peering inside the harbour with our binoculars we saw a sailboat only slightly smaller than ours pushed up on the rocks. The entire sailboat, keel and all, was at least three feet (one meter) above the water. We later learned that at least three people were killed during the storm when they fell off cliffs and were battered by waves. Things were rough in Porto Cristo, but we came through the storm with nothing worse than one damaged dock line.
We returned to the Real Club Nautico de Palma yacht club where we stayed when we were last in Palma. Before we had stayed out at the second last dock in the marina. This time, we are located right next to the yacht club. In a marina this large, changing your location often gives you a different perspective on the marina and its location. One bonus for us is that on the main dock the bathrooms are being renovated and the temporary toilets and showers are tiny. In the yacht club building, there is a large and spacious men's and woman's toilet which I am sure we will enjoy more than the dock facilities.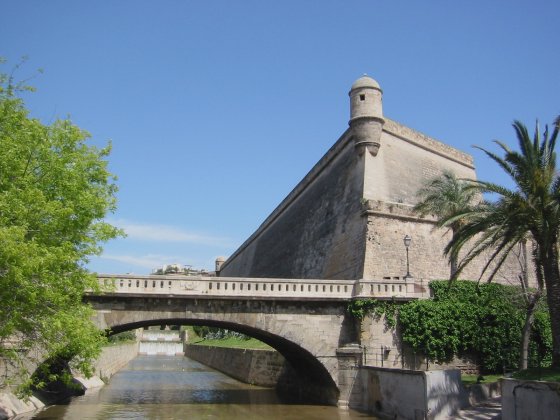 Original Town Walls
The marina is located right next to one of the original town walls. As we learned on our visit to the City History Museum in Bellver castle, Palma was a walled town for many centuries. The main river which helped the city prosper was located in the middle of the old town for hundreds of years, but during one period of expansion the river was moved outside the town walls. Today that same river runs by the town wall and enters Palma Bay right next to the marina where we are staying.