David's Diary: Sunday, March 31, 2002
Easter In Porto Cristo, Spain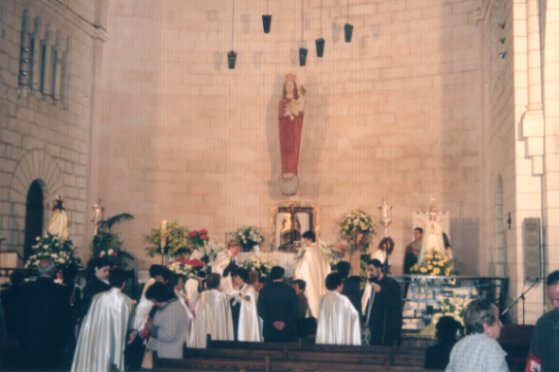 Easter Service
Today is Easter Sunday. The kids were pleased that the Easter bunny did manage to find Dragonsinger, even if we were located in the Balearic Islands, Spain. Karalee wanted to go to the Easter service at the local church, but the rest of us were not keen to see mass in Catalan. Around 9:30 we could hear music coming from across the harbour as the church service started. At 10:30, we headed off to explore more of Porto Cristo and to see if we could catch the very end of the church service. While the weather had improved greatly, there was one thing that had changed that we didn't know about. Last night, Europeans advanced their clocks by one hour so it was really 11:30 and not 10:30 when we headed off. The change to daylight savings time won't happen for another week in North America.
We arrived at the church just as the Easter service finished. We walked inside to see the brightly lit interior and all of the Easter flowers arranged around the altar. The choir was draped in sliver colored capes which swirled every time they moved. Kevin and Allen were fascinated by these capes and we got to see more of them as we walked through Porto Cristo.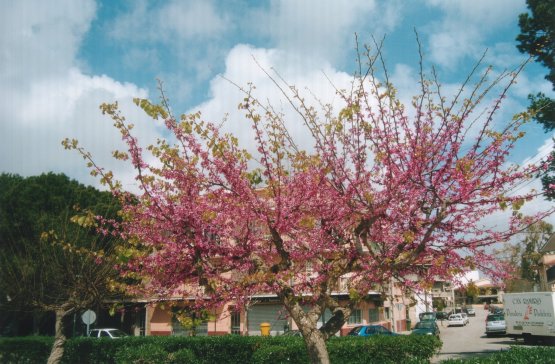 Spring Is In the Air
We had arrived at the very end of the Easter service. Had we arrived earlier, we wouldn't have gotten in as it was standing room only for the special service. While Jocelyn, Karalee, and Bobbie headed off on their own, Allen, Kevin, and I followed our map to find the one football (i.e., soccer to those from North America) field in Porto Cristo. It was crowded with kids getting together for a Sunday pickup game. The boys didn't want to join, so we found a place to kick the ball and before long everyone else had gone home for Easter lunch and we had the playground to ourselves. We alternated football with basketball and had a great time in the first sunshine in a few days. With the storm over, we wandered the local neighbourhood far from the tourist joints and enjoyed the blossoms which are just starting to come out on the trees.