David's Diary: Thursday, April 4, 2002
Arab Baths In Palma, Spain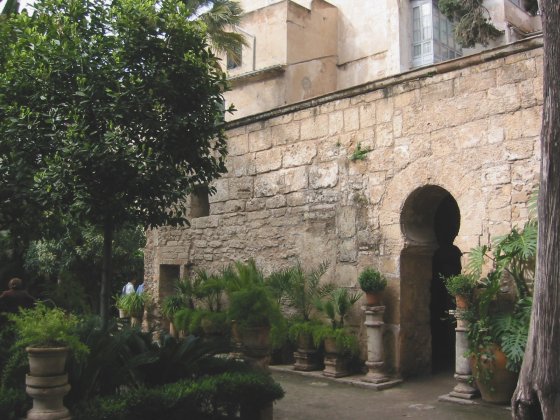 Arab Baths
We are back at school, but after lunch we wanted to see more of Palma. After doing some shopping (Jocelyn wants roller blades so she can stay in shape), we navigated through tiny streets until we found the Arab Baths. These Moorish baths are all that remains from the more than one thousand years of Moorish occupation of Palma.
After a few wrong turns, we found the entrance and made our way into a delightful garden walled off from the surrounding streets. The bath house itself is not that much to look at. Twelve columns support a domed roof which has small windows in it to let in the light. We lingered over the garden admiring the cactus that stood three times my height. We enjoyed the late afternoon sunshine that had returned to Palma after the gales and rain that fell this week. Rainfall in Mallorca has set new records this year and threatens to hold back critical vegetable crops that Mallorcan farmers depend on for income.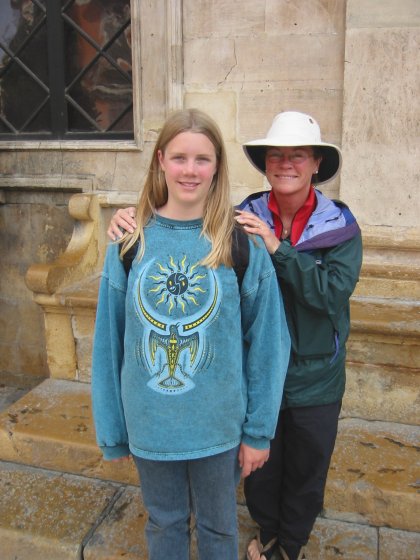 Jocelyn and Bobbie
Bobbie's time aboard Dragonsinger is almost over. She has had to suffer a gale and spend a lot of time on her own while we do school, but she has enjoyed the opportunity to explore Porto Cristo and Palma. Jocelyn, Bobbie, and Karalee have formed a bond and often go off together to see and do things. Having another adult on board has made things easier, but also changed the family dynamics in subtle ways that we are still trying to figure out.