David's Diary: Friday, August 2, 2002
Vis, Croatia With Willy Flippit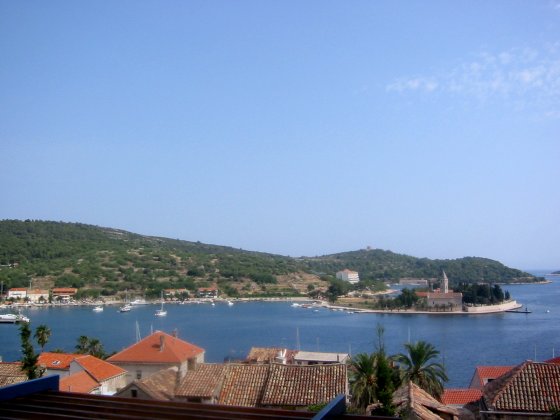 Vis Harbour, Vis
After a few days together in the cruising islands of Croatia, the four cruising families decided to split up for a couple of days. While Onskan and Arbella headed off to Hvar, the catamaran Willy Flippit and we head for the island of Vis. Jocelyn and Kevin join Willy Flippit for the sail, while Clay joins us for the short crossing. The superior speed of Willy Flippit is obvious soon after we leave as she disappears over the horizon. We know where we're going to meet and it's a lazy summer day so we are not too concerned about falling behind. Allen and Clay have fun playing while Karalee and I get a chance to sail Dragonsinger by ourselves.
Our sail was yesterday and today we head off to explore Vis Town. The town and indeed the whole island were off-limits to all tourists until 1989 due to a nearby naval base. Croatians were still allowed to live, work, and go to school during its time of isolation and we discover a pleasant town with a long quay running along the waterfront.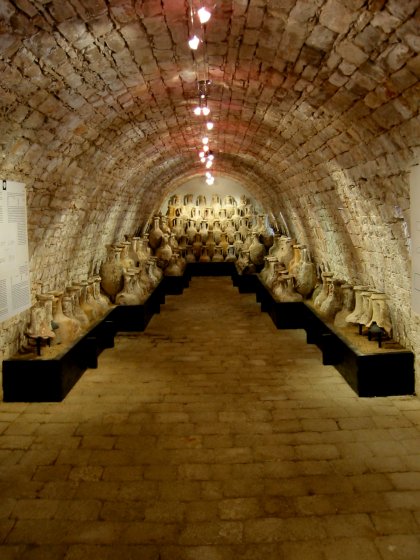 Vis Museum
The two families made a visit to the Vis Museum. The younger children run through the museum glancing at exhibits, but Stacy, Karalee, and I along with Jocelyn take our time and enjoy the small, but representative museum. One section was especially interesting. In 1977 a wreck was discovered just off the coast of Vis. This was one of the first ever wrecks discovered in the Adriatic Sea that had not been previously plundered. Over three summers, archaeologists carefully mapped then retrieved the amphora from the sea bed. It is believed that the ship was carrying wine at the time that it went down. The amphoras which would have contained the wine are featured in the museum.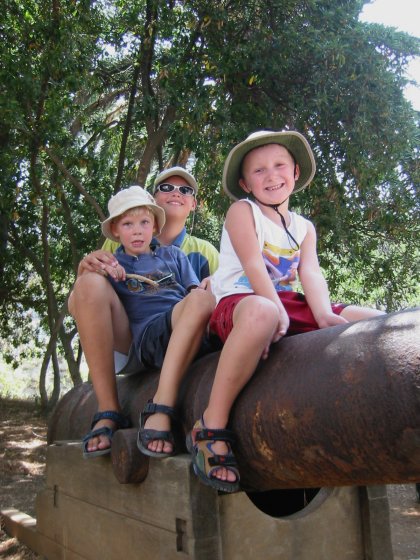 More fun than a museum
Kevin, Allen, and Clay find the canon located in the playground behind the museum more interesting and have a great time climbing and playing. Then it was time for lunch, more playing, and a beautiful afternoon swim off Willy Flippit in the calm bay. As evening approached Stacy, Scott, Karalee, and I head into town for dinner. Stacy and Scott come from Washington State, just south of Vancouver, so we have a lot in common and the evening passed quickly as we feast on freshly caught fish at an open air restaurant in Vis Town.