David's Diary: Tuesday, July 3, 2001
Staines, England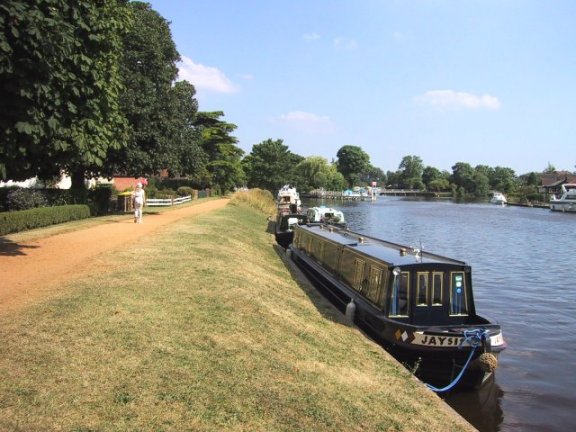 River Thames
Today was a walking day that included an unexpected surprise. Over the years, I have collected a number of walking books covering the area in and around London. We decided to head out of London to the small village of Staines.
Getting everyone going in the morning is still a struggle. But this is the start of our summer holiday, so it shouldn't be surprising that everyone wants to lie in and goof around in the morning. But it was after noon before we finally headed out for Waterloo station.
We took the train to Staines, which seemed to stop at every railway station on the line. The stops read like a novel: Clapham, Putney, Barnes, Chiswick, Hounslow, Feltham, and Ashford until we finally arrived at our destination. We stopped at the Angel Inn for a pub lunch, then continued on our walk.
Over the years, I have published a number of virtual walks in London and in other areas. This walk is another one that is now available for viewing.

View Staines' walk.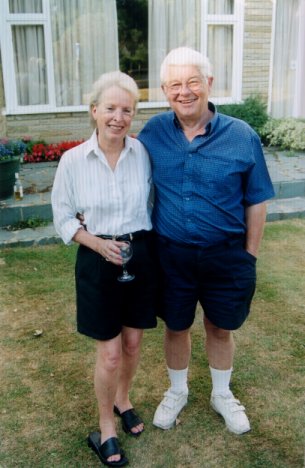 Joan and Gary Hammond
During our walk we were in for an unexpected surprise. We were walking down a tiny country lane in the village of Laleham, when we ran into Gary Hammond, a fellow member of the Royal Vancouver Yacht Club. No matter how far you travel, it is amazing how you can run into people that you know. Gary and his wife Joan had moved from Vancouver to London six years ago. It turned out that we had just walked past his house. Gary invited us back to see Joan and have a drink, which we gladly accepted. Gary even has a picture on his living room wall of his boat Koru that I had given to him before they left Vancouver.
After a nice visit Gary drove us back to the Staines train station. After returning to Waterloo Station, we walked by the London Eye, across Westminster Bridge, and then caught the Tube to South Kensington. By this time it was 8:30 at night and with five tired and hungry people, we found a place to eat. It was an organic Italian restaurant. All the menu items were organic, including pizza, salads, pastas, and even the wine. We had an enjoyable dinner then it was time to head home for a well-deserved rest after our day out.