David's Diary: Monday, July 2, 2001
Tower of London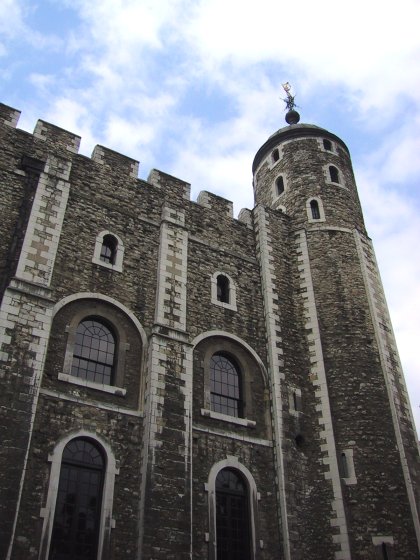 White Tower Inside The Tower of London
We attempted an early morning start. But interrupted sleep, as we try and adjust to London time, combined with a slow-moving group of people meant that we didn't get on our way until after 10:30 in the morning. Our goal for the day was to see the Tower of London.
The Tower of London was first constructed by William the Conquerer after the Battle of Hastings in 1066. The visit to the Tower was an instructive lesson in travelling with children. While Karalee and I thought there would be lots of interesting things for the children to see in the Tower, we heard cries of "when are we leaving" within an hour of arriving.
We toured the major areas and made sure to visit the Crown Jewels. Then it was time to visit the armory, another area that we thought the children would enjoy. There was some enthusiasm for the armour, lances, guns, and canons -- the children's interest increased slightly, but it was clear that three hours was more than enough to visit a single sight.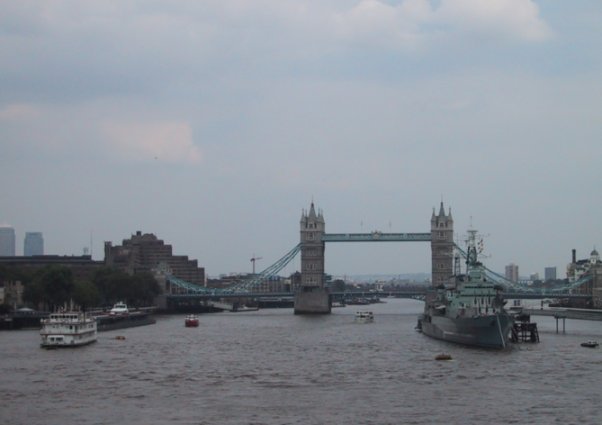 Thames View East from London Bridge
We crossed Tower Bridge and examined the spot where the bridge opens when large vessels need to pass by on the River Thames. Then we walked upstream until we found a pub where we could sit outside and have some lunch.
After lunch, we walked across London Bridge and then took the Tube to Picadilly. It was time to visit Hatchards, David's favorite book store, and let everyone purchase enough books to last us the next three months. It took almost two hours of book shopping before everyone was happy. By that time, it was 5:30 in the afternoon and everyone was really tired.
We headed back to the apartment, where Karalee, Allen, and I had a quick nap. Then it was time to cook our second home-made dinner, while Karalee caught up on the story line on the British TV show Coronation Street. It is great to have a really nice home base to return to each day and cooking provides a nice way for me to unwind at the end of the day.