David's Diary: Friday, August 30, 2002
Dugi Otok, Croatia With Arbella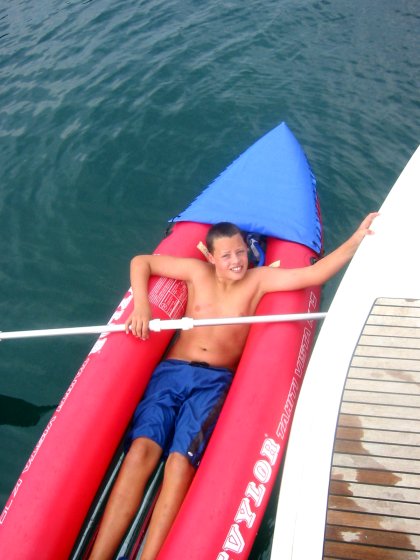 Kevin Chilling Out
We left Pula early yesterday morning and did another long passage back to the island of Dugi Otok in Croatia. We were once again surprised and how long Dugi is and it took twelve hours to travel to our anchorage. We have been talking with our friends Willy and Maggie on their boat Arbella and we've met up with them once again.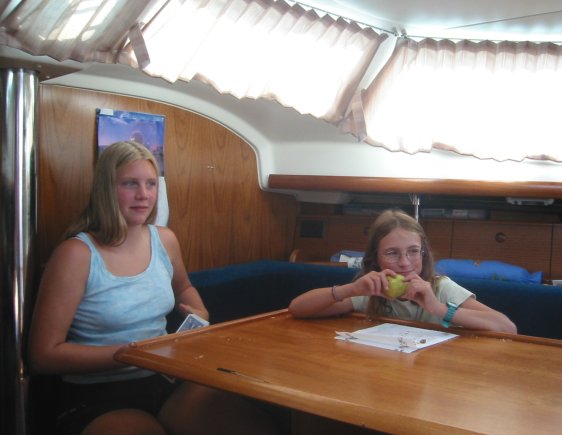 Jocelyn and Elin
We first met Elin and Sally, the two children on Arbella, last Christmas in Barcelona. This is the third time this summer we have got together, but this will probably be the last. Arbella is heading north towards Venice and we are now heading south. But we've met for a couple of days of fun and the two sets of children move from boat to boat and into the water having a great time.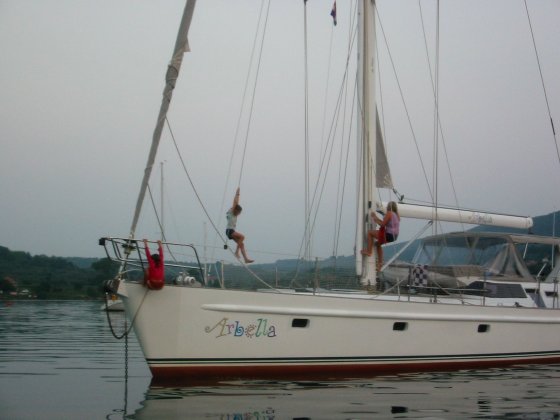 Children In the Rigging
We finish the day with a shared dinner onboard Arbella. The kids are there before us and as it starts to get dark they treat Arbella as one large playground. Elin and Sally have been onboard since they were little and they climb the rigging like monkeys. The adults eat outside in the cockpit while the five children have fun down below. The summer is almost over and we're glad for a last chance to meet friends and enjoy the cruising grounds of Croatia.