David's Diary: Thursday, November 22, 2001
Pont du Gard and Les Baux, France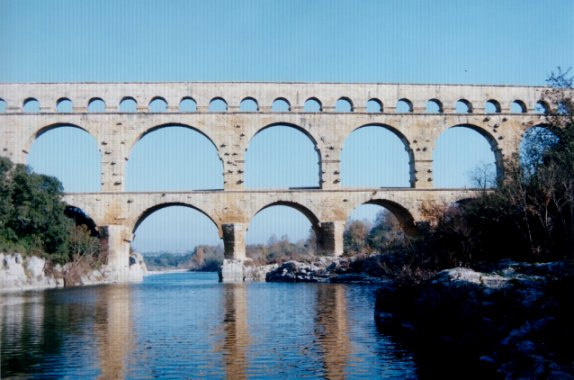 Pont du Gard
Built over two centuries ago, the Pont du Gard aqueduct carried water to the city of Nimes. This morning we left Avignon to visit Pont du Gard and admire the three sets of arches over the Gardon River. Water was carried across the top arch, while people crossed the lower arch. We hiked down the river, then climbed back up the banks until we were above the top arch of the aqueduct. We had splendid views of the Gardon valley and hiked through trails at the top of the bridge before returning to the lowest arch to cross over the river. After crossing the river we walked to the visitors center. The recently opened center provided us with more information, including the fact that the supports for the original scaffolding work were left in place to facilitate future maintenance of the bridge.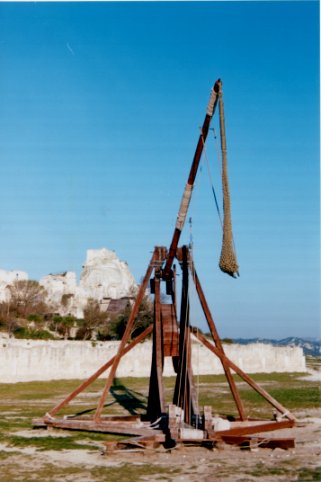 Les Baux-de-Provence
Lunch was sandwiches in the car as we had one more site to see before returning to Port St. Louis -- Les Baux-de-Provence. We navigated the narrow roads that led up the hills to Les Baux. Just before we arrived, we spotted the Caves de Sarragan. Our guidebook let us know that Les Baux was a designated French appellation, so we decided to stop at the cave and sample some wine. The wine was Appellation Cotreaux D'Aix-En-Provence and not Les Baux, but we enjoyed the red 1995 vintage enough to buy six bottles.
We continued the short distance to Les Baux and in the late afternoon sunlight visited this village perched on the hillside. Cars are not allowed in the tiny village, which boasts a population of 457, and so we enjoyed the streets to ourselves. The wind had started to blow and the temperature was dropping so there were only a few hardy people making the visit.
The castle itself is in ruins, but there are excellent models that show what it must have looked like in its prime. Les Baux has existed since the 11C and was a major center controlling 79 towns and villages during that time. The views are spectacular looking down to the wine and olive groves in the valley below as the sun set in the distance towards the city of Arles. It is easy to imagine how attackers were fought off from the high walls or by using catapults, examples of which we viewed during our visit. As the sun set it was time for us to say goodbye to this isolated village and return to the boat at Port St. Louis.