David's Diary: Monday, March 31, 2003
Final Day in Monastir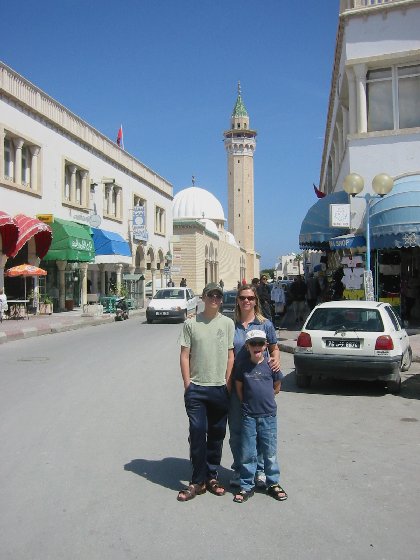 Kevin, Karalee, and Allen in Monastir Central Circle
We did a final check on the weather today and first thing tomorrow we will be untying our lines and leaving Monastir. We take the day off school in order to do our last minute shopping and organizing. We head off to the center of the Medina and buy new shoes for Kevin and Allen. Our feet find the route without thinking and we stop in the center circle of the Medina to take a few pictures with the Mosque in the background.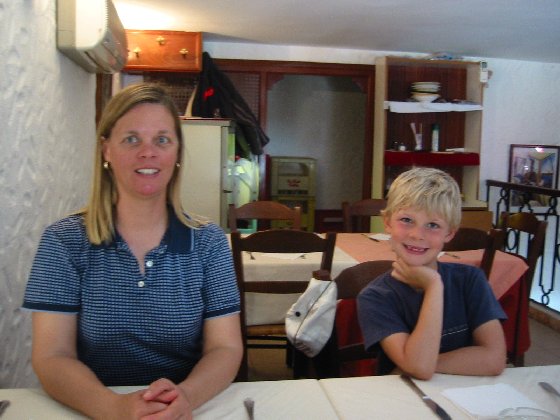 Lunch in a Favourite Restaurant
After dropping more packages and school work off at the post office, we stop at a local restaurant in the Medina. We've been coming here on a regular basis for lunch and we head upstairs to find a table. This is our last chance to have a Brik, the deep-fried Tunisian egg speciality, and watch the local people around us.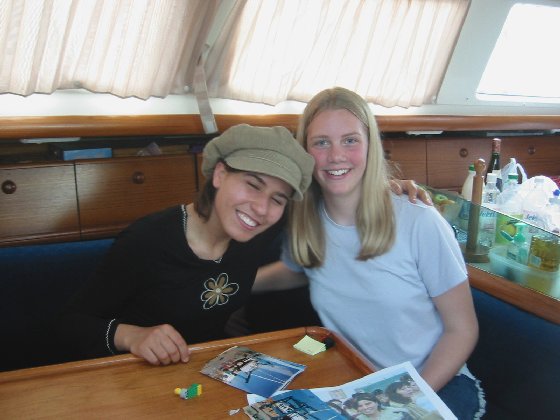 Nabiha and Jocelyn
Jocelyn's friend Nabiha comes by the boat for a few hours. Jocelyn has become close to Nabiha and we know that she is having a hard time saying goodbye. At times, Karalee and I have been concerned at the intensity of the relationship, especially as Nabiha is nineteen and Jocelyn thirteen. But Nabiha is a very young nineteen and Jocelyn a mature thirteen-year old. The relationship has changed Jocelyn. Not only does she now speak French, she also has had her eyes opened to a society different than Canada's. She has also become a teenager.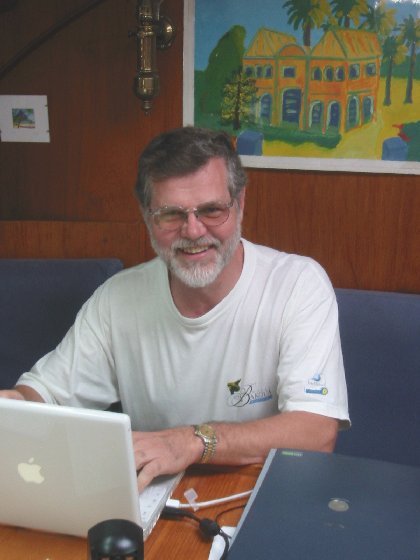 John Ridsdel
There is a lot of packing up to do. We have stored a lot of things in the apartment that we rented and all of it has to be moved to the boat and stored away. Around dinner time I drop by the sailboat Dany II to visit with John Ridsdel. John has been away much of this winter so we have not had much time to visit with him.
Karalee and Jocelyn like to think that it was all Jocelyn's idea to come to Tunisia. I let them think that, but in reality it was John and his wife Laurie that convinced me last winter that Tunisia would be a safe place to bring our family. In many email and telephone conversations with them, I discussed what it was like in Tunisia. None of those really prepared me for the reality, but they were correct in that Monastir is a place where we could experience a Muslim/Arabic culture in safety. It took a few months to adjust to Tunisia, but I'm glad that John did convince us to come here. We call our trip an adventure for a reason.