David's Diary: Wednesday, February 5, 2003
The Girls Go to the Dessert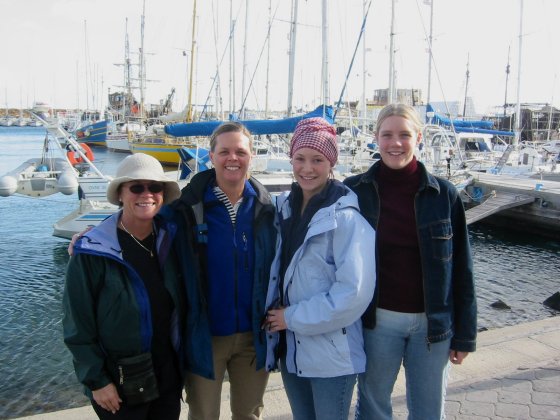 Bobbie, Karalee, Brandy, and Jocelyn
For only the second time in one and a half years we have visitors onboard Dragonsinger. What is surprising, or perhaps it shouldn't be, is that it's the same person who has visited us both times. Last year, Bobbie joined us in Palma de Mallorca. This year, she has brought her daughter Brandy to see and explore Tunisia.

See Bobbie's First Visit
Bobbie has been a close friend of Karalee's since high school. Even though they now live far apart, they have stayed in touch through the years. We have been looking forward to Bobbie and Brandy's visit all of January. Kevin, Allen, and I only get the shortest of visits with them as they arrived yesterday and are leaving today with Karalee and Jocelyn to the south of Tunisia. They plan to spend two nights in the desert, then explore more that Tunisia has to offer. The boys are left onboard Dragonsinger where I will do school with both of them for the rest of the week.