David's Diary: Thursday, November 1, 2001
Shopping In Marseille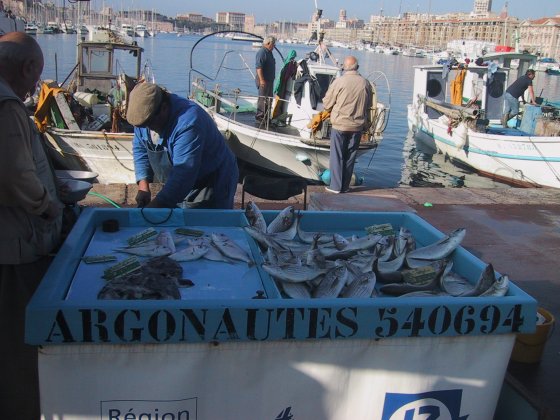 Marseille Fish Market
Every day at the head of the Vieux Port in Marseille there is a fish market. It is amazing to walk the market and see the variety of fish for sale. Many are kept in salt water and are still kicking as you watch. Fish range from small to large and there are lots of other sea creatures for sale from urchins to octopus to squid.
The variety of fish in the market is similar to the variety of goods that we can buy in Marseille. We have been away from major centers for a few weeks now and it is surprising how much we enjoy the selection of a big city. From clothes to books to perfume, there is a lot on offer in Marseille. We make many trips back and forth to the stores, trying things out on Dragonsinger until we find those things that are just right for our new home.
We also enjoy the local dining. One evening Karalee, Jocelyn, and I leave Kevin and Allen on the boat and go exploring the nearby pedestrian area. We find a seafood restaurant and enjoy a three course menu that includes Bouillabaisse, the best known dish of Marseille. Bouillabaisse is a rich fish soup with wonderful fish flavors that are enjoyed with croutons covered with rouille, a mayonnaise-like spread, and cheese. The result is difficult to describe, but exquisite for the taste buds.