October 20, 2011: Tolka to Chhomrong
With an early bed time and a few of us still getting over jet lag, we were up early with the rising sun. David explored Tolka and took photos. The early morning light was just starting to hit Annapurna South, making for a fantastic photo opportunity. The morning tea was hot as we sat down for breakfast in the small clearing where we had spent the night. We packed our daypacks and headed out among the terraced fields continuing to follow a trail along the side of the hills.
After about forty-five minutes of walking, Karalee and David came across Jane who had split open her forearm. Jane, an avid bird watcher, had been keenly watching her surroundings when she tripped. At the time, she had just entered a small village and it just happened to be her misfortune to reach out with her arm which struck a barbed wire fence that followed the edge of the trail.
The local villagers gathered around Jane and provided her with a chair. David ran ahead to get Marian and Karalee went back on the trail to get Shyam, our Sirdar. Marian is a nurse and she soon had Jane bandaged. With that we continued on our way heading downhill towards the Modi Khola river.
We passed a small mill, powered by a stream. We then crossed the Modi Khola river on New Bridge. The New Bridge wasn't brand new, but rather was named because it replaced an existing bridge in the same location. After the bridge it was time to head uphill to Jhinu Danda (1705m).
We needed the fuel from lunch to make our afternoon climb. We headed straight uphill on a thirty-degree slope of trails and steps finally arriving hot and sweaty at Chhomrong (2050). Chhomrong is one of the larger villages on the trek to Annapurna Base Camp, with many guesthouses. Our tents were setup on a lovely two level grassy field. We took the opportunity to use a local guesthouse shower to clean up after two hard days of trekking.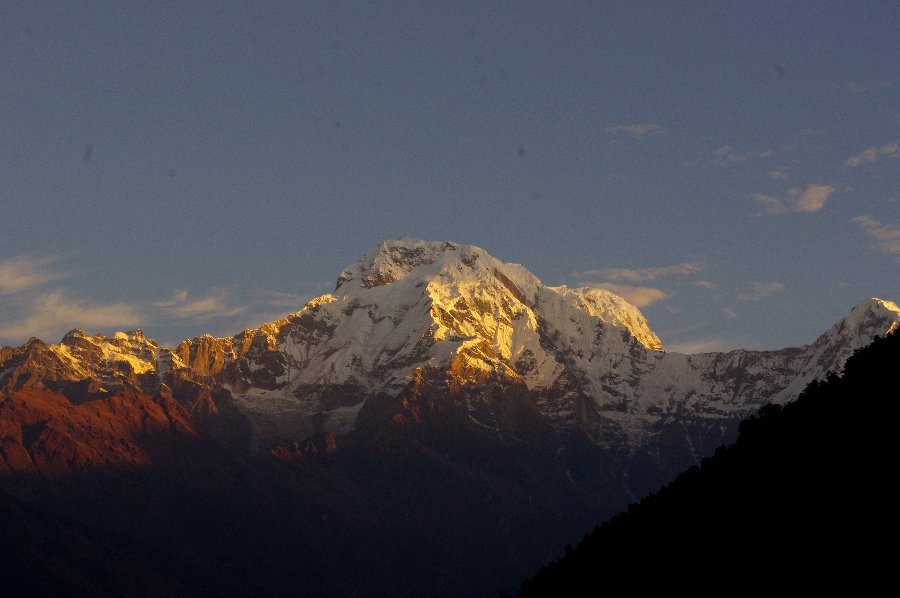 Annapurna South at Dawn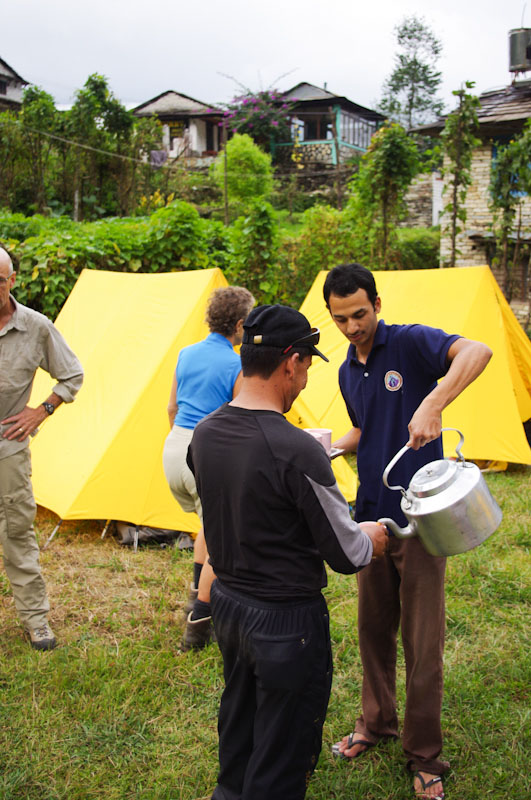 Morning Hot Water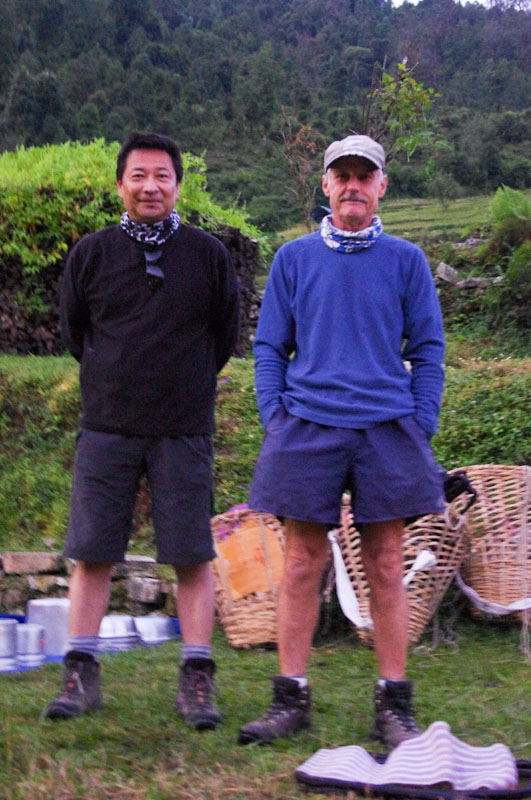 Razzu and Dick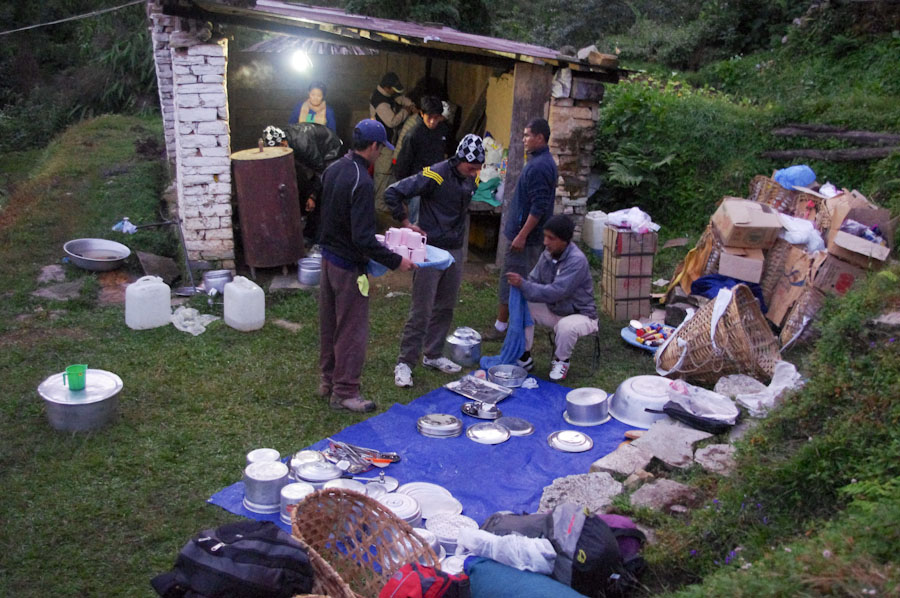 Everyone Busy Making Breakfast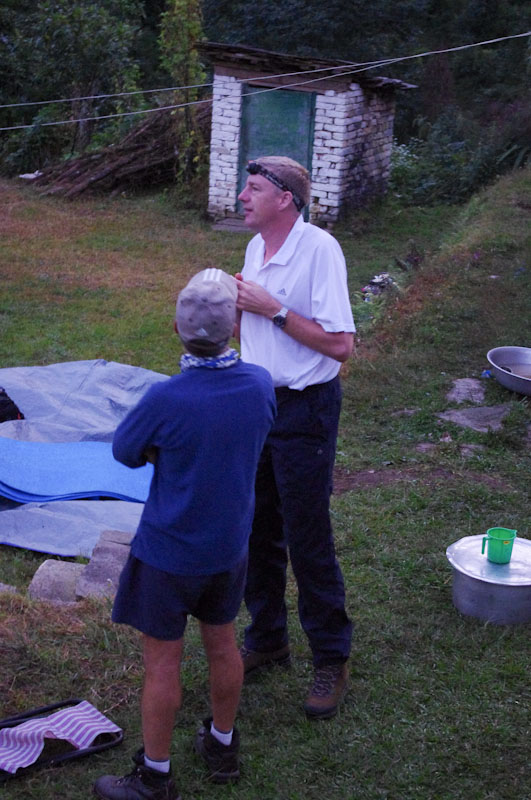 Dick and David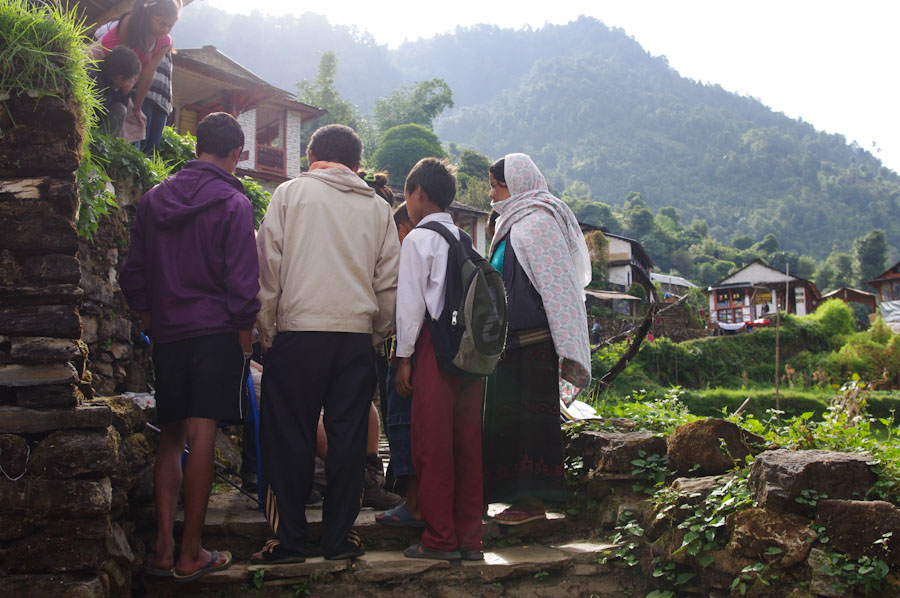 Locals Look On as Jane is Bandaged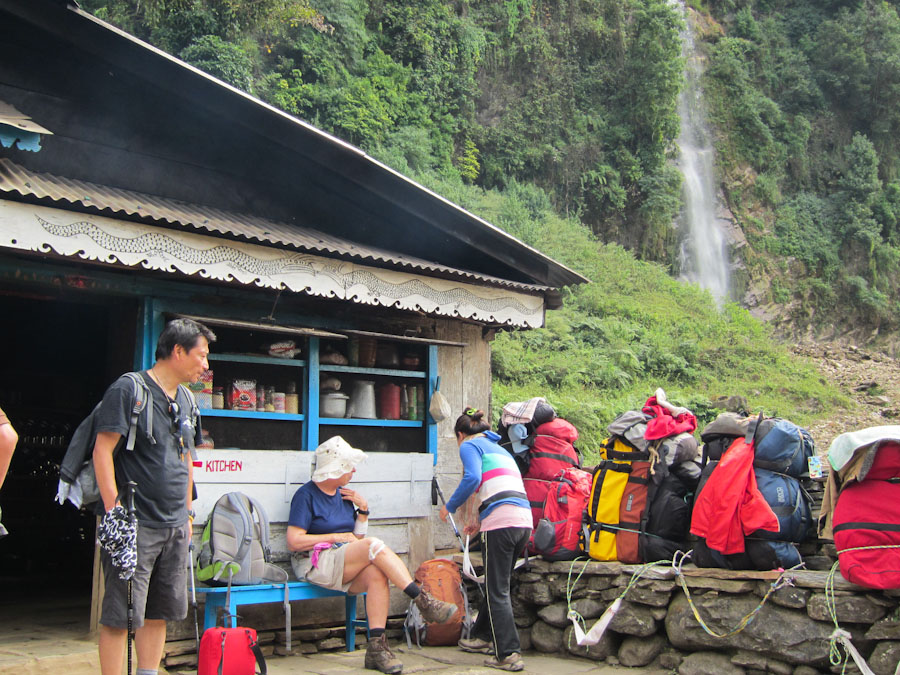 Razzu and Jane (bandage on her left forearm)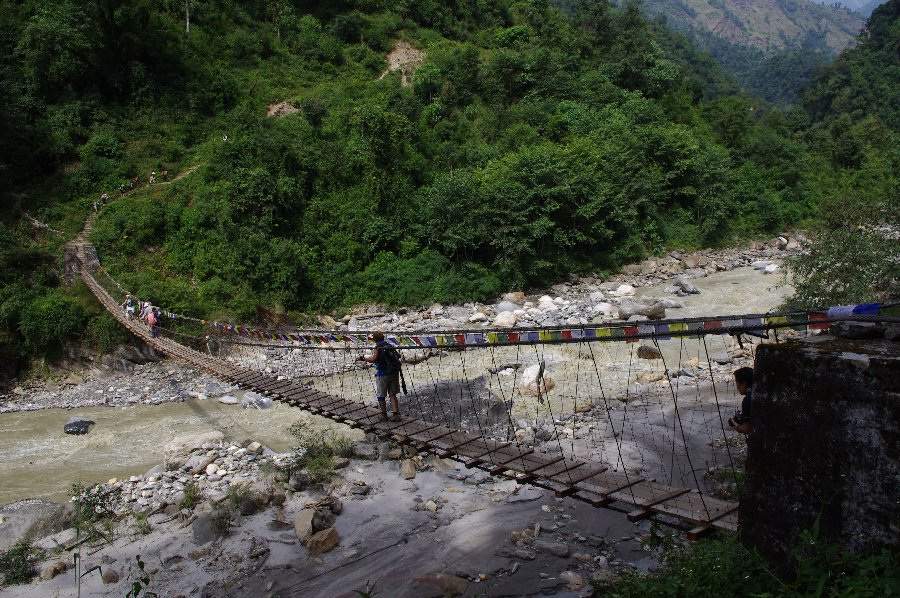 New Bridge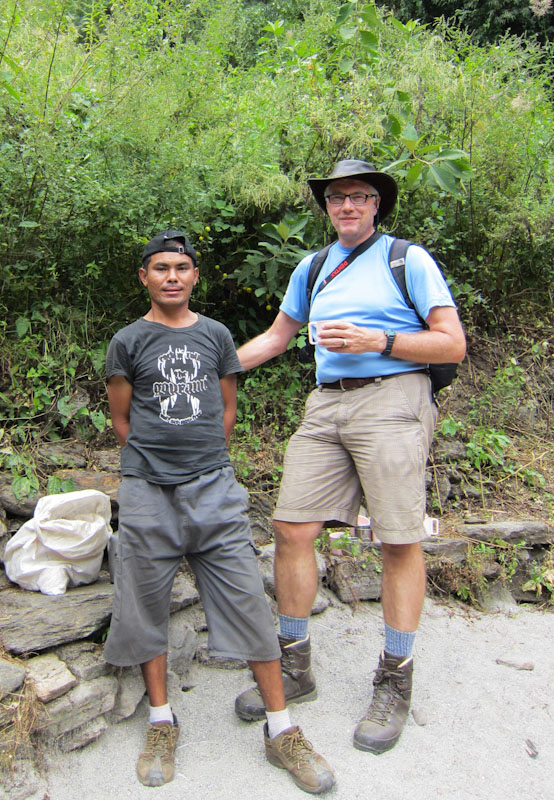 David With one of our Porters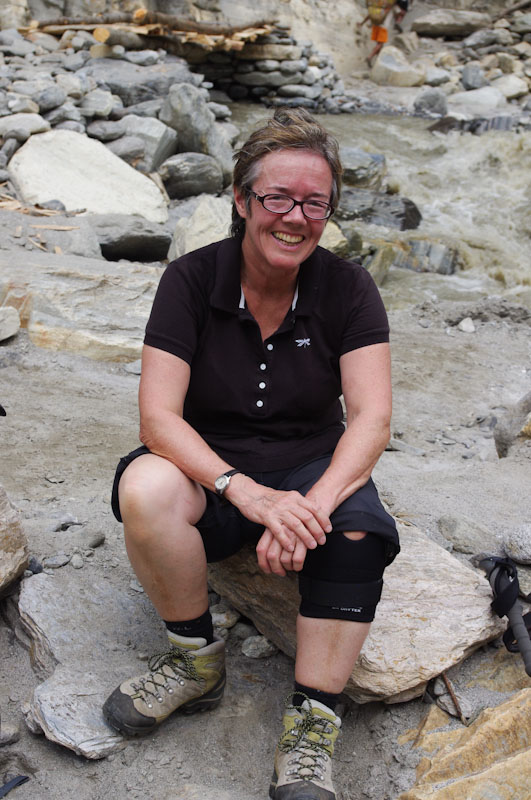 Judy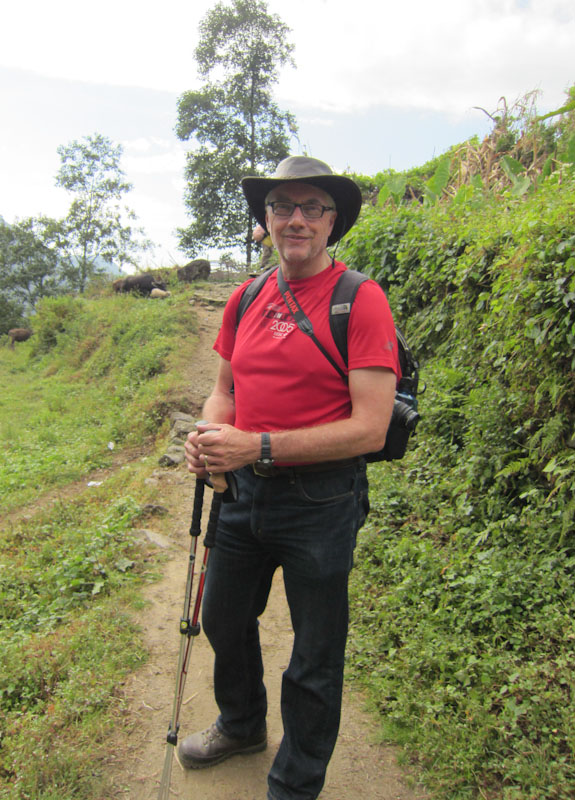 David on the Trail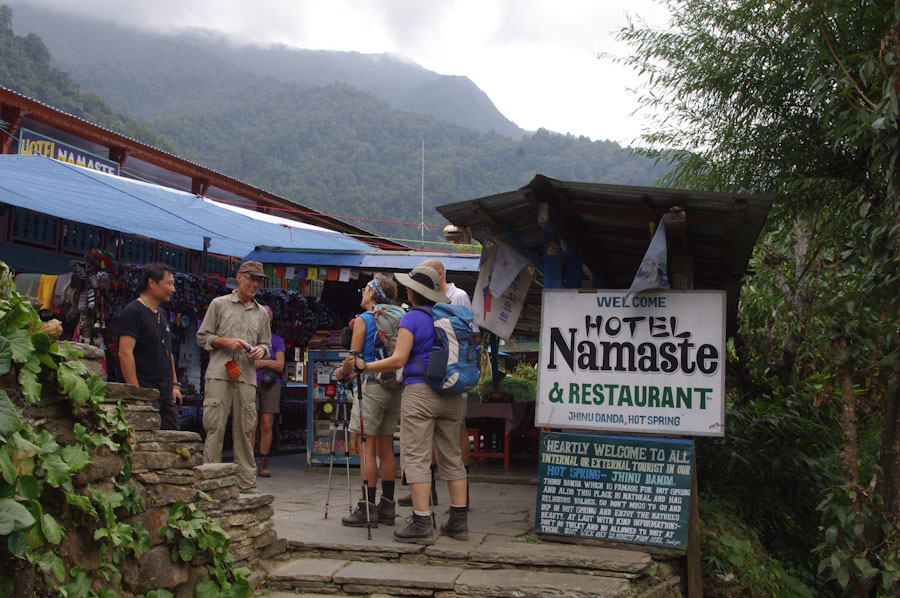 Lunch Stop at Hotel Namaste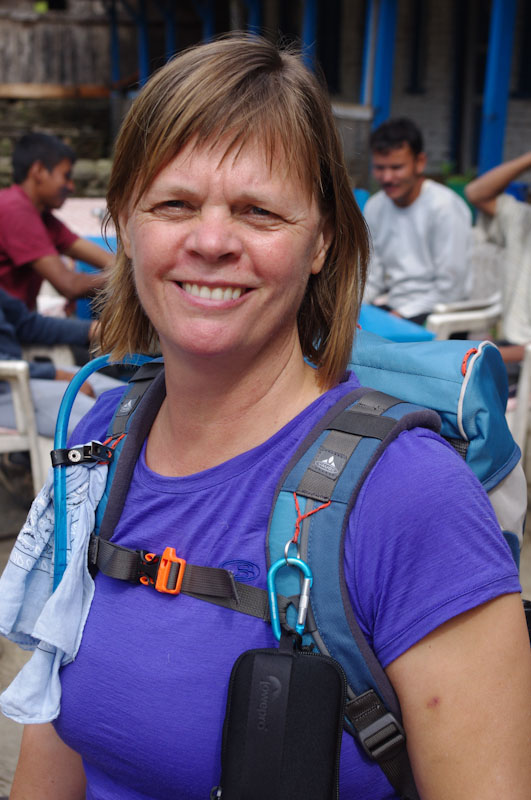 Karalee Having A Good Morning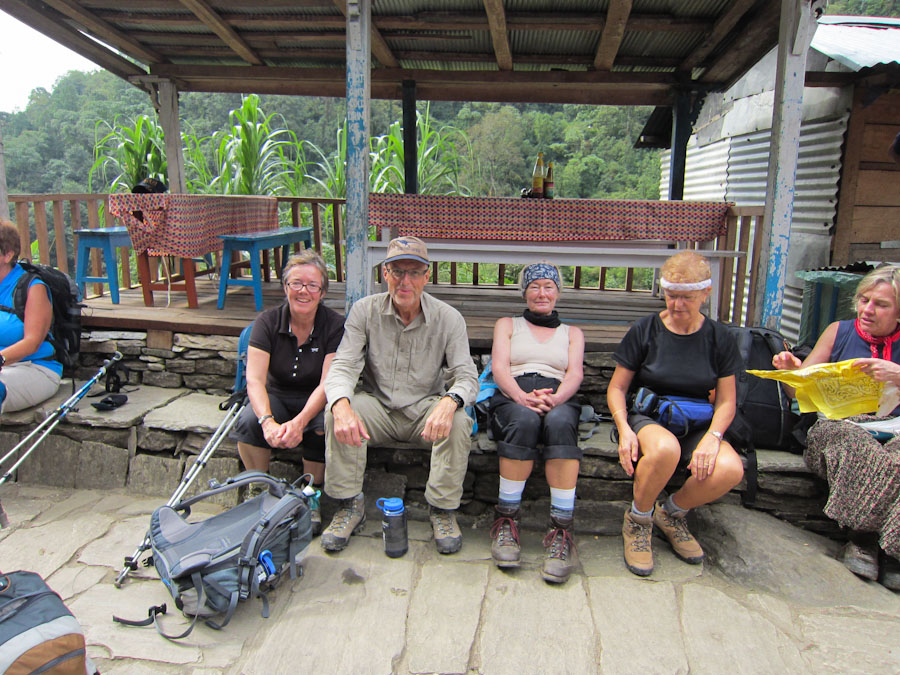 Judy, Jim, Dagmar, Sandi, and Jan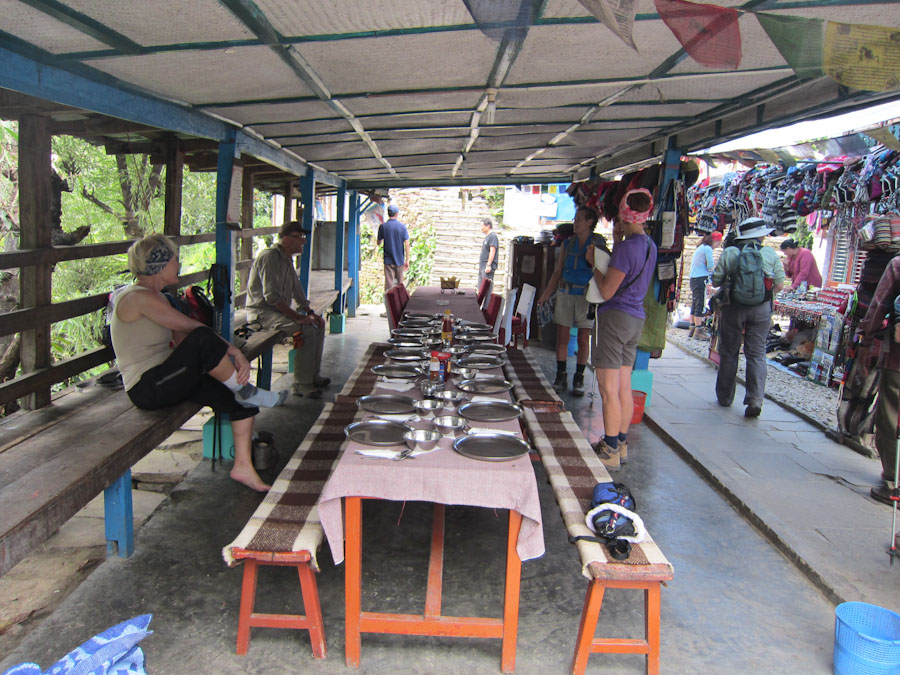 The Table is Laid for Lunch
More photos are available in David's Annapurna Sanctuary Photo Set.
Our trip was organized and led by Marian Leighton of Vancouver, BC with local support for our trip provided by Razzu Tuladha of Samsara Journeys based in Kathmandu, Nepal.