October 19, 2012: Pokhara to Tolka
We woke up in Pokhara with the sun touching the Himalayan mountains we could see from our hotel. After breakfast we all boarded a bus to drive us to the start of our trek. On the bus, we stopped to take pictures of Mount Machhapuchhre, known as Fish Tail, lit by the early morning light. Fish Tail was to be our guide as we circled around it the entire way to Annapurna Base Camp.
We were all excited to arrive at Phedi, the start of our trek. We took a group photograph and then headed straight uphill on a series of steps. After a half hour or more of steady climbing we came out on a plateau and stopped for a rest. From there we continued to climb upwards through fields of rice.
Just before lunch, we crossed our first bridge. They are all similarly constructed as suspension bridges with stones at either end to hold the cables in place for the bridge. We were glad to stop for lunch and after an hour break we continued onwards.
In the afternoon, we worked our way down a rocky trail that was difficult to navigate. A few of us slipped on the trail. Our first day taught us the reality of Himalayan Mountain trekking. When you want to go up, you often go down first. And when you are coming down, you often need to first go up. It makes for a lot of elevation change and hard work.
Beyond the steep trail we came to a gentle path that followed the shoulder of a big hill. After another hour or so of walking, we came to Tolka where our porters had setup camp. We were welcomed with freshly made tea or hot chocolate. Then it was time to find our tent, rest, have dinner, and head to bed early so that we could do it all again the next day.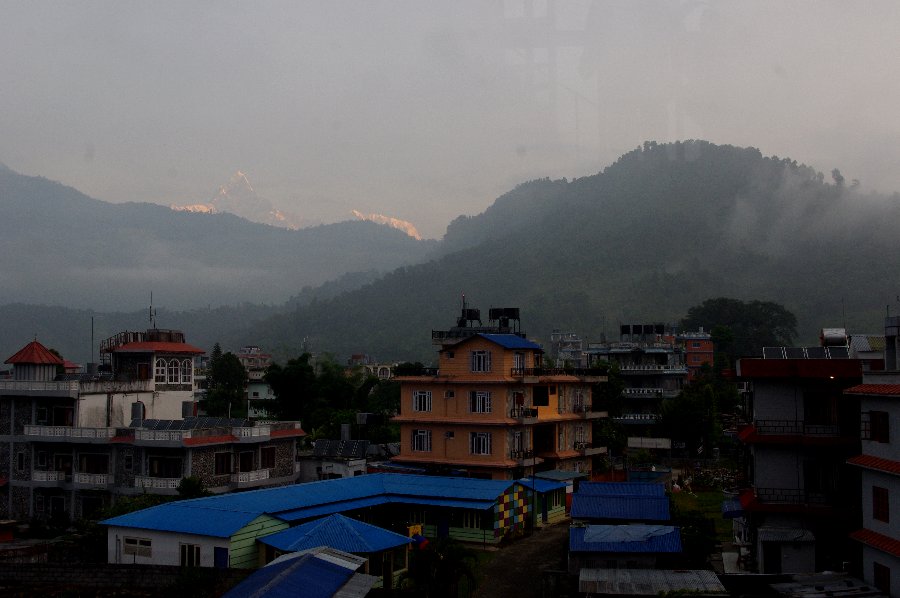 View from our Hotel in Pokhara at Dawn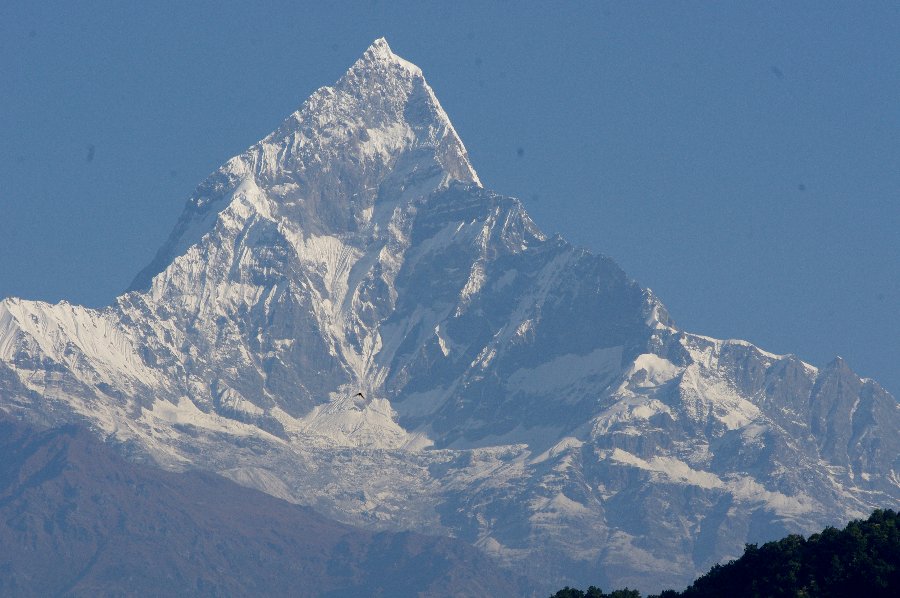 Mount Machhapuchhre (Fish Tail)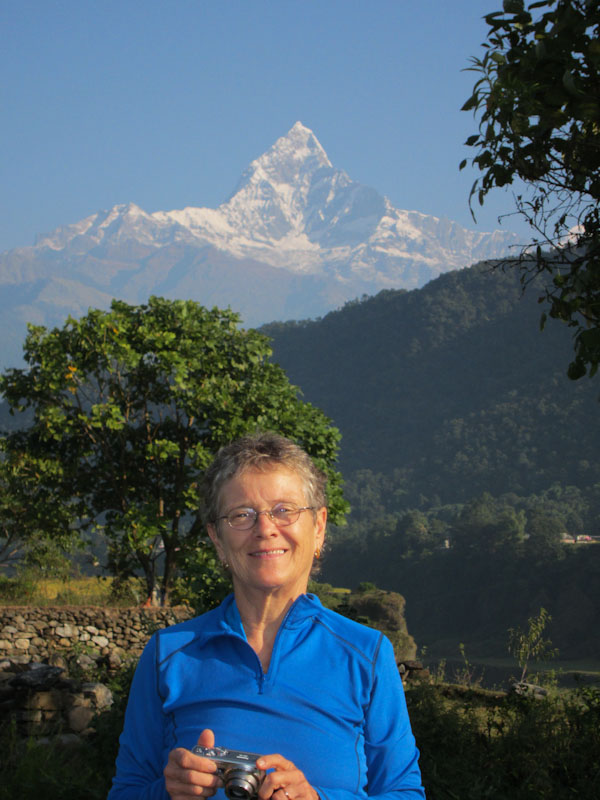 Marian and Fish Tail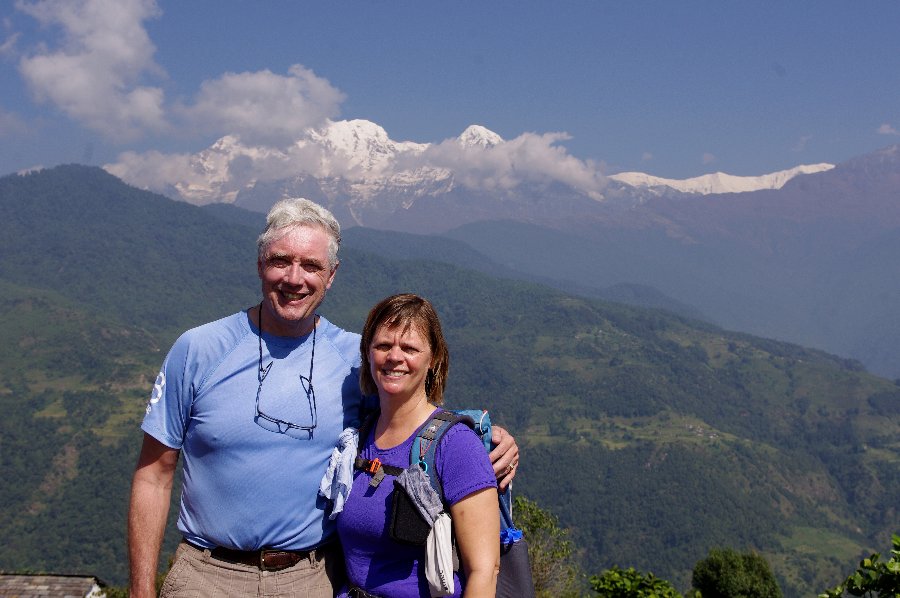 David and Karalee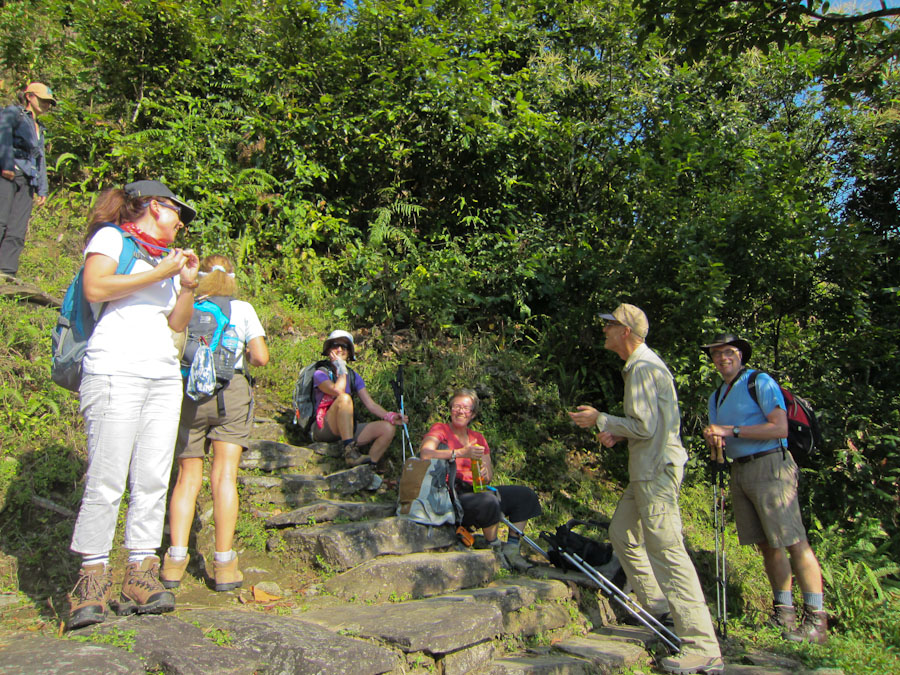 Phedi: Start of our Trek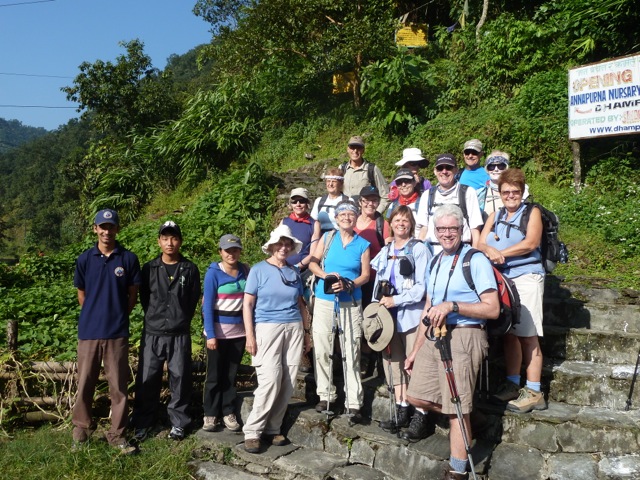 Group at the First Set of Steps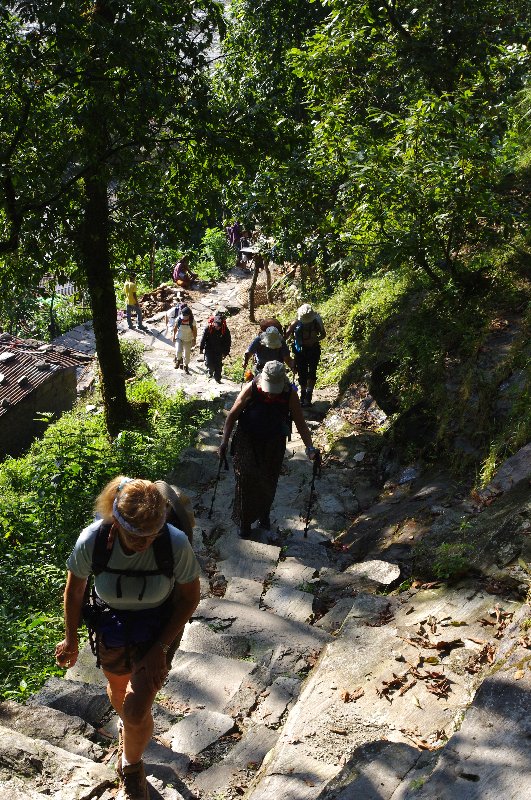 Up the First Steps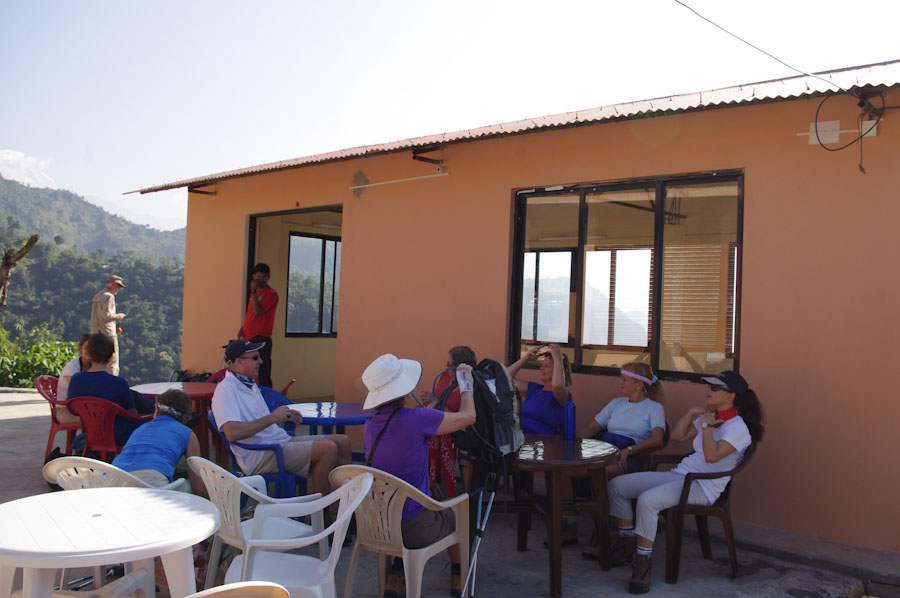 After A Long Climb We Take a Break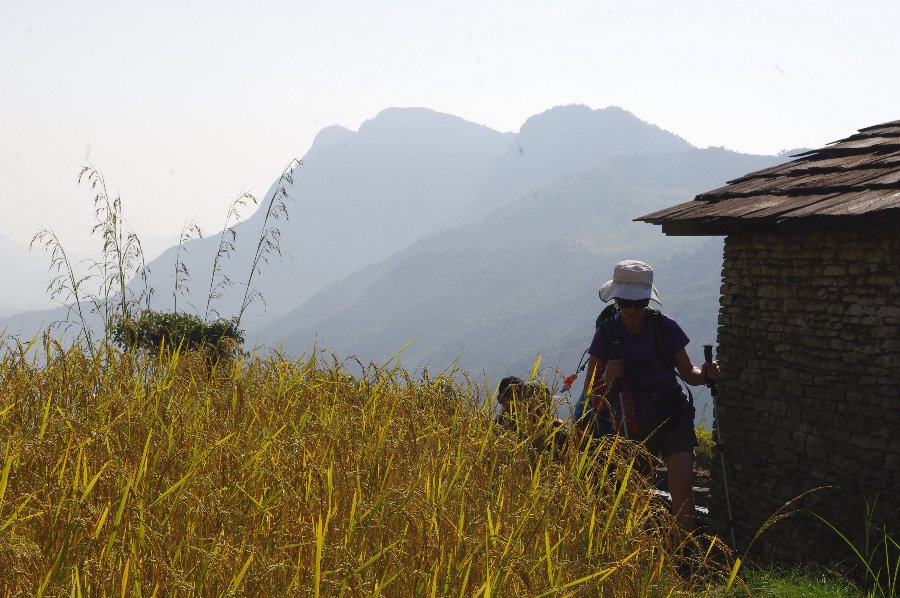 Linda Coming Around a House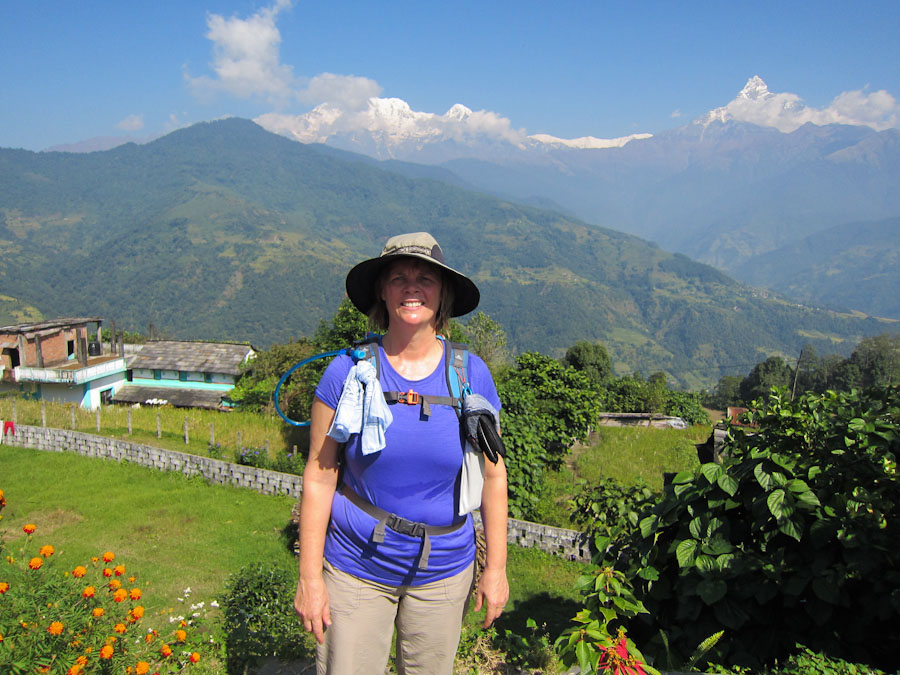 Karalee With Our Destination in the Background (Fish Tail)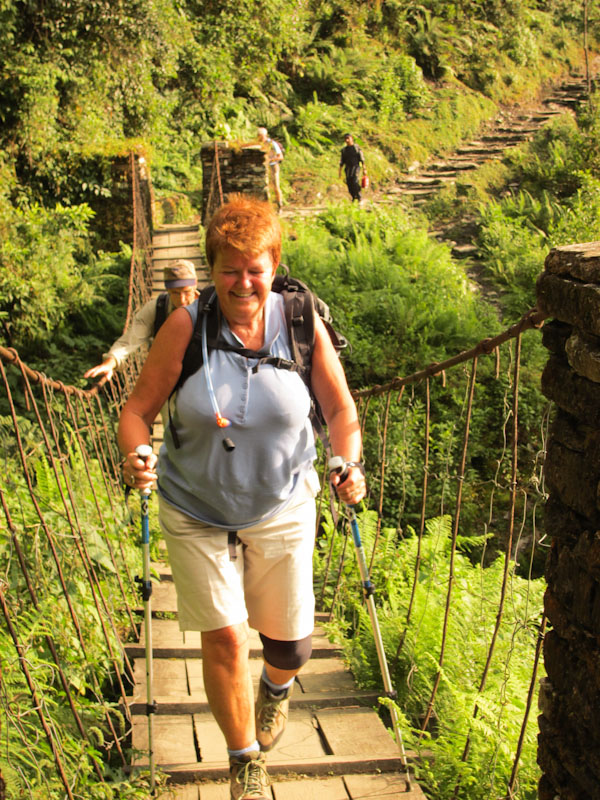 Cathy on one of our First Bridges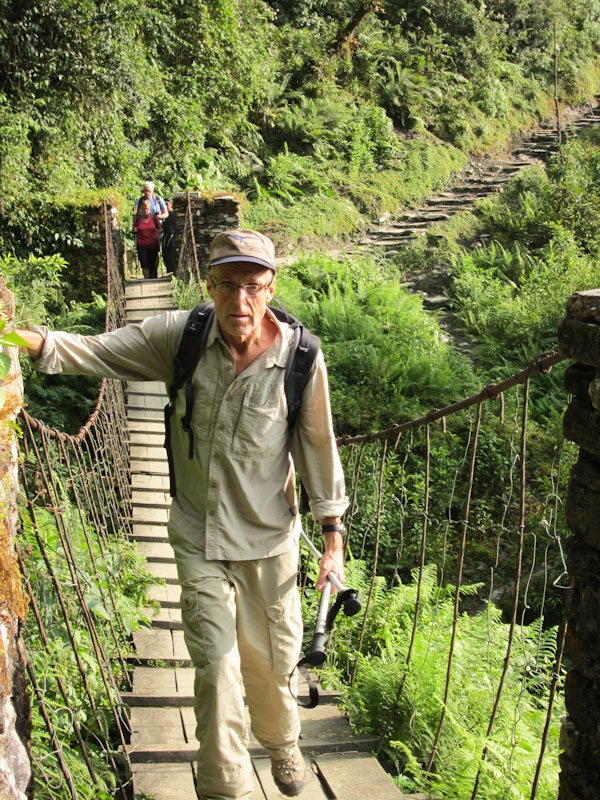 Jim on the Bridge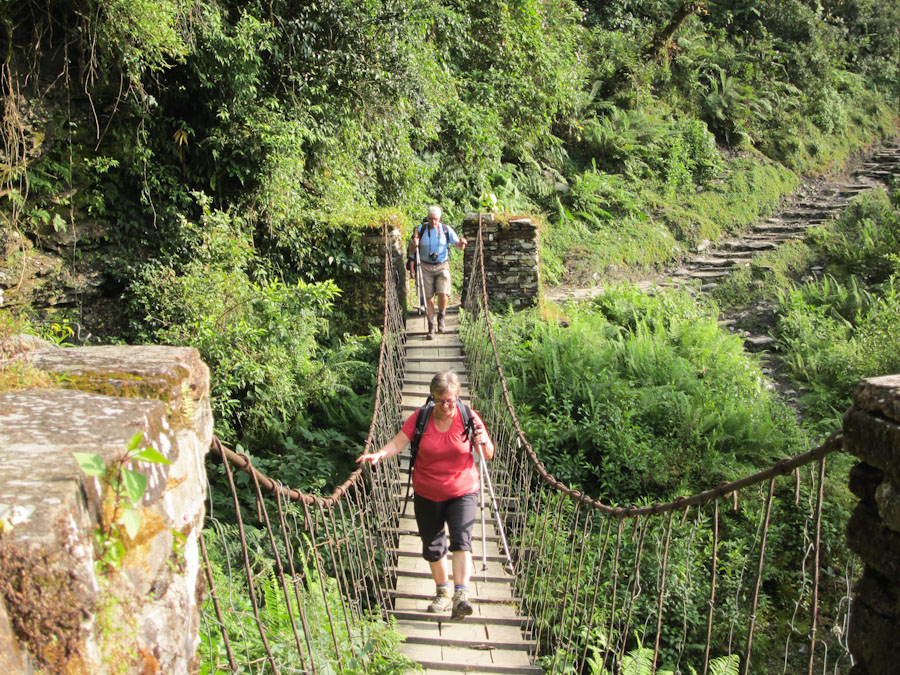 Judy and David Crossing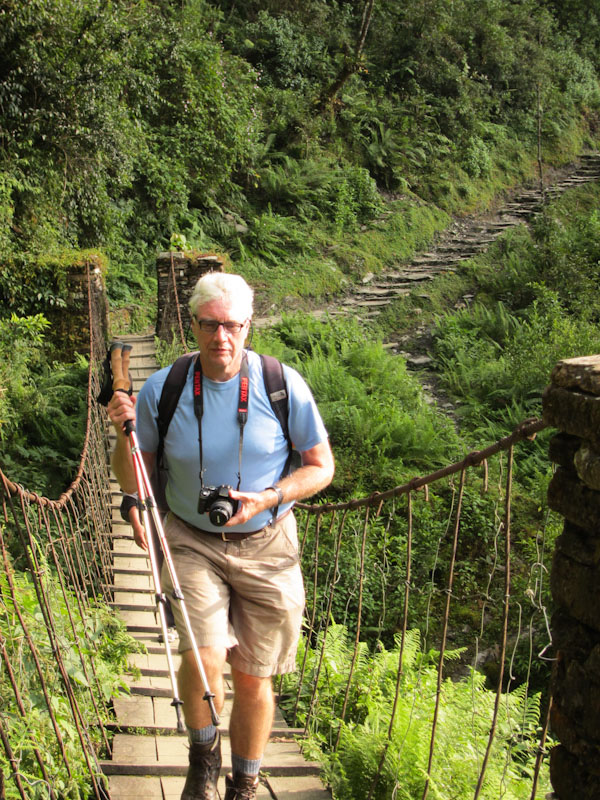 David With Poles and Camera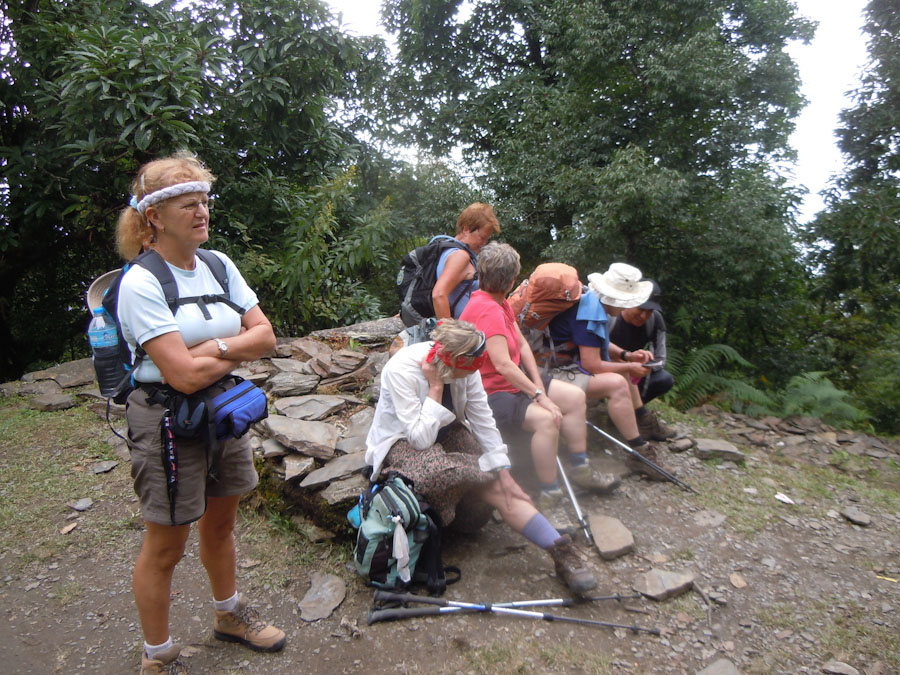 Sandi Stands While Everyone Else Sits Down Before Lunch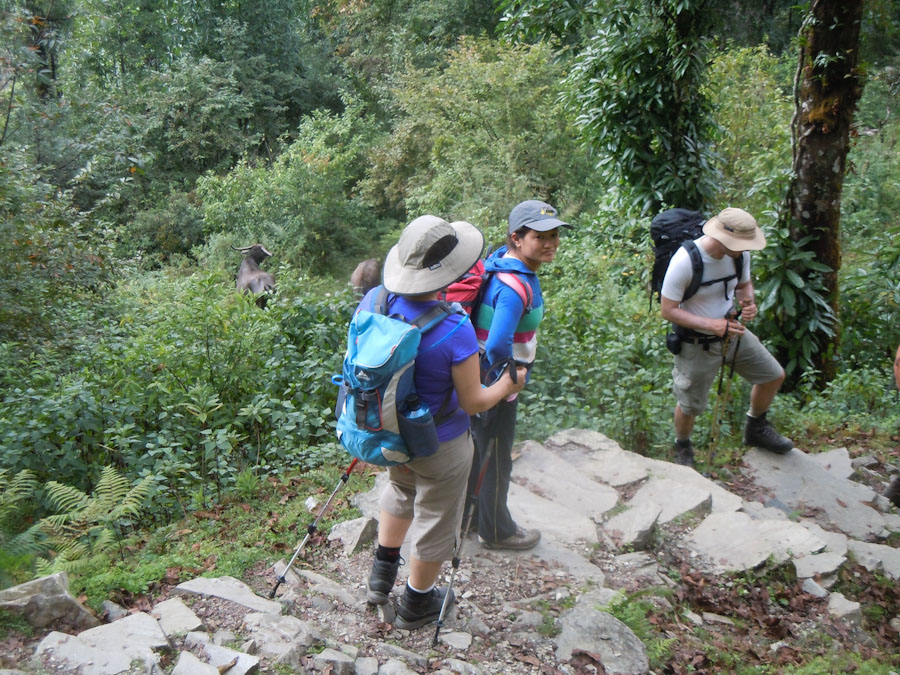 The Trail Goes Down After Lunch

David at One of our Stops
More photos are available in David's Annapurna Sanctuary Photo Set. See David's Trekking Annapurna Sanctuary video.
Our trip was organized and led by Marian Leighton of Vancouver, BC with local support for our trip provided by Razzu Tuladha of Samsara Journeys based in Kathmandu, Nepal.