Passage News About Dragonsinger
February 20, 2004: Vancouver, Canada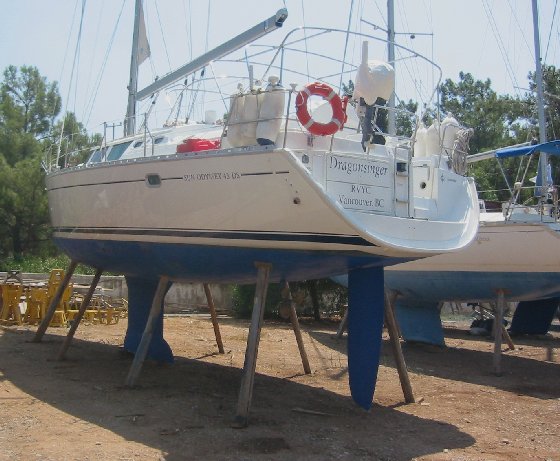 Yat Lift, Turkey
In April and May, 2004, we plan to sail Dragonsinger 1,100 nautical miles (2,000 kilometres) from Bodrum, Turkey to Palma de Mallorca, Spain. In the middle of May Dragonsinger will be loaded on a speciality freighter from Dockwise Transport for shipping to Vancouver, Canada.
Karalee and the kids will be staying in Vancouver, while David travels to Turkey to prepare Dragonsinger for the trip. He will be helped by three competent crew who have volunteered to join in the voyage: Marian Leighton, Bruce White, and John Ridsdel. We are allocating four weeks for the passage. If the weather is good, the trip could be made in ten days of non-stop sailing. But in the two seasons that we spent in the Mediterranean, some of the worst storms that we saw were in March and April. We are assuming that we'll have to wait at least a week or two for good weather.
Marian Leighton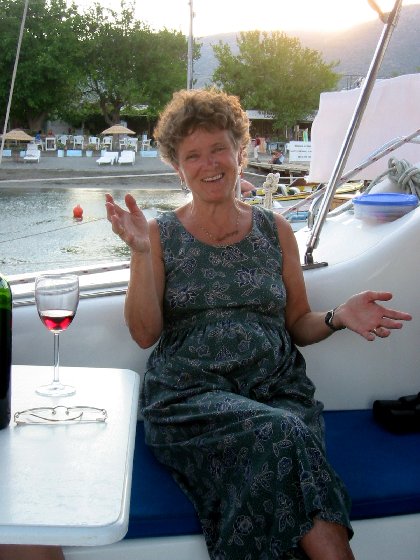 Marian Leighton
Marian is a fellow member of the Royal Vancouver Yacht Club. Originally from Vancouver, she and her husband Dick have lived in Saudi Arabia for the last dozen years. Dick and Marian keep their Prout 39 catamaran Van Kedisi in Bodrum, Turkey. Marian keenly followed our two-year Mediterranean adventure and last summer our two families spent a week exploring Gökova Körfezi, a cruising area near Bodrum, together.
Bruce White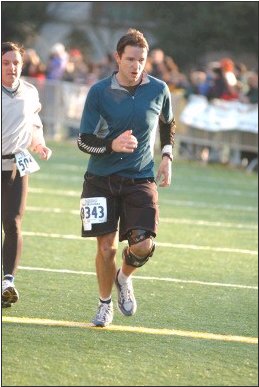 Bruce White
Bruce is another fellow member of RVYC. We met last December by chance at the Children's Christmas Party, where Bruce happened to sit next to David. When he learned about our adventure and our plans he was keen to volunteer to join the voyage from Bodrum to Palma.
Bruce has been a keen sailor all of his life. He sailed on his families' 35 foot sailboat as a teenager and raced Lasers in University. In 1988, he returned Icarian (a Cape North 43) from Hawaii to Victoria. Bruce has raced extensively in International competition and currently owns the Beneteau F345, "Passe-Partout". When Bruce is not being Dad to his son Sean, he can be found running half marathons, playing squash, or paddling outrigger canoes with the False Creek Yacht Club.
John Ridsdel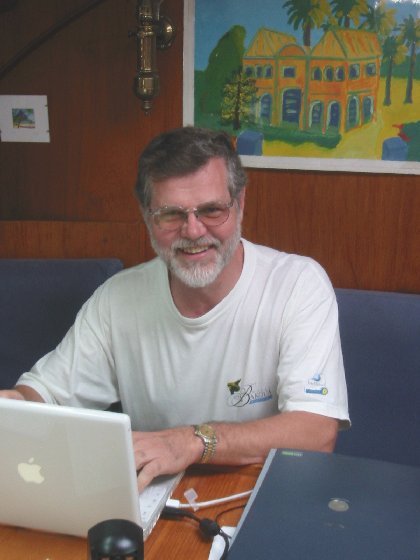 John Ridsdel Onboard Dany II
John is the most experienced of our crew members. John has crossed the Atlantic twice in his sailboat Dany II (another Jeanneau). He has also spent five years cruising the Mediterranean. John cannot join us for the entire four weeks, but he will join us in Bodrum and head off across the Mediterranean with us. When his work schedule requires that he be back in London, he will leave Dragonsinger at a convenient port and make his own way to London. David is looking forward to learning from John's extensive cruising experience. John is originally from Calgary, Alberta, but he now travels the world working on oil and mineral projects. Dany II is currently in Levkas, Greece.