A Cotswolds Walk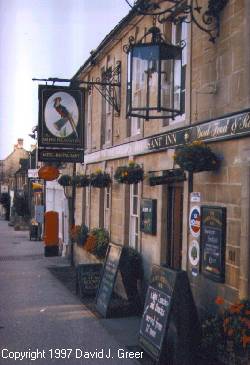 The Golden Pheasant, Burford

For many years we had heard about walking holidays. Join us for our first walking holiday, a great five-day walk through the Cotswolds region of England. Our tour takes you from the market town of Burford to Cheltenham.
We booked our tour with The Wayfarers, a UK company that specializes in walking tours in England, Scotland, Wales, Ireland, France, Italy, and Switzerland. The Wayfarers provide all accommodation, meals, a tour leader and manager, and daily transport for all of your luggage.
Our tour started in the market town of Burford, about a 30 minutes drive from Oxford. Our intrepid group of travelers met the first night in the Golden Pheasant, right in the middle of Burford High Street. Even though we had high expectations, little did we know how much we would enjoy our five-day walking holiday.
The first evening we were introduced to the various members of our group and our tour leader, Kerry Woodrow, and our tour manager Sue Woodrow. The tour leader, leads us in each days walk. The tour manager, looks after all of the logistical details, including moving the luggage each day.