Greer Family News December 22, 2020: Christmas Newsletter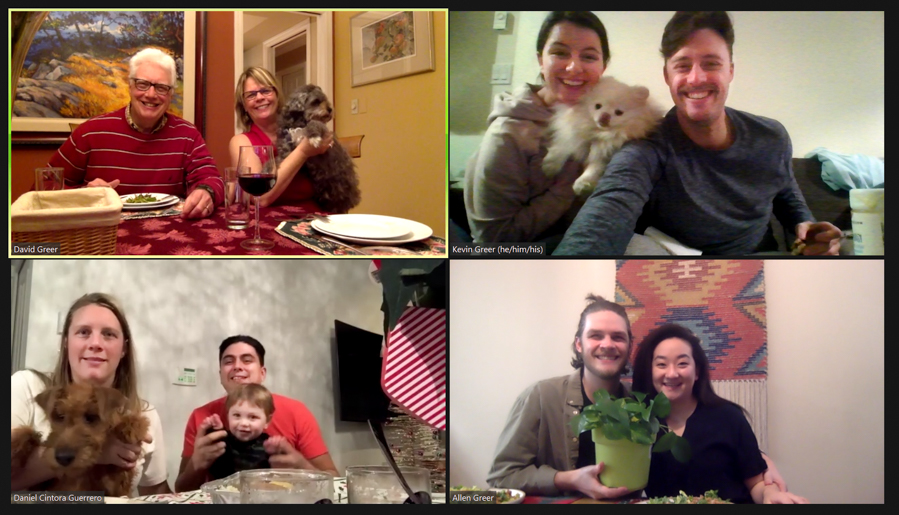 The 2020 Greer Zoom Squares (clockwise from top left):
David, Karalee, and Tammy
Carley, Zeus, and Kevin
Jocelyn, Mimosa, Daniel, and Diego
Allen, Benita, and One of Their Apartment Plants
Jocelyn and Daniel Add Mimosa to Diego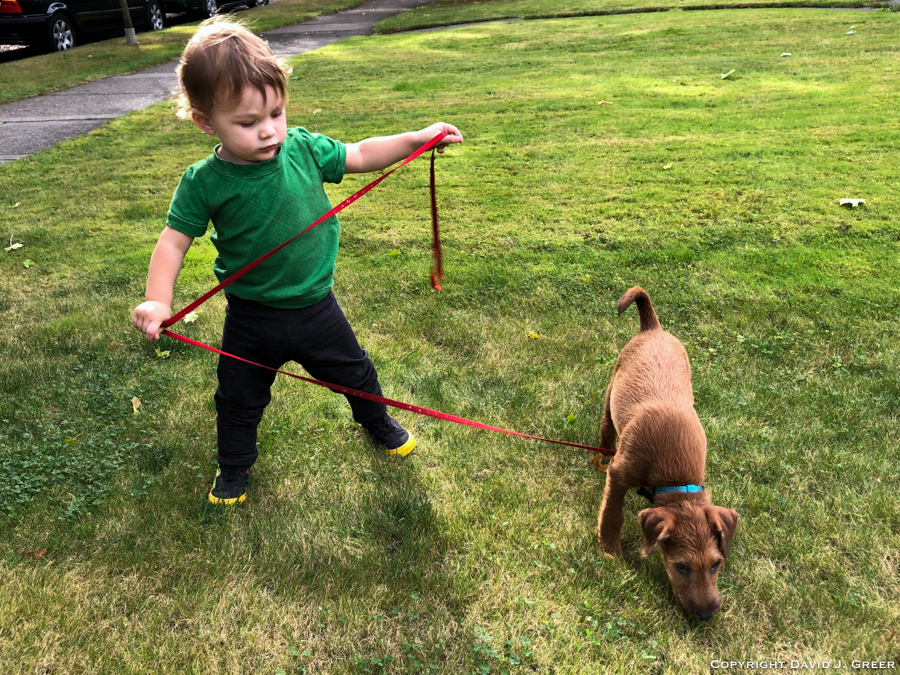 Diego and Irish Terrier Puppy Mimosa
Life continues for Jocelyn and Daniel as Diego keeps growing (he's 19-months now). For much of the year, Karalee provided day care one or two days a week, so we got to spend lots of time with Diego. In the fall, they added Mimosa, an Irish Terrier puppy to the mix. She and Diego get on fabulously. Jocelyn returned to work with Holland Landscapers and resumed her BCIT construction management program. The awesome news for Daniel is that he was sworn in as a Canadian citizen.
Kevin and Carley Get Lots of Time Together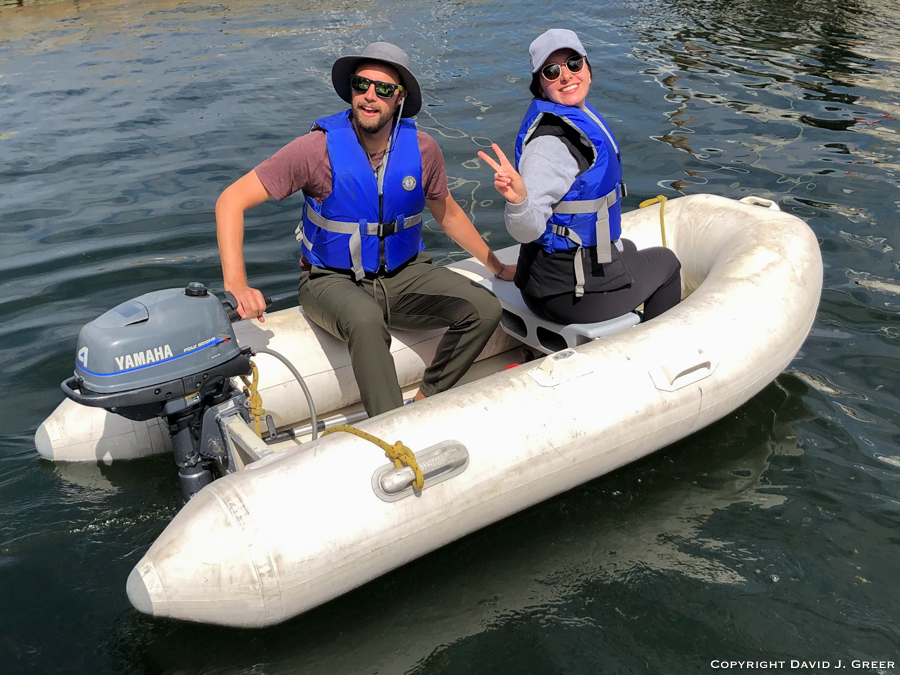 Kevin and Carley At Scott Point
The pandemic saw many changes for Kevin and Carley. Carley's second year nurse's training switched mostly to online. Kevin had to work from home for Lululemon. This meant the two of them had to share their beautiful 1-bedroom apartment. That's a big challenge as Carley needs quiet to study and Kevin is on the phone all day. In August, Kevin started using Allen's former bedroom in our house as his office. He commutes here every day. Kevin and Carley joined us on our charter sailboat this summer.
Allen and Benita Get A Place of Their Own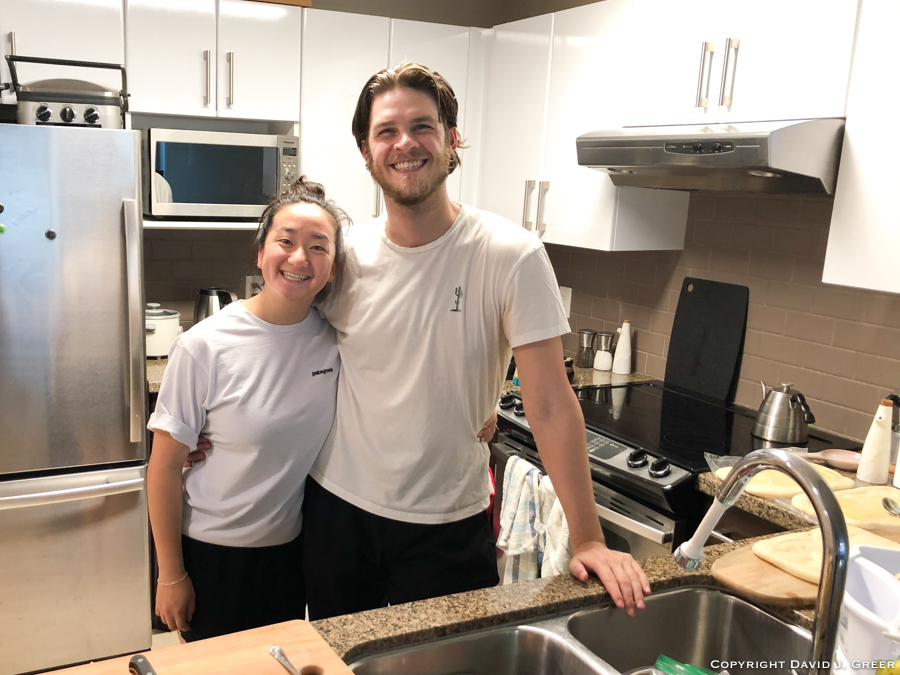 Allen and Benita in Their Apartment Kitchen
In January, when we got back from Christmas holidays in Mexico, Allen was between jobs. He quickly landed a developer job with Latero Labs and has been busy with them ever since. Allen was enjoying going to the office when the pandemic hit. He then switched to working from home. The bonus was that Karalee and David got to have lunch with him most days. At the start of August, Allen moved out of our home and Benita moved out of her parent's home. They found a lovely 1-bedroom apartment in New Westminster. Benita continues to work with the BC Ministry of Social Services. She also has been working from home in their apartment since March.
Karalee Starts a YouTube Channel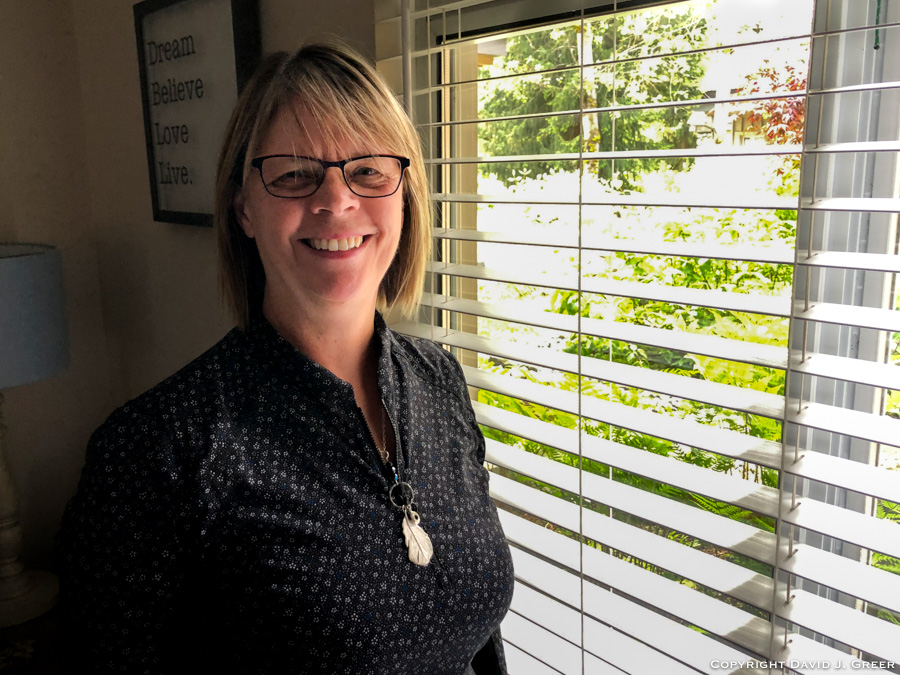 Karalee in Whistler
Karalee continues to pursue many projects, including gardening, biking, and volunteering with the David Suzuki Foundation Butterflyway Ranger project. Her home business is still a focus, as the company keeps expanding, which is good as not many people are booking travel right now. Her new project is her YouTube channel youtube.com/habits2happiness. Karalee has been releasing a series of videos on ways you can bring more joy into your life. She is loving being Nana and is thankful to be able to help look after Diego this year.
David Continues to Try New Things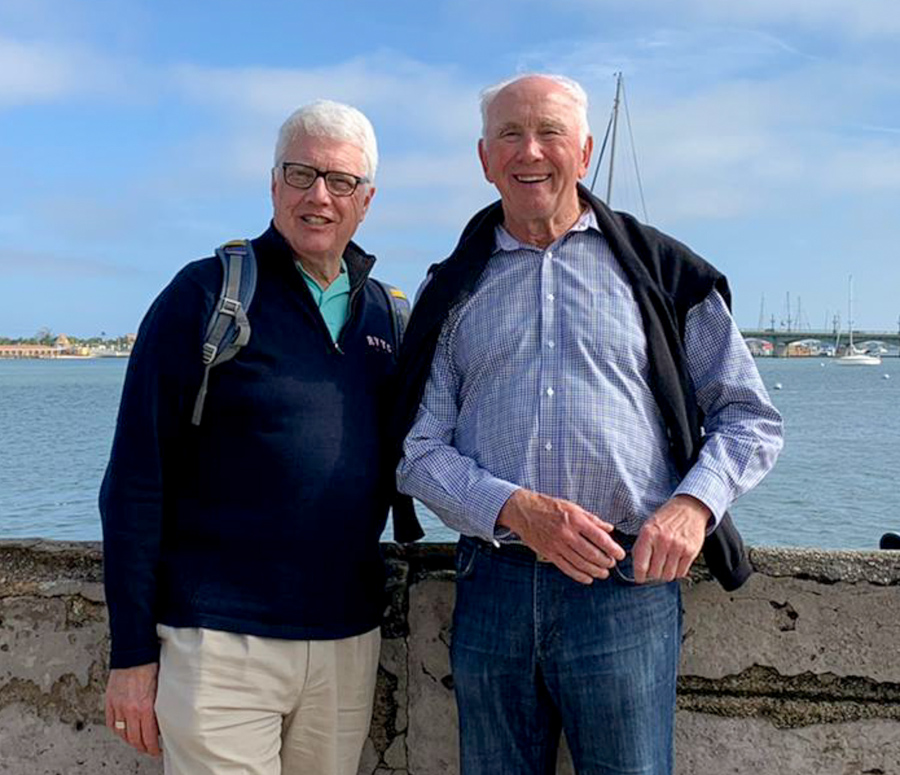 David with his Birth Father Peter Douglas
In February, David and Karalee flew to Florida where they spent a week with David's birth father Peter Douglas. This was the first time Karalee met Peter and only the second for David. In the fall, he saw both his maternal sisters Wendy Davies and Nancy Stewart in Rocky Mountain House. After that, he spent time with his sister Jane, Cousin Dianne, and Mom Diana in Edmonton. Right after Mom turned 93, she got COVID. After a terrible time, she has recovered and continues to heal. David has been in recovery since January 2009. In 2020 he made the decision to focus his coaching and facilitation on entrepreneurs who are challenged with alcohol in their business and life, or entrepreneurs that are now in recovery. He started with the video Is alcohol impacting you and your business? You can learn more on youtube.com/coachdjgreer.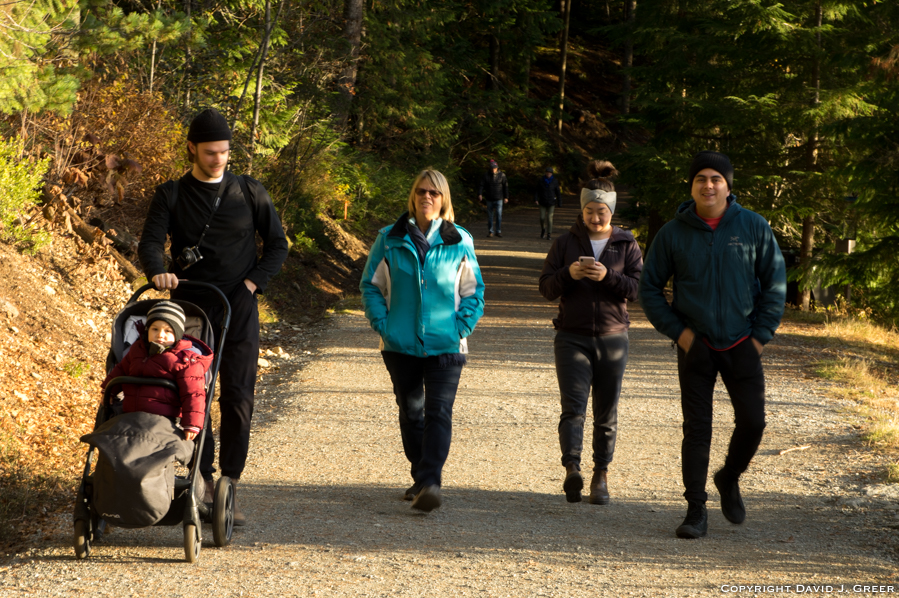 Allen, Diego, Karalee, Benita, and Daniel
Karalee and David's trip to Florida in February was their only travel outside the country. In June, they spent a week in Whistler. David spent a month this fall in Whistler, with family members joining every week and Karalee for the last week.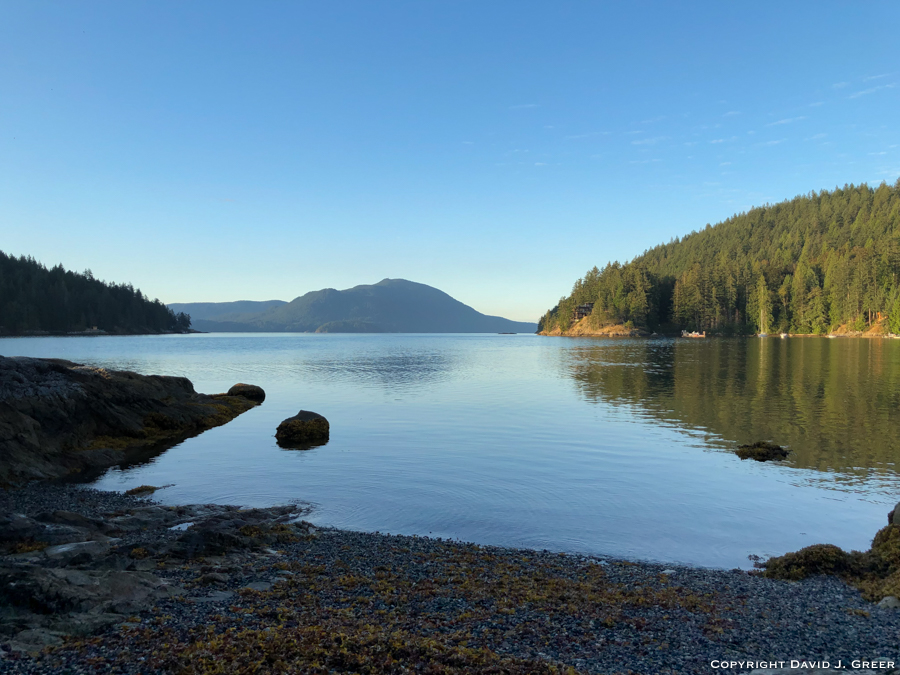 Morning at Alexandra Island Near Gambier Island
In the summer, we chartered a Catalina 320 for two weeks. The first weekend, Jocelyn, Daniel, and Diego joined us. Diego's first overnight trip on a boat. It was fun to see Jocelyn introducing Daniel and Diego to some of her favorite spots where we took her boating. The next weekend, Kevin and Carley flew to Salt Spring Island where they joined us in time for Kevin's 29th birthday.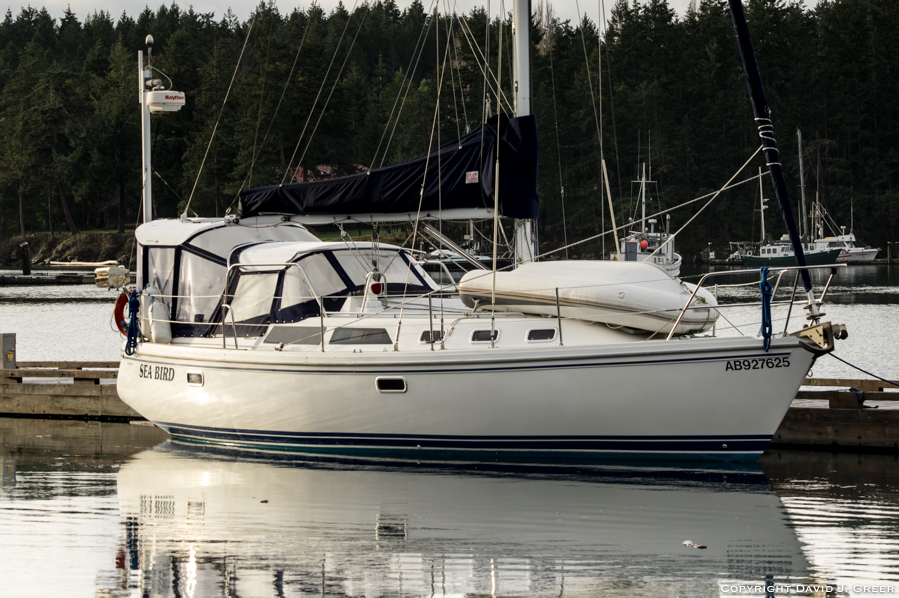 Our 1993 Catalina 34 Sea Bird
Since the summer David has been looking for a Catalina 34 sailboat built in 1990-1995. We owned one of these boats for eleven years and loved it as a family sailboat. At the start of December, a 1993 Catalina 34 sailboat, Sea Bird, came into our lives. We closed the sale last week. Karalee and David braved winter storms to sail Sea Bird from Sidney on Vancouver Island to Granville Island here in Vancouver. We are thrilled to have a boat back in our life. We wrote a short 4-page photo eassay of our adventures Delivering Sea Bird from Sidney to Vancouver.
Please be safe, kind, and calm as we enter into 2020.