Canary Wharf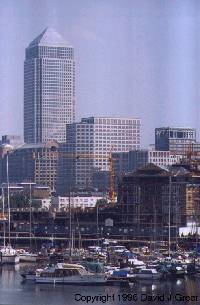 Canary Wharf is the name of the huge redevelopment project of London's Docklands area. This area of basins, connected to the Thames River, was the center of warehousing and shipping in London for centuries.
During the 1980's the Reichmann brothers of Toronto, Canada redeveloped the Docklands into a huge commercial and living area. The picture shows the tallest commercial building in London located at One Canada Place. The boats in the foreground are located in Limehouse Basin, the start of our walk along Regents Canal.
To get to Limehouse Basin take the tube to Tower Hill. Cross the road and go up the stairs to the Docklands Light Railway. Get off the Railway at the Limehouse DLR Station. You may find navigating easier if you use the book 100 Walks in Greater London.