Greer Family News November 11, 2011: David and Karalee Trek in Nepal
Trekking to Annapurna Base Camp
David and Karalee just returned from a three week adventure in Nepal. One of the poorest countries in the world, it is also home to the Himalayan Mountains, the highest in the world. A country of incredible beauty and stark contrasts, we provide you with a few of our first impressions from our trip.
The trip was organized by Marian Leighton from Namaste Travel (the person furthest on the right in the photo below). Local arrangements were provided by Razzu Tuladhar of Samsara Journeys, a Kathmandu based travel agency. As part of our trip, we spent ten days trekking in the Annapurna Sanctuary and the Himalayan Mountains, where with Marian's and Razzu's leadership we were all successful.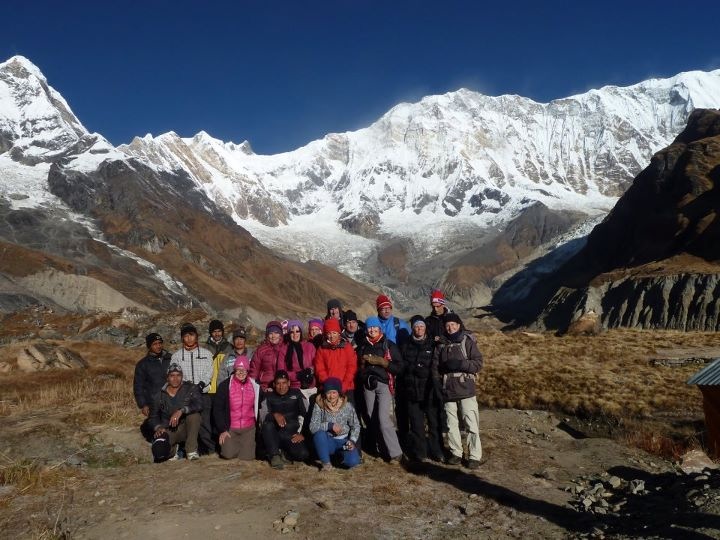 Annapurna Base Camp, October 24, 2011 (photo courtesy of Marian Leighton)
After five days of trekking along narrow paths through villages with no road access at all, we arrived at Machhapuchhare Base Camp at 3700m/12,139' (Machhapuchhare is a 6997m/23000' mountain, also known as Fish Tail, which we followed for our entire trek). The next morning, David and Karalee's twenty ninth and six month wedding anniversary, we were up at 4:00 am to start trekking in the dark at 4:30 for our final hike up to Annapurna Base Camp (4140m/13600'). We were one of several groups hiking up in the dark and each group looked like a snake of headlamps as each group hiked up the trail. We stopped a couple of times to look up at the stars. The big dipper was over Fish Tail and the second time we stopped a shooting star raced through the sky.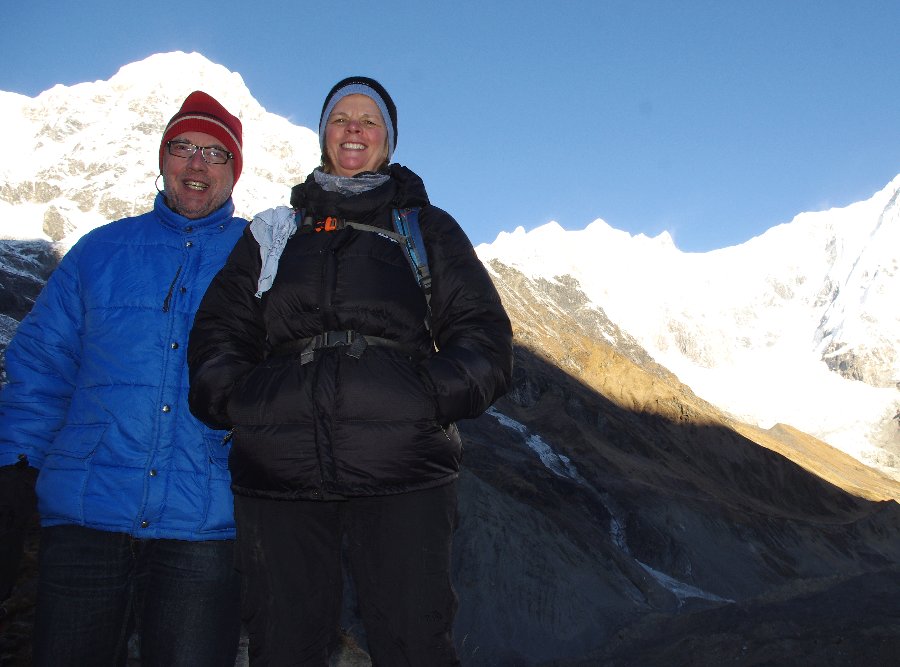 David and Karalee Bundled Up At Annapurna Base Camp
We reached Annapurna Base Camp around 6:30, shortly after sunrise, where the temperature was still below 0C. The sun was just hitting the peaks as we took in the mountain massive that is Annapurna. Rather than a single tall peak, Annapurna stretches for kilometers. From Annapurna Base Camp at 4140m/13600' to the top of Annapurna itself (8091m/26545') is four kilometers of vertical distance. It is hard to realize this in any of the photos as there are no trees or objects to give you scale.
We took lots of photos and then stopped for a breakfast of warm hard boiled eggs, yak cheese, bread and jam, along with hot tea. For many of us, this was why we spent three weeks in Nepal -- to trek in the Himalaya Mountains and reach Annapurna Base Camp. Each of us had a different experience and our entire group appreciated the challenges and rewards of making it to the top.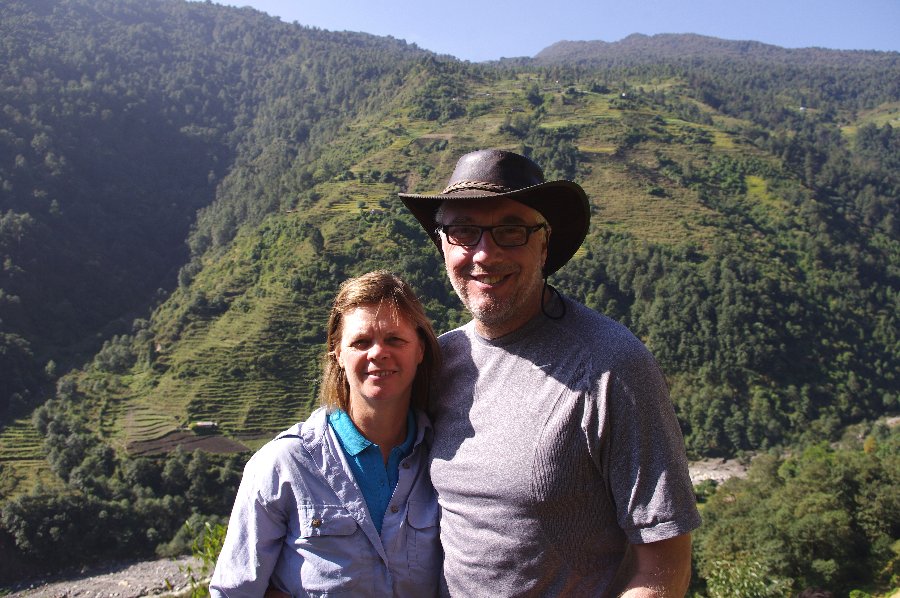 David and Karalee In Shirt Sleeves Three Days Later
From Annapurna Base Camp we hiked down to Machhapuchhare Base Camp for an early lunch. Then it was onwards and downwards another 900m/3000' of vertical distance before we stopped for the night. Another two days saw us low enough that we were hiking in the day in our shirt sleeves, hats, and sunscreen. It is amazing the difference in weather as you move up and down the elevation of the Himalayan valleys of the Annapurna Sanctuary. We shot some video clips to try and capture some of the sights, sounds, and feelings of hiking to Annapurna. It was an amazing experience.

Photos, Videos, and Stories of our Nepal adventure